Abstract
Metaplastic breast carcinoma (MBC) is a special histological type of invasive breast cancer. MBC is a descriptive and operational term for a heterogeneous collection of tumours with distinct histologies, clinical behaviours and potentially responses to therapy.
Access options
Subscribe to Journal
Get full journal access for 1 year
$59.00
only $4.92 per issue
All prices are NET prices.
VAT will be added later in the checkout.
Tax calculation will be finalised during checkout.
Rent or Buy article
Get time limited or full article access on ReadCube.
from$8.99
All prices are NET prices.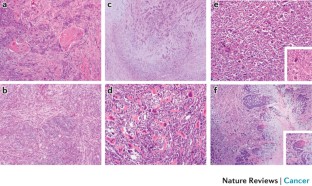 References
1

Lakhani, S. R., et al. WHO Classification of Tumours of the Breast, Fourth Edition (IARC, 2012).

2

Hennessy, B. T. et al. Characterization of a naturally occurring breast cancer subset enriched in epithelial-to-mesenchymal transition and stem cell characteristics. Cancer Res. 69, 4116–4124 (2009).

3

Lien, H. C. et al. p53 overexpression and mutation in metaplastic carcinoma of the breast: genetic evidence for a monoclonal origin of both the carcinomatous and the heterogeneous sarcomatous components. J. Pathol. 204, 131–139 (2004).

4

Weigelt, B., Kreike, B. & Reis-Filho, J. S. Metaplastic breast carcinomas are basal-like breast cancers: a genomic profiling analysis. Breast Cancer Res. Treat. 117, 273–280 (2009).

5

Ince, T. A. et al. Transformation of different human breast epithelial cell types leads to distinct tumor phenotypes. Cancer Cell 12, 160–170 (2007).

6

Molyneux, G. et al. BRCA1 basal-like breast cancers originate from luminal epithelial progenitors and not from basal stem cells. Cell Stem Cell 7, 403–417 (2010).

7

Liu, X. et al. Somatic loss of BRCA1 and p53 in mice induces mammary tumors with features of human BRCA1-mutated basal-like breast cancer. Proc. Natl Acad. Sci. USA 104, 12111–12116 (2007).

8

Hayes, M. J., Thomas, D., Emmons, A., Giordano, T. J. & Kleer, C. G. Genetic changes of Wnt pathway genes are common events in metaplastic carcinomas of the breast. Clin. Cancer Res. 14, 4038–4044 (2008).

9

Lacroix-Triki, M. et al. β-catenin/Wnt signalling pathway in fibromatosis, metaplastic carcinomas and phyllodes tumours of the breast. Mod. Pathol. 23, 1438–1448 (2010).

10

Geyer, F. C. et al. Molecular analysis reveals a genetic basis for the phenotypic diversity of metaplastic breast carcinomas. J. Pathol. 220, 562–573 (2010).

11

Reis-Filho, J. S. et al. EGFR amplification and lack of activating mutations in metaplastic breast carcinomas. J. Pathol. 209, 445–453 (2006).

12

Turner, N. C. et al. BRCA1 dysfunction in sporadic basal-like breast cancer. Oncogene 26, 2126–2132 (2007).

13

Sproul, D. et al. Transcriptionally repressed genes become aberrantly methylated and distinguish tumors of different lineages in breast cancer. Proc. Natl Acad. Sci. USA 108, 4364–4369 (2011).
Ethics declarations
Competing interests
The authors declare no competing financial interests.
About this article
Cite this article
Weigelt, B., Eberle, C., Cowell, C. et al. Metaplastic breast carcinoma: more than a special type. Nat Rev Cancer 14, 147–148 (2014). https://doi.org/10.1038/nrc3637