A series of genetic experiments demonstrates that small RNAs can direct gene silencing within germ cells in a non-cell-autonomous manner. This provides evidence for how plant germ and non-germ cells may communicate to maintain genome integrity during reproductive transitions.
Your institute does not have access to this article
Access options
Subscribe to Journal
Get full journal access for 1 year
$119.00
only $9.92 per issue
All prices are NET prices.
VAT will be added later in the checkout.
Tax calculation will be finalised during checkout.
Buy article
Get time limited or full article access on ReadCube.
$32.00
All prices are NET prices.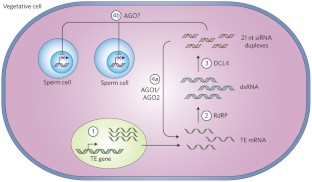 References
Martínez, G., Panda, K., Köhler, C. & Slotkin, R. K. Nature Plants 2, 16030 (2016).

Slotkin, R. K. et al. Cell 136, 461–472 (2009).

Schoft, V. K. et al. EMBO Rep. 10, 1015–1021 (2009).

Grant-Downton, R. et al. Curr. Biol. 23, R599–R601 (2013).

Marí-Ordóñez, A. et al. Nature Genet. 45, 1029–1039 (2013).

Felippes, F. F. D., Ott, F. & Weigel, D. Nucleic Acids Res. 39, 2880–2889 (2011).

McCue, A. D., Nuthikattu, S., Reeder, S. H. & Slotkin, R. K. PLoS Genet. 8, e1002474 (2012).

Aravin, A. A., Hannon, G. J. & Brennecke, J. Science 318, 761–764 (2007).

Chalker, D. L., Meyer, E. & Mochizuki, K. Cold Spring Harb. Persp. Biol. 5, a017764–a017764 (2013).
About this article
Cite this article
Nodine, M. Mobile small RNAs: Sperm–companion communication. Nature Plants 2, 16041 (2016). https://doi.org/10.1038/nplants.2016.41
Published:

DOI: https://doi.org/10.1038/nplants.2016.41