Abstract
Understanding self-organization is one of the key tasks for controlling and manipulating the structure of materials at the micro- and nanoscale. In general, self-organization is driven by interparticle potentials and is opposed by the chaotic dynamics characteristic of many driven non-equilibrium systems. Here we introduce a new model that shows how the irreversible collisions that generally produce diffusive chaotic dynamics can also cause a system to self-organize to avoid future collisions. This can lead to a self-organized non-fluctuating quiescent state, with a dynamical phase transition separating it from fluctuating diffusing states. We apply the model to recent experiments on periodically sheared particle suspensions where a transition from reversible to irreversible behaviour was observed. New experiments presented here exhibit remarkable agreement with this simple model. More generally, the model and experiments provide new insights into how driven systems can self-organize.
Relevant articles
Open Access articles citing this article.
C. J. O. Reichhardt

,

A. del Campo

&

C. Reichhardt

Communications Physics Open Access 04 July 2022

T. Kaji

,

S. Maegochi

…

S. Okuma

Scientific Reports Open Access 28 January 2022

S. Maegochi

,

K. Ienaga

&

S. Okuma

Scientific Reports Open Access 29 September 2021
Access options
Subscribe to Journal
Get full journal access for 1 year
$99.00
only $8.25 per issue
All prices are NET prices.
VAT will be added later in the checkout.
Tax calculation will be finalised during checkout.
Buy article
Get time limited or full article access on ReadCube.
$32.00
All prices are NET prices.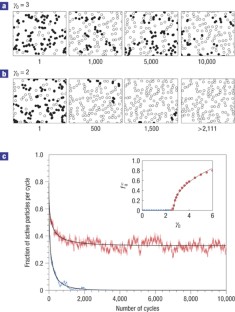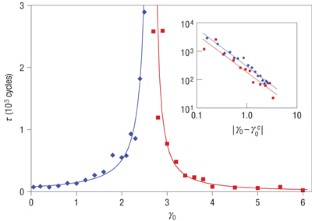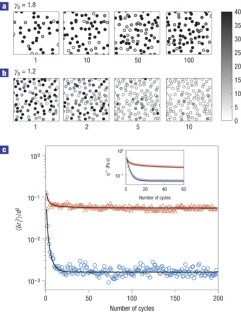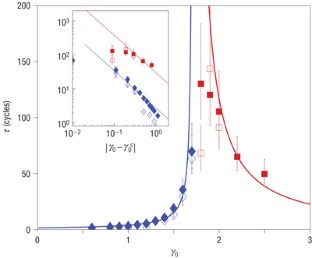 References
Hinrichsen, H. Non-equilibrium critical phenomena and phase transitions into absorbing states. Adv. Phys. 49, 815–958 (2000).

Mendes, J. F. F. Critical behaviour of models with infinitely many absorbing states. Braz. J. Phys. 30, 105–112 (2000).

Mollison, D. Spatial contact models for ecological and epidemic spread. J. R. Stat. Soc. Ser. B 39, 283–326 (1977).

Dickman, R. Nonequilibrium phase transitions in epidemics and sandpiles. Physica A 306, 90–97 (2002).

Ziff, R. M., Gulari, E. & Barshad, Y. Kinetic phase-transitions in an irreversible surface-reaction model. Phys. Rev. Lett. 56, 2553–2556 (1986).

Kohler, J. & Ben-Avraham, D. The dimer trimer model for heterogeneous catalysis. J. Stat. Phys. 65, 839–848 (1991).

Bouchaud, J. P. & Georges, A. Anomalous diffusion in disordered media—statistical mechanisms, models and physical applications. Phys. Rep.-Rev. Sec. Phys. Lett. 195, 127–293 (1990).

Havlin, S. & Ben-Avraham, D. Diffusion in disordered media. Adv. Phys. 51, 187–292 (2002).

Pomeau, Y. Front motion, metastability and subcritical bifurcations in hydrodynamics. Physica D 23, 3–11 (1986).

Dickman, R., Alava, M., Muñoz, M. A., Vespignani, A. & Zapperi, S. Critical behaviour of a one-dimensional fixed-energy stochastic sandpile. Phys. Rev. E 64, 56104 (2001).

Kinzel, W. Percolation Structures and Processes Vol. 5, 425 (Hilger, Bristol, 1983).

Cardy, J. L. Scaling and Renormalization in Statistical Physics (Cambridge Univ. Press, New York, 1996).

Broadbent, S. & Hammerley, J. Percolation processes. I. Crystals and mazes. Proc. Camb. Phil. Soc. 53, 629 (1957).

Janssen, H. K. On the non-equilibrium phase-transition in reaction–diffusion systems with an absorbing stationary state. Z. Phys. B 42, 151–154 (1981).

Grassberger, P. On phase-transitions in Schlogl 2nd model. Z. Phys. B 47, 365–374 (1982).

Grassberger, P. in Nonlinearities in Complex Systems: Proc. 1995 Shimla Conf. on Complex Systems (ed. Puri, S.) (Narosa, New Delhi, 1997).

Pine, D. J., Gollub, J. P., Brady, J. F. & Leshansky, A. M. Chaos and threshold for irreversibility in sheared suspensions. Nature 438, 997–1000 (2005).

Eckstein, E. C., Bailey, D. G. & Shapiro, A. H. Self-diffusion of particles in shear-flow of a suspension. J. Fluid Mech. 79, 191–208 (1977).

Breedveld, V., van den Ende, D., Jongschaap, R. & Mellema, J. Shear-induced diffusion and rheology of noncolloidal suspensions: Time scales and particle displacements. J. Chem. Phys. 114, 5923–5936 (2001).

Drazer, G., Koplik, J., Khusid, B. & Acrivos, A. Microstructure and velocity fluctuations in sheared suspensions. J. Fluid Mech. 511, 237–263 (2004).

Dill, K. A. et al. Principles of protein-folding—a perspective from simple exact models. Protein Sci. 4, 561–602 (1995).

Vespignani, A., Dickman, R., Muñoz, M. A. & Zapperi, S. Driving, conservation, and absorbing states in sandpiles. Phys. Rev. Lett. 81, 5676–5679 (1998).

Rossi, M., Pastor-Satorras, R. & Vespignani, A. Universality class of absorbing phase transitions with a conserved field. Phys. Rev. Lett. 85, 1803–1806 (2000).

Sierou, A. & Brady, J. F. Rheology and microstructure in concentrated noncolloidal suspensions. J. Rheol. 46, 1031–1056 (2002).

Krishnan, G. P., Beimfohr, S. & Leighton, D. T. Shear-induced radial segregation in bidisperse suspensions. J. Fluid Mech. 321, 371–393 (1996).

Breedveld, V. et al. Measurement of the full shear-induced self-diffusion tensor of noncolloidal suspensions. J. Chem. Phys. 116, 10529–10535 (2002).

Crocker, J. C. & Grier, D. G. Methods of digital video microscopy for colloidal studies. J. Colloid Interface Sci. 179, 298–310 (1996).
Acknowledgements
We thank J.-P. Bouchaud for suggesting the relevance of directed percolation and related models. We also benefited from discussions with E. Ben-Naim, S. Ramaswamy and G. I. Menon. This work was partially supported by National Science Foundation grants DMR 0604295 and DMR 0243001, and by a Lavoisier grant from the French government.
Supplementary information
About this article
Cite this article
Corté, L., Chaikin, P., Gollub, J. et al. Random organization in periodically driven systems. Nature Phys 4, 420–424 (2008). https://doi.org/10.1038/nphys891
Received:

Accepted:

Published:

Issue Date:

DOI: https://doi.org/10.1038/nphys891