The dynamics of a viscous liquid undergo a dramatic slowdown when it is cooled to form a solid glass. Recognizing the structural changes across such a transition remains a major challenge. Machine-learning methods, similar to those Facebook uses to recognize groups of friends, have now been applied to this problem.
Access options
Subscribe to Journal
Get full journal access for 1 year
$99.00
only $8.25 per issue
All prices are NET prices.
VAT will be added later in the checkout.
Tax calculation will be finalised during checkout.
Buy article
Get time limited or full article access on ReadCube.
$32.00
All prices are NET prices.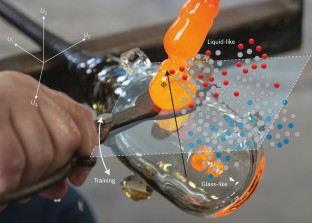 References
Debenedetti, P. G. & Stillinger, F. H. Nature 410, 259–267 (2001).

Berthier, L. & Biroli, G. Rev. Mod. Phys. 83, 587–645 (2011).

Bishop, C. Pattern Recognition and Machine Learning (Springer, 2007).

Ceriotti, M., Tribello, G. A & Parrinello, M. Proc. Natl Acad. Sci. USA 108, 13023–13028 (2011).

Ferguson, A. L., Panagiotopoulos, A. Z., Debenedetti, P. G. & Kevrekidis, I. G. Proc. Natl Acad. Sci. USA 107, 13597–13602 (2010).

Rodriguez, A. & Laio, A. Science 344, 1492–1496 (2014).

Schoenholz, S. S., Cubuk, E. D., Sussman, D. M., Kaxiras, E. & Liu, A. J. Nature Phys. 12, 469–471 (2016).
About this article
Cite this article
Ceriotti, M., Vitelli, V. Machines learn to recognize glasses. Nature Phys 12, 377–378 (2016). https://doi.org/10.1038/nphys3757
Published:

Issue Date:

DOI: https://doi.org/10.1038/nphys3757