The critical point of a fluid is defined as the point beyond which it ceases to exhibit distinct liquid- or gas-like states. A crossover between liquid-like and gas-like behaviour observed by inelastic X-ray scattering suggests subtle effects involving nanoscale fluctuations in the one-phase region above the critical point.
Access options
Subscribe to Journal
Get full journal access for 1 year
$187.00
only $15.58 per issue
All prices are NET prices.
VAT will be added later in the checkout.
Rent or Buy article
Get time limited or full article access on ReadCube.
from$8.99
All prices are NET prices.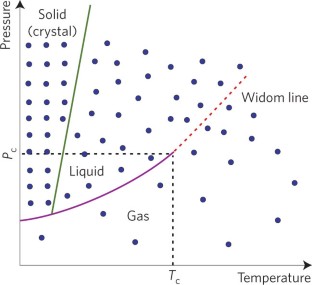 References
1

Levelt Sengers, J. M. H. How Fluids Unmix: Discoveries by the School of Van der Waals and Kamerlingh Onnes (Royal Netherlands Academy of Arts and Sciences, 2002).

2

Simeoni, G. G. et al. Nature Phys. 6, 503–507 (2010).

3

Xu, L. et al. Proc. Natl Acad. Sci. USA 102, 16558–16562 (2005).

4

Mishima, O. & Stanley, H. E. Nature 396, 329–335 (1998).

5

Huang, C. et al. Proc. Natl Acad. Sci. USA 106, 15214–15218 (2009).

6

Chu, X-Q. et al. J. Phys. Chem. B 113, 5001–5006 (2009).

7

Kumar, P. et al. Phys. Rev. Lett. 97, 177802 (2006).

8

McMillan, P. F. J. Mater. Chem. 14, 1506–1512 (2004).

9

Brazhkin, V. V., Popova, S. V. & Voloshin, R. N. High. Press. Res. 15, 267–305 (1997).

10

Katayama, Y. et al. Nature 403, 170–173 (2000).

11

Monaco, G., Falconi, S., Crichton, W. A. & Mezouar, M. Phys. Rev. Lett. 90, 255701 (2003).
About this article
Cite this article
McMillan, P., Stanley, H. Going supercritical. Nature Phys 6, 479–480 (2010) doi:10.1038/nphys1711