Abstract
The properties of random and fluctuating systems are often studied through the use of Gaussian distributions. However, in a number of situations, rare events have drastic consequences, which cannot be explained by Gaussian statistics. Considerable efforts have thus been devoted to the study of non-Gaussian fluctuations such as Lévy statistics, generalizing the standard description of random walks. Unfortunately, only macroscopic signatures, obtained by averaging over many random steps, are usually observed in physical systems. We present experimental results investigating the elementary process of anomalous diffusion of photons in hot atomic vapours. We measure the step-size distribution of the random walk and show that it follows a power-law characteristic of Lévy flights.
Relevant articles
Open Access articles citing this article.
L. A. Razo-López

,

A. A. Fernández-Marín

…

V. A. Gopar

Scientific Reports Open Access 30 November 2020
Access options
Subscribe to Journal
Get full journal access for 1 year
$99.00
only $8.25 per issue
All prices are NET prices.
VAT will be added later in the checkout.
Tax calculation will be finalised during checkout.
Buy article
Get time limited or full article access on ReadCube.
$32.00
All prices are NET prices.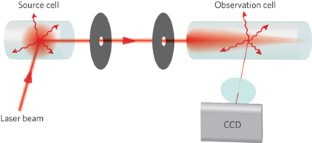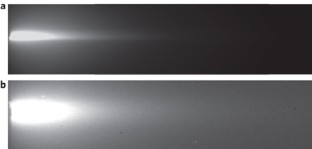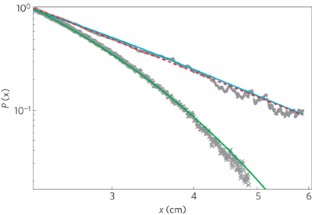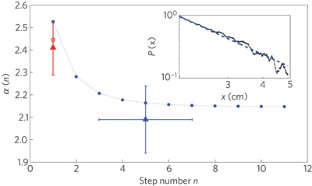 References
Lévy, P. Theorie de l'Addition des Variables Aleatoires (Gauthier-Villiers, 1937).

Bouchaud, J.-P. & Georges, A. Anomalous diffusion in disordered media: Statistical mechanisms, models and physical applications. Phys. Rep. 195, 127–293 (1990).

Shlesinger, M., Zaslavsky, G. & Frisch, U. Lévy Flights and Related Topics in Physics (Springer, 1995).

Metzler, R. & Klafter, J. The random walk's guide to anomalous diffusion: A fractional dynamics approach. Phys. Rep. 339, 1–77 (2000).

Bouchaud, J.-P. & Potters, M. Theory of Financial Risk and Derivative Pricing (Cambridge Univ. Press, 2003).

Botet, R. & Ploszajczak, M. Universal Fluctuations (World Scientific, 2002).

Goldenfeld, N. D. Lectures on Phase Transitions and the Renormalisation Group (Addison, 1992).

Barthelemy, P., Bertolotti, J. & Wiersma, D. S. A Lévy flight for light. Nature 453, 495–498 (2008).

Springmann, U. Multiple resonance line scattering and the momentum problem in Wolf-Rayet star winds. Astron. Astrophys. 289, 505–523 (1994).

Molisch, A. F. & Oehry, B. P. Radiation Trapping in Atomic Vapours (Oxford Univ., 1998).

Holstein, T. Imprisonment of resonance radiation in gases. Phys. Rev. 72, 1212–1233 (1947).

Kenty, C. On radiation diffusion and the rapidity of escape of resonance radiation from a gas. Phys. Rev. 42, 823–842 (1932).

Fioretti, A., Molisch, A. F., Mutter, J. H., Verkerk, P. & Allegrini, M. Observation of radiation trapping in a dense Cs magneto-optical trap. Opt. Commun. 149, 415–422 (1998).

Labeyrie, G. et al. Slow diffusion of light in a cold atomic cloud. Phys. Rev. Lett. 91, 223904 (2003).

Labeyrie, G., Kaiser, R. & Delande, D. Radiation trapping in a cold atomic gas. Appl. Phys. B 81, 1001–1008 (2005).

Pereira, E., Martinho, J. M. G. & Berberan-Santos, M. N. Photon trajectories in incoherent atomic radiation trapping as Lévy flights. Phys. Rev. Lett. 93, 120201 (2004).

Alves-Pereira, A. R., Nunes-Pereira, E. J., Martinho, J. M. G. & Berberan-Santos, M. N. Photonic superdiffusive motion in resonance line radiation trapping partial frequency redistribution effects. J. Chem. Phys. 126, 154505 (2007).

Mantegna, R. N. & Stanley, H. E. Stochastic process with ultraslow convergence to a Gaussian: The truncated Lévy flight. Phys. Rev. Lett. 73, 2946–2949 (1994).
Acknowledgements
We acknowledge financial support from the program ANR-06-BLAN-0096 and financial support for N.M. by DGA.
About this article
Cite this article
Mercadier, N., Guerin, W., Chevrollier, M. et al. Lévy flights of photons in hot atomic vapours. Nature Phys 5, 602–605 (2009). https://doi.org/10.1038/nphys1286
Received:

Accepted:

Published:

Issue Date:

DOI: https://doi.org/10.1038/nphys1286
This article is cited by
L. A. Razo-López
A. A. Fernández-Marín
V. A. Gopar

Scientific Reports (2020)

Nature Photonics (2013)