Abstract
Green fluorescent protein (GFP) is one of the most widely studied and exploited proteins in biochemistry and cell biology1. It emits fluorescence following optical excitation, which is usually provided by a laser2,3. Here, we report that fluorescence from enhanced GFP can be 'turned off' by exposing cells to laser light. A short flash of femtosecond laser light is shown to deplete calcium in the endoplasmic reticulum of cells. Calcium-release-activated calcium channels are then activated by stromal interaction molecule 1 (STIM1). The rise in intracellular Ca2+ depolarizes mitochondria and increases the leakage of reactive oxygen species, which then permanently bleach the GFP. This controllable optical scheme for reactive oxygen species generation can also be used to modulate the photoconversion4 of GFP fluorescence from green to red emission and provide a mechanism for influencing cellular molecular dynamics.
Relevant articles
Open Access articles citing this article.
Matthew G. Clark

,

Gil A. Gonzalez

…

Chi Zhang

Nature Communications Open Access 27 July 2022

Lan Jiang

,

An-Dong Wang

…

Yong-Feng Lu

Light: Science & Applications Open Access 30 August 2017

Yisen Wang

,

Hao He

…

Chingyue Wang

Scientific Reports Open Access 18 June 2014
Access options
Subscribe to Journal
Get full journal access for 1 year
$99.00
only $8.25 per issue
All prices are NET prices.
VAT will be added later in the checkout.
Tax calculation will be finalised during checkout.
Buy article
Get time limited or full article access on ReadCube.
$32.00
All prices are NET prices.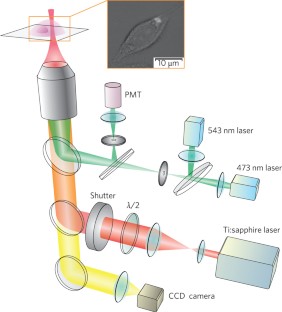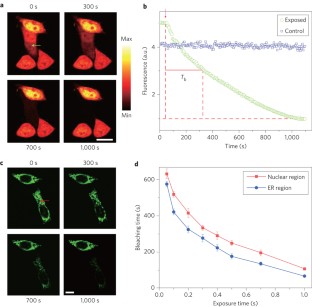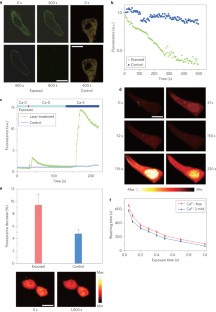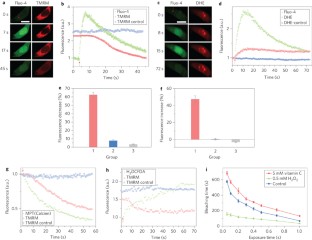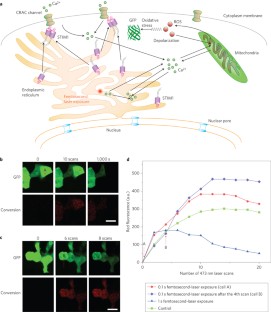 References
Misteli, T. & Spector, D. L. Applications of the green fluorescent protein in cell biology and biotechnology. Nature Biotechnol. 15, 961–964 (1997).

Shaner, N. C., Steinbach, P. A. & Tsien, R. Y. A guide to choosing fluorescent proteins. Nature Methods 2, 905–909 (2005).

Persons, D. A. et al. Use of the green fluorescent protein as a marker to identify and track genetically modified hematopoietic cells. Nature Med. 4, 1201–1205 (1998).

Bogdanov, A. M. et al. Green fluorescent proteins are light-induced electron donors. Nature Chem. Biol. 5, 459–461 (2009).

Zipfel, W. R., Williams, R. M. & Webb, W. W. Nonlinear magic: multiphoton microscopy in the biosciences. Nature Biotechnol. 21, 1369–1372 (2003).

Vogel, A., Noack, J., Hüttman, G. & Paltauf, G. Mechanisms of femtosecond laser nanosurgery of cells and tissues. Appl. Phys. B 81, 1015–1047 (2005).

Tirlapur, U. K. & König, K. Targeted transfection by femtosecond laser. Nature 418, 290–291 (2002).

Yanik, M. F. et al. Functional regeneration after laser axotomy. Nature 432, 822 (2004).

Nishimura, N. et al. Targeted insult to subsurface cortical blood vessels using ultrashort laser pulses: three models of stroke. Nature Methods 3, 99–108 (2006).

Lippincott-Schwartz, J. & Patterson, G. H. Development and use of fluorescent protein markers in living cells. Science 300, 87–91 (2003).

Tsien, R. Y. The green fluorescent protein. Annu. Rev. Biochem. 67, 509–544 (1998).

Dedio, J., Jahnen-Dechent, W., Bachmann, M. & Muller-Esterl, W. The multiligand-binding protein gc1qr, putative c1q receptor, is a mitochondrial protein1. J. Immunol. 160, 3534–3542 (1998).

Bootman, M. D., Fearnley, C., Smyrnias, I., MacDonald, F. & Roderick, H. L. An update on nuclear calcium signaling. J. Cell Sci. 122, 2337–2350 (2009).

Wu, M. M., Buchanan, J., Luik, R. M. & Lewis, R. S. Ca2+ store depletion causes STIM1 to accumulate in ER regions closely associated with the plasma membrane. J. Cell Biol. 174, 803–813 (2006).

Lewis, R. S. The molecular choreography of a store-operated calcium channel. Nature 446, 284–287 (2007).

Park, C. Y. et al. STIM1 clusters and activates CRAC channels via direct binding of a cytosolic domain to Orai1. Cell 136, 876–890 (2009).

Zhao, Y. et al. Photostimulation of astrocytes with femtosecond laser pulses. Opt. Express 17, 1291–1298 (2009).

Ashby, M. C. et al. Localized Ca2+ uncaging reveals polarized distribution of Ca2+-sensitive Ca2+ release sites. J. Cell Biol. 158, 283–292 (2002).

He, H., Kong, S. K. & Chan, K. T. Identification of source of Ca2+ in HeLa cells by femtosecond laser excitation. J. Biomed. Opt. 15, 057010 (2010).

Gandhi, S. et al. PINK1-associated Parkinson's disease is caused by neuronal vulnerability to calcium-induced cell death. Mol. Cell 33, 627–638 (2009).

Ferri, K. F. & Kroemer, G. Organelle-specific initiation of cell death pathways. Nature Cell Biol. 3, E255–E263 (2001).

Zorov, D. B., Juhaszova, M. & Sollott, S. J. Mitochondrial ROS-induced ROS release: an update and review. Biochim. Biophys. Acta 1757, 509–517 (2006).

Hirase, H., Nikolenko, V., Goldberg, J. H. & Yuste, R. Multiphoton stimulation of neurons. J. Neurobiol. 51, 237–247 (2002).

Halliwell, B. Vitamin C: antioxidant or pro-oxidant in vivo? Free Radic. Res. 25, 439–454 (1996).

Wang, W. et al. Superoxide flashes in single mitochondria. Cell 134, 279–290 (2008).

Aon, M. A., Cortassa, S., Marbán, E. & O'Rourke, B. Synchronized whole cell oscillations in mitochondrial metabolism triggered by a local release of reactive oxygen species in cardiac myocytes. J. Biol. Chem. 278, 44735–44744 (2003).
Acknowledgements
The authors thank W. Wang for effective discussions. S. He and J. Song are thanked for assistance with illustrations and X. Tang is thanked for supplying the STIM1–YFP plasmid. This work was supported by grants from the National Basic Research Program of China (grants 2011CB808101 and 2010CB327604), the National Natural Science Foundation of China (NSFC; grants 61108080, 60838004 and 81171556) and the Ministry of Science and Technology of China (2012CB917204).
Ethics declarations
Competing interests
The authors declare no competing financial interests.
Supplementary information
About this article
Cite this article
He, H., Li, S., Wang, S. et al. Manipulation of cellular light from green fluorescent protein by a femtosecond laser. Nature Photon 6, 651–656 (2012). https://doi.org/10.1038/nphoton.2012.207
Received:

Accepted:

Published:

Issue Date:

DOI: https://doi.org/10.1038/nphoton.2012.207