It is unclear why pregnant women are at high risk of severe influenza infection. Allogeneic pregnancy in mice is now shown to alter both innate and adaptive responses to influenza virus infection, enabling the emergence of more virulent virus variants.
Access options
Subscribe to Journal
Get full journal access for 1 year
$59.00
only $4.92 per issue
All prices are NET prices.
VAT will be added later in the checkout.
Tax calculation will be finalised during checkout.
Rent or Buy article
Get time limited or full article access on ReadCube.
from$8.99
All prices are NET prices.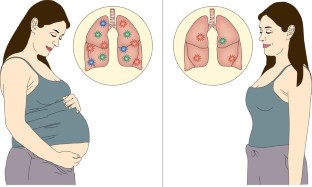 References
1

Jamieson, D. J. et al. Lancet 374, 451–458 (2009).

2

Engels, G. et al. Cell Host Microbe 21, 321–333 (2017).

3

Robinson, D. P. & Klein, S. L. Horm. Behav. 62, 263–271 (2012).

4

Kunisaki, K. M. & Janoff, E. N. Lancet Infect. Dis. 9, 493–504 (2009).

5

Paich, H. A. et al. Obesity 21, 2377–2386 (2013).

6

Sheridan, P. A. et al. Int. J. Obes. 36, 1072–1077 (2012).

7

Bandaru, P., Rajkumar, H. & Nappanveettil, G. Endocrinol. Metab. Synd.http://doi.org/b5h9 (2013).

8

Karlsson, E. A., Marcelin, G., Webby, R. J. & Schultz-Cherry, S. Influenza Other Respir. Viruses 6, 449–460 (2012).

9

Rogers, M. B. et al. mBio 6, e02464-14 (2015).
Ethics declarations
Competing interests
The authors declare no competing financial interests.
About this article
Cite this article
Ghedin, E., Schultz-Cherry, S. Host response: Pregnancy impairs flu defences. Nat Microbiol 2, 17077 (2017). https://doi.org/10.1038/nmicrobiol.2017.77
Further reading
Silvio D. Pitlik

&

Omry Koren

Microbiome (2017)