Microbiomes of native peoples could provide constituents to improve our health. Research must be conducted ethically and native peoples appropriately rewarded. However, sharing our medical practice risks spoiling these microbial oases and could lead to the same disease risks that we are trying to prevent.
Access options
Subscribe to Journal
Get full journal access for 1 year
$59.00
only $4.92 per issue
All prices are NET prices.
VAT will be added later in the checkout.
Rent or Buy article
Get time limited or full article access on ReadCube.
from$8.99
All prices are NET prices.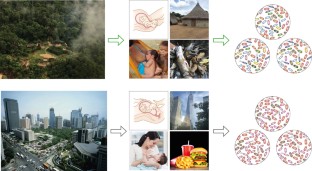 References
1

Renz, H., Brandtzaeg, P. & Hornef, M. Nature Rev. Immunol. 12, 9–23 (2012).

2

Yatsunenko, T. et al. Nature 486, 222 (2012).

3

Clemente, J. C. et al. Sci. Adv. 1, e1500183 (2015).

4

Blaser, M. J. EMBO Rep. 7, 956–960 (2006).

5

Backhed, F. et al. Cell Host Microbe 17, 690–703 (2015).

6

Blustein, J. et al. Int. J. Obes. 37, 900–906 (2013).

7

Murphy, R. et al. Int. J. Obes. 38, 1115–1119 (2014).

8

Couzin-Frankel, J. Science 330, 1168–1169 (2010).

9

Chen, Y. & Blaser, M. J. J. Infect. Dis. 198, 553–560 (2008).

10

Isolauri, E., Kalliomaki, M., Laitinen, K. & Salminen, S. Curr. Pharm. Des. 14, 1368–1375 (2008).

11

Marild, K., Stephansson, O., Montgomery, S., Murray, J. A. & Ludvigsson, J. F. Gastroenterology 142, 39–45.e3 (2012).

12

Blaser, M. J. & Falkow, S. Nature Rev. Microbiol. 7, 887–894 (2009)
About this article
Cite this article
Dominguez-Bello, M., Peterson, D., Noya-Alarcon, O. et al. Ethics of exploring the microbiome of native peoples. Nat Microbiol 1, 16097 (2016). https://doi.org/10.1038/nmicrobiol.2016.97
Further reading
Danyi Li

,

Chunhui Gao

,

Faming Zhang

,

Ruifu Yang

,

Canhui Lan

,

Yonghui Ma

&

Jun Wang

Protein & Cell (2020)

Sandra B Andersen

,

B Jesse Shapiro

,

Christina Vandenbroucke-Grauls

&

Marjon G J de Vos

The Lancet Infectious Diseases (2019)

Carine Poussin

,

Nicolas Sierro

,

Stéphanie Boué

,

James Battey

,

Elena Scotti

,

Vincenzo Belcastro

,

Manuel C. Peitsch

,

Nikolai V. Ivanov

&

Julia Hoeng

Drug Discovery Today (2018)