Marine microorganisms inhabit diverse environments and interact over different spatial and temporal scales. To fully understand how these interactions shape genome structures, cellular responses, lifestyles, community ecology and biogeochemical cycles, integration of diverse approaches and data is essential.
Access options
Subscribe to Journal
Get full journal access for 1 year
$62.00
only $5.17 per issue
All prices are NET prices.
VAT will be added later in the checkout.
Rent or Buy article
Get time limited or full article access on ReadCube.
from$8.99
All prices are NET prices.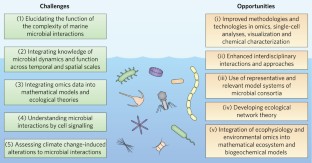 References
1

Fuhrman, J. A., Cram, J. A. & Needham, D. M. Nat. Rev. Microbiol. 13, 133–146 (2015).

2

Kashtan, N. et al. Science 344, 416–420 (2014).

3

Hahn, M. W., Jezberová, J., Koll, U., Saueressig-Beck, T. & Schmidt, J. ISME J. 10, 1642–1655 (2016).

4

Konopka, A., Lindemann, S. & Fredrickson, J. ISME J. 9, 1488–1495 (2015).

5

Gawad, C., Koh, W. & Quake, S. R. Nat. Rev. Genet. 17, 175–188 (2016).

6

Shapiro, O. H., Kramarsky-Winter, E., Gavish, A. R., Stocker, R. & Vardi, A. Nat. Commun. 7, 10860 (2016).

7

Prosser, J. I. et al. Nat. Rev. Microbiol. 5, 384–392 (2007).

8

Mojica, K. D. A., Huisman, J., Wilhelm, S. W. & Brussaard, C. P. D. ISME J. 10, 500–513 (2016).

9

Perez Sepulveda, B. et al. FEMS Microbiol. Lett. 363, 1–8 (2016).

10

Bidle, K. D. Annu. Rev. Mar. Sci. 7, 341–375 (2015).

11

Widder, S. et al. ISME J. 10, 2557–2568 (2016).

12

Petroff, A. & Libchaber, A. Proc. Natl Acad. Sci. USA 111 E537–E545 (2014).

13

Mendes-Soares, H., Mundy, M., Mendes Soares, L. & Chia, N. BMC Bioinformatics 17, 343 (2016).

14

Coles, V. J. & Hood, R. R. Aquatic Microbial Ecology and Biogeochemistry: a Dual Perspective 45–63 (Springer, 2016).
Acknowledgements
We want to especially acknowledge the speakers and discussion leaders of the 2016 Marine Microbes GRC meeting for their thoughts, insights and inspiration during the meeting and in writing this comment. We also thank all attendees of the 2016 Marine Microbes GRC for their novel and thought-provoking research and ideas and who continue to shape our dynamic field. The authors are chairs of past and future GRCs in 2010 (C.P.-A.), 2016 (C.L.), 2018 (K.D.B.) and 2020 (C.P.D.B.).
About this article
Cite this article
Brussaard, C., Bidle, K., Pedrós-Alió, C. et al. The interactive microbial ocean. Nat Microbiol 2, 16255 (2017) doi:10.1038/nmicrobiol.2016.255