Abstract
We describe a GFP-based RNA reporter system (λN-GFP) to visualize RNA molecules in live mammalian cells. It consists of GFP fused to an arginine-rich peptide derived from the phage λ N protein, λN22, which binds a unique minimal RNA motif and can be used to tag any RNA molecule. λN-GFP uses a small and easy to engineer RNA tag, reducing the likelihood of perturbing the function of the tagged RNA molecule.
Access options
Subscribe to Journal
Get full journal access for 1 year
$99.00
only $8.25 per issue
All prices are NET prices.
VAT will be added later in the checkout.
Tax calculation will be finalised during checkout.
Buy article
Get time limited or full article access on ReadCube.
$32.00
All prices are NET prices.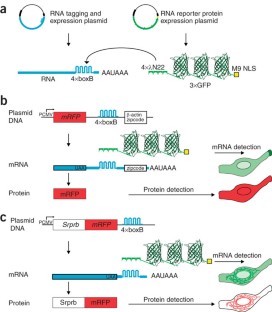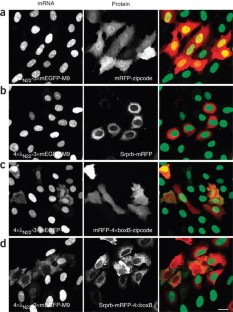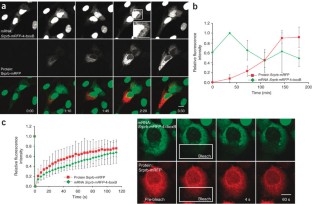 References
Bertrand, E. et al. Mol. Cell 2, 437–445 (1998).

Franklin, N.C. J. Mol. Biol. 181, 75–84 (1985).

Baron-Benhamou, J., Gehring, N.H., Kulozik, A.E. & Hentze, M.W. Methods Mol. Biol. 257, 135–154 (2004).

Austin, R.J., Xia, T., Ren, J., Takahashi, T.T. & Roberts, R.W. J. Am. Chem. Soc. 124, 10966–10967 (2002).

Siomi, H. & Dreyfuss, G. J. Cell Biol. 129, 551–560 (1995).

Kislauskis, E.H., Li, Z., Singer, R.H. & Taneja, K.L. J. Cell Biol. 123, 165–172 (1993).

Rabut, G. & Ellenberg, J. J. Microsc. 216, 131–137 (2004).

Lawrence, J.B. & Singer, R.H. Cell 45, 407–415 (1986).

Tyagi, S. & Alsmadi, O. Biophys. J. 87, 4153–4162 (2004).

Oleynikov, Y. & Singer, R.H. Curr. Biol. 13, 199–207 (2003).

Nikonov, A.V., Snapp, E., Lippincott-Schwartz, J. & Kreibich, G. J. Cell Biol. 158, 497–506 (2002).

Nehls, S. et al. Nat. Cell Biol. 2, 288–295 (2000).

He, X.P., Bataille, N. & Fried, H.M. J. Cell Sci. 107, 903–912 (1994).

Grosshans, H., Deinert, K., Hurt, E. & Simos, G. J. Cell Biol. 153, 745–762 (2001).

Huck, L. et al. Nucleic Acids Res. 32, 4915–4924 (2004).
Acknowledgements
N.D. thanks J. Beaudouin, P. Lénárt and Y. Trottier for lively discussions.
Ethics declarations
Competing interests
The authors declare no competing financial interests.
Supplementary information
Supplementary Figures 1–2, Supplementary Methods (PDF 432 kb)
Time-lapse recording of a NRK cell expressing the tagged mRNA mRFP-4boxB-zipcode and the translated protein mRFP. (MOV 2517 kb)
Time-lapse recording of post-mitotic NRK cells expressing the tagged mRNA Srprb-mRFP-16boxB and the translated protein Srprb-mRFP. (MOV 1972 kb)
About this article
Cite this article
Daigle, N., Ellenberg, J. λN-GFP: an RNA reporter system for live-cell imaging. Nat Methods 4, 633–636 (2007). https://doi.org/10.1038/nmeth1065
Received:

Accepted:

Published:

Issue Date:

DOI: https://doi.org/10.1038/nmeth1065