Abstract
In read cloud approaches, microfluidic partitioning of long genomic DNA fragments and barcoding of shorter fragments derived from these fragments retains long-range information in short sequencing reads. This combination of short reads with long-range information represents a powerful alternative to single-molecule long-read sequencing. We develop Genome-wide Reconstruction of Complex Structural Variants (GROC-SVs) for SV detection and assembly from read cloud data and apply this method to Illumina-sequenced 10x Genomics sarcoma and breast cancer data sets. Compared with short-fragment sequencing, GROC-SVs substantially improves the specificity of breakpoint detection at comparable sensitivity. This approach also performs sequence assembly across multiple breakpoints simultaneously, enabling the reconstruction of events exhibiting remarkable complexity. We show that chromothriptic rearrangements occurred before copy number amplifications, and that rates of single-nucleotide variants and SVs are not correlated. Our results support the use of read cloud approaches to advance the characterization of large and complex structural variation.
Access options
Subscribe to Journal
Get full journal access for 1 year
$259.00
only $21.58 per issue
All prices are NET prices.
VAT will be added later in the checkout.
Rent or Buy article
Get time limited or full article access on ReadCube.
from$8.99
All prices are NET prices.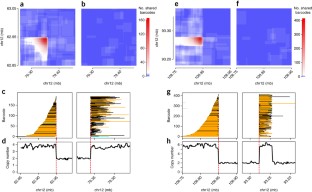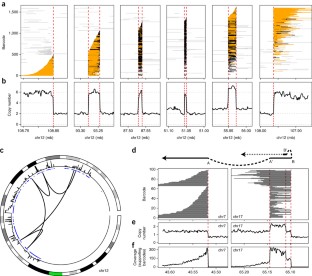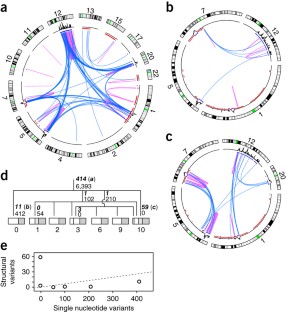 References
1

Weischenfeldt, J., Symmons, O., Spitz, F. & Korbel, J.O. Phenotypic impact of genomic structural variation: insights from and for human disease. Nat. Rev. Genet. 14, 125–138 (2013).

2

Yang, L. et al. Diverse mechanisms of somatic structural variations in human cancer genomes. Cell 153, 919–929 (2013).

3

Stephens, P.J. et al. Massive genomic rearrangement acquired in a single catastrophic event during cancer development. Cell 144, 27–40 (2011).

4

Baca, S.C. et al. Punctuated evolution of prostate cancer genomes. Cell 153, 666–677 (2013).

5

Chiang, C. et al. Complex reorganization and predominant non-homologous repair following chromosomal breakage in karyotypically balanced germline rearrangements and transgenic integration. Nat. Genet. 44, 390–397, S1 (2012).

6

Tupler, R. et al. A complex chromosome rearrangement with 10 breakpoints: tentative assignment of the locus for Williams syndrome to 4q33----q35.1. J. Med. Genet. 29, 253–255 (1992).

7

Sudmant, P.H. et al. An integrated map of structural variation in 2,504 human genomes. Nature 526, 75–81 (2015).

8

Quinlan, A.R. & Hall, I.M. Characterizing complex structural variation in germline and somatic genomes. Trends Genet. 28, 43–53 (2012).

9

Amini, S. et al. Haplotype-resolved whole-genome sequencing by contiguity-preserving transposition and combinatorial indexing. Nat. Genet. 46, 1343–1349 (2014).

10

Peters, B.A. et al. Accurate whole-genome sequencing and haplotyping from 10 to 20 human cells. Nature 487, 190–195 (2012).

11

Voskoboynik, A. et al. The genome sequence of the colonial chordate, Botryllus schlosseri. eLife 2, e00569 (2013).

12

Bishara, A. et al. Read clouds uncover variation in complex regions of the human genome. Genome Res. 25, 1570–1580 (2015).

13

Zheng, G.X.Y. et al. Haplotyping germline and cancer genomes with high-throughput linked-read sequencing. Nat. Biotechnol. 34, 303–311 (2016).

14

Layer, R.M., Chiang, C., Quinlan, A.R. & Hall, I.M. LUMPY: a probabilistic framework for structural variant discovery. Genome Biol. 15, R84 (2014).

15

Oliner, J.D., Kinzler, K.W., Meltzer, P.S., George, D.L. & Vogelstein, B. Amplification of a gene encoding a p53-associated protein in human sarcomas. Nature 358, 80–83 (1992).

16

Newburger, D.E. et al. Genome evolution during progression to breast cancer. Genome Res. 23, 1097–1108 (2013).

17

Gao, R. et al. Punctuated copy number evolution and clonal stasis in triple-negative breast cancer. Nat. Genet. 48, 1119–1130 (2016).

18

Greenman, C.D. et al. Estimation of rearrangement phylogeny for cancer genomes. Genome Res. 22, 346–361 (2012).

19

Garsed, D.W. et al. The architecture and evolution of cancer neochromosomes. Cancer Cell 26, 653–667 (2014).

20

Li, H. Aligning sequence reads, clone sequences and assembly contigs with BWA-MEM. Preprint at https://arxiv.org/abs/1303.3997 (2013).

21

Peng, Y., Leung, H.C.M., Yiu, S.M. & Chin, F.Y.L. IDBA-UD: a de novo assembler for single-cell and metagenomic sequencing data with highly uneven depth. Bioinformatics 28, 1420–1428 (2012).

22

Rausch, T. et al. DELLY: structural variant discovery by integrated paired-end and split-read analysis. Bioinformatics 28, i333–i339 (2012).

23

Weng, Z. et al. Cell-lineage heterogeneity and driver mutation recurrence in pre-invasive breast neoplasia. Genome Med. 7, 28 (2015).
Acknowledgements
We thank K. Giorda, S. Kyriazopoulou-Panagiotopoulou and M. Schnall-Levin for their assistance in preparing and analyzing the 10x data; and we thank D. Ramazzotti for analyzing mutation spectra. This work was supported by the Stanford Center for Computational, Evolutionary and Human Genomics (N.S.), R01CA183904 (NIH/NCI; R.B.W., S.B. and A.S.), and the BRCA Foundation (A.S.). Certain commercial equipment, instruments or materials are identified in this document. Such identification does not imply recommendation or endorsement by the National Institute of Standards and Technology, nor does it imply that the products identified are necessarily the best available for the purpose.
Ethics declarations
Competing interests
The authors declare no competing financial interests.
Integrated supplementary information
Supplementary information
Supplementary Figures 1–7, Supplementary Notes 1–2 and Supplementary Table 1 (PDF 1089 kb)
About this article
Cite this article
Spies, N., Weng, Z., Bishara, A. et al. Genome-wide reconstruction of complex structural variants using read clouds. Nat Methods 14, 915–920 (2017). https://doi.org/10.1038/nmeth.4366
Received:

Accepted:

Published:

Issue Date: