Abstract
Hi-C is a genome-wide sequencing technique used to investigate 3D chromatin conformation inside the nucleus. Computational methods are required to analyze Hi-C data and identify chromatin interactions and topologically associating domains (TADs) from genome-wide contact probability maps. We quantitatively compared the performance of 13 algorithms in their analyses of Hi-C data from six landmark studies and simulations. This comparison revealed differences in the performance of methods for chromatin interaction identification, but more comparable results for TAD detection between algorithms.
Access options
Subscribe to Journal
Get full journal access for 1 year
$259.00
only $21.58 per issue
All prices are NET prices.
VAT will be added later in the checkout.
Rent or Buy article
Get time limited or full article access on ReadCube.
from$8.99
All prices are NET prices.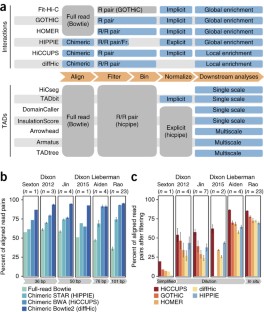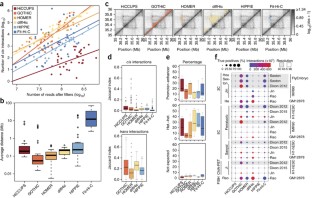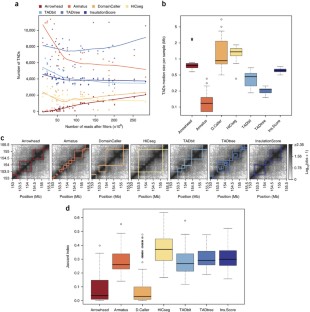 References
1

Dekker, J., Rippe, K., Dekker, M. & Kleckner, N. Capturing chromosome conformation. Science 295, 1306–1311 (2002).

2

Lieberman-Aiden, E. et al. Comprehensive mapping of long-range interactions reveals folding principles of the human genome. Science 326, 289–293 (2009).

3

Pombo, A. & Dillon, N. Three-dimensional genome architecture: players and mechanisms. Nat. Rev. Mol. Cell Biol. 16, 245–257 (2015).

4

Cavalli, G. & Misteli, T. Functional implications of genome topology. Nat. Struct. Mol. Biol. 20, 290–299 (2013).

5

Dixon, J.R. et al. Topological domains in mammalian genomes identified by analysis of chromatin interactions. Nature 485, 376–380 (2012).

6

Nora, E.P. et al. Spatial partitioning of the regulatory landscape of the X-inactivation centre. Nature 485, 381–385 (2012).

7

Sexton, T. et al. Three-dimensional folding and functional organization principles of the Drosophila genome. Cell 148, 458–472 (2012).

8

Jin, F. et al. A high-resolution map of the three-dimensional chromatin interactome in human cells. Nature 503, 290–294 (2013).

9

Rao, S.S.P. et al. A 3D map of the human genome at kilobase resolution reveals principles of chromatin looping. Cell 159, 1665–1680 (2014).

10

Schmitt, A.D., Hu, M. & Ren, B. Genome-wide mapping and analysis of chromosome architecture. Nat. Rev. Mol. Cell Biol. 17, 743–755 (2016).

11

Ay, F. & Noble, W.S. Analysis methods for studying the 3D architecture of the genome. Genome Biol. 16, 183 (2015).

12

Mora, A., Sandve, G.K., Gabrielsen, O.S. & Eskeland, R. In the loop: promoter-enhancer interactions and bioinformatics. Brief. Bioinform. 17, 980–995 (2016).

13

Shavit, Y., Merelli, I., Milanesi, L. & Lio', P. How computer science can help in understanding the 3D genome architecture. Brief. Bioinform. 17, 733–744 (2016).

14

Durand, N.C. et al. Juicer provides a one-click system for analyzing loop-resolution Hi-C experiments. Cell Syst. 3, 95–98 (2016).

15

Ay, F., Bailey, T.L. & Noble, W.S. Statistical confidence estimation for Hi-C data reveals regulatory chromatin contacts. Genome Res. 24, 999–1011 (2014).

16

Mifsud, B. et al. Mapping long-range promoter contacts in human cells with high-resolution capture Hi-C. Nat. Genet. 47, 598–606 (2015).

17

Heinz, S. et al. Simple combinations of lineage-determining transcription factors prime cis-regulatory elements required for macrophage and B cell identities. Mol. Cell 38, 576–589 (2010).

18

Hwang, Y.C. et al. HIPPIE: a high-throughput identification pipeline for promoter interacting enhancer elements. Bioinformatics 31, 1290–1292 (2015).

19

Lun, A.T.L. & Smyth, G.K. diffHic: a Bioconductor package to detect differential genomic interactions in Hi-C data. BMC Bioinformatics 16, 258 (2015).

20

Lévy-Leduc, C., Delattre, M., Mary-Huard, T. & Robin, S. Two-dimensional segmentation for analyzing Hi-C data. Bioinformatics 30, i386–i392 (2014).

21

Serra, F., Baù, D., Filion, G. & Marti-Renom, M.A. Structural features of the fly chromatin colors revealed by automatic three-dimensional modeling. Preprint at http://dx.doi.org/10.1101/036764 (2016).

22

Crane, E. et al. Condensin-driven remodelling of X chromosome topology during dosage compensation. Nature 523, 240–244 (2015).

23

Weinreb, C. & Raphael, B.J. Identification of hierarchical chromatin domains. Bioinformatics 32, 1601–1609 (2016).

24

Filippova, D., Patro, R., Duggal, G. & Kingsford, C. Identification of alternative topological domains in chromatin. Algorithms Mol. Biol. 9, 14 (2014).

25

Dixon, J.R. et al. Chromatin architecture reorganization during stem cell differentiation. Nature 518, 331–336 (2015).

26

Langmead, B., Trapnell, C., Pop, M. & Salzberg, S.L. Ultrafast and memory-efficient alignment of short DNA sequences to the human genome. Genome Biol. 10, R25 (2009).

27

Yaffe, E. & Tanay, A. Probabilistic modeling of Hi-C contact maps eliminates systematic biases to characterize global chromosomal architecture. Nat. Genet. 43, 1059–1065 (2011).

28

Dobin, A. et al. STAR: ultrafast universal RNA-seq aligner. Bioinformatics 29, 15–21 (2013).

29

Li, H. & Durbin, R. Fast and accurate short read alignment with Burrows–Wheeler transform. Bioinformatics 25, 1754–1760 (2009).

30

Langmead, B. & Salzberg, S.L. Fast gapped-read alignment with Bowtie 2. Nat. Methods 9, 357–359 (2012).

31

Imakaev, M. et al. Iterative correction of Hi-C data reveals hallmarks of chromosome organization. Nat. Methods 9, 999–1003 (2012).

32

Sauria, M.E.G., Phillips-Cremins, J.E., Corces, V.G. & Taylor, J. HiFive: a tool suite for easy and efficient HiC and 5C data analysis. Genome Biol. 16, 237 (2015).

33

Roadmap Epigenomics Consortium. et al. Integrative analysis of 111 reference human epigenomes. Nature 518, 317–330 (2015).

34

Ho, J.W.K. et al. Comparative analysis of metazoan chromatin organization. Nature 512, 449–452 (2014).

35

Dali, R. & Blanchette, M. A critical assessment of topologically associating domain prediction tools. Nucleic Acids Res. 45, 2994–3005 (2017).

36

Imakaev, M.V., Fudenberg, G. & Mirny, L.A. Modeling chromosomes: beyond pretty pictures. FEBS Lett. 589, 3031–3036 (2015).

37

Dekker, J. et al. The 4D nucleome project. Preprint at: http://dx.doi.org/10.1101/103499 (2017).

38

Schoenfelder, S. et al. The pluripotent regulatory circuitry connecting promoters to their long-range interacting elements. Genome Res. 25, 582–597 (2015).

39

Li, H. et al. The Sequence Alignment/Map format and SAMtools. Bioinformatics 25, 2078–2079 (2009).

40

ENCODE Project Consortium. An integrated encyclopedia of DNA elements in the human genome. Nature 489, 57–74 (2012).
Acknowledgements
This work was supported by AIRC Special Program Molecular Clinical Oncology "5 per mille" (to S.B.); by AIRC Start-up grant 2015 N.16841 (to F.F.); and by Italian Epigenomics Flagship Project (Epigen) (to S.B.). This project has received funding from the European Research Council (ERC) under the European Union's Horizon 2020 Research and Innovation Program (grant agreement no. 670126-DENOVOSTEM to S.B. and M.F.) and from CINECA (ISCRA Class C project HP10CDMGT8 to M.F.). C.M.L. is supported by SIPOD (Structured International Post Doc program of SEMM), a Marie Curie cofunded fellowship. We thank A. Lun (University of Cambridge) for sharing the code used to simulate Hi-C data in the diffHic article. We thank F. Fanelli (Dept. of Life Sciences, University of Modena and R. Emilia) and the center for scientific computing of the University of Modena and R. Emilia for the use of GPUs. We thank M. Cordenonsi (Dept. of Molecular Medicine, University of Padova), P. Maiuri (The FIRC Institute of Molecular Oncology, IFOM), E. Sebestyen (The FIRC Institute of Molecular Oncology, IFOM), and M. Morelli (Center for Genomic Science, Istituto Italiano di Tecnologia IIT) for critical feedback on the manuscript. We would also like to thank the authors of all the tools compared for providing support for their methods and for prompt replies to our inquiries.
Ethics declarations
Competing interests
The authors declare no competing financial interests.
Integrated supplementary information
Supplementary information
Supplementary Tables 1–10, Supplementary Notes 1–7 and Supplementary Figures 1–15
About this article
Cite this article
Forcato, M., Nicoletti, C., Pal, K. et al. Comparison of computational methods for Hi-C data analysis. Nat Methods 14, 679–685 (2017). https://doi.org/10.1038/nmeth.4325
Received:

Accepted:

Published:

Issue Date: