Abstract
We recently developed a method called expansion microscopy, in which preserved biological specimens are physically magnified by embedding them in a densely crosslinked polyelectrolyte gel, anchoring key labels or biomolecules to the gel, mechanically homogenizing the specimen, and then swelling the gel–specimen composite by ∼4.5× in linear dimension. Here we describe iterative expansion microscopy (iExM), in which a sample is expanded ∼20×. After preliminary expansion a second swellable polymer mesh is formed in the space newly opened up by the first expansion, and the sample is expanded again. iExM expands biological specimens ∼4.5 × 4.5, or ∼20×, and enables ∼25-nm-resolution imaging of cells and tissues on conventional microscopes. We used iExM to visualize synaptic proteins, as well as the detailed architecture of dendritic spines, in mouse brain circuitry.
Access options
Subscribe to Journal
Get full journal access for 1 year
$259.00
only $21.58 per issue
All prices are NET prices.
VAT will be added later in the checkout.
Rent or Buy article
Get time limited or full article access on ReadCube.
from$8.99
All prices are NET prices.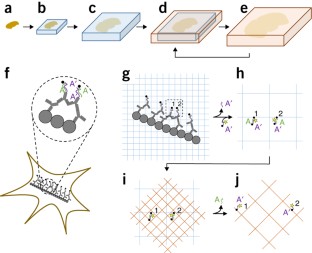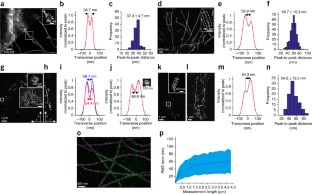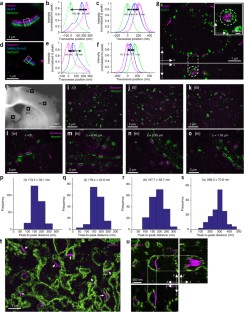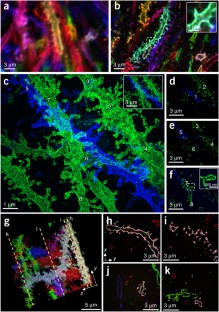 References
1

Chen, F., Tillberg, P.W. & Boyden, E.S. Expansion microscopy. Science 347, 543–548 (2015).

2

Tillberg, P.W. et al. Protein-retention expansion microscopy of cells and tissues labeled using standard fluorescent proteins and antibodies. Nat. Biotechnol. 34, 987–992 (2016).

3

Chen, F. et al. Nanoscale imaging of RNA with expansion microscopy. Nat. Methods 13, 679–684 (2016).

4

O'Connell, P.B.H. & Brady, C.J. Polyacrylamide gels with modified cross-linkages. Anal. Biochem. 76, 63–73 (1976).

5

Kurenkov, V.F., Hartan, H.-G. & Lobanov, F.I. Alkaline hydrolysis of polyacrylamide. Russ. J. Appl. Chem. 74, 543–554 (2001).

6

Weber, K., Rathke, P.C. & Osborn, M. Cytoplasmic microtubular images in glutaraldehyde-fixed tissue culture cells by electron microscopy and by immunofluorescence microscopy. Proc. Natl. Acad. Sci. USA 75, 1820–1824 (1978).

7

Dempsey, G.T., Vaughan, J.C., Chen, K.H., Bates, M. & Zhuang, X. Evaluation of fluorophores for optimal performance in localization-based super-resolution imaging. Nat. Methods 8, 1027–1036 (2011).

8

Aquino, D. et al. Two-color nanoscopy of three-dimensional volumes by 4Pi detection of stochastically switched fluorophores. Nat. Methods 8, 353–359 (2011).

9

Chozinski, T.J. et al. Expansion microscopy with conventional antibodies and fluorescent proteins. Nat. Methods 13, 485–488 (2016).

10

Dani, A., Huang, B., Bergan, J., Dulac, C. & Zhuang, X. Superresolution imaging of chemical synapses in the brain. Neuron 68, 843–856 (2010).

11

Cai, D., Cohen, K.B., Luo, T., Lichtman, J.W. & Sanes, J.R. Improved tools for the Brainbow toolbox. Nat. Methods 10, 540–547 (2013).

12

Olivier, N., Keller, D., Gönczy, P. & Manley, S. Resolution doubling in 3D-STORM imaging through improved buffers. PLoS One 8, e69004 (2013).

13

Wombacher, R. & Cornish, V.W. Chemical tags: applications in live cell fluorescence imaging. J. Biophotonics 4, 391–402 (2011).

14

Chen, B.-C. et al. Lattice light-sheet microscopy: imaging molecules to embryos at high spatiotemporal resolution. Science 346, 1257998 (2014).

15

Ke, M.-T., Fujimoto, S. & Imai, T. SeeDB: a simple and morphology-preserving optical clearing agent for neuronal circuit reconstruction. Nat. Neurosci. 16, 1154–1161 (2013).

16

Choi, H.M.T. et al. Programmable in situ amplification for multiplexed imaging of mRNA expression. Nat. Biotechnol. 28, 1208–1212 (2010).

17

Cipriano, B.H. et al. Superabsorbent hydrogels that are robust and highly stretchable. Macromolecules 47, 4445–4452 (2014).

18

Jungmann, R. et al. Multiplexed 3D cellular super-resolution imaging with DNA-PAINT and Exchange-PAINT. Nat. Methods 11, 313–318 (2014).

19

Lubeck, E., Coskun, A.F., Zhiyentayev, T., Ahmad, M. & Cai, L. Single-cell in situ RNA profiling by sequential hybridization. Nat. Methods 11, 360–361 (2014).

20

Chen, K.H., Boettiger, A.N., Moffitt, J.R., Wang, S. & Zhuang, X. RNA imaging. Spatially resolved, highly multiplexed RNA profiling in single cells. Science 348, aaa6090 (2015).

21

Lee, J.H. et al. Highly multiplexed subcellular RNA sequencing. in situ. Science 343, 1360–1363 (2014).

22

Ku, T. et al. Multiplexed and scalable super-resolution imaging of three-dimensional protein localization in size-adjustable tissues. Nat. Biotechnol. 34, 973–981 (2016).

23

Klapoetke, N.C. et al. Independent optical excitation of distinct neural populations. Nat. Methods 11, 338–346 (2014).

24

Chow, B.Y. et al. High-performance genetically targetable optical neural silencing by light-driven proton pumps. Nature 463, 98–102 (2010).

25

Vaughan, J.C., Dempsey, G.T., Sun, E. & Zhuang, X. Phosphine quenching of cyanine dyes as a versatile tool for fluorescence microscopy. J. Am. Chem. Soc. 135, 1197–1200 (2013).

26

Legant, W.R. et al. High-density three-dimensional localization microscopy across large volumes. Nat. Methods 13, 359–365 (2016).

27

Dell, R.B., Holleran, S. & Ramakrishnan, R. Sample size determination. ILAR J. 43, 207–213 (2002).
Acknowledgements
E.S.B. was funded by the HHMI-Simons Faculty Scholars Program; the NIH Director′s Pioneer Award 1DP1NS087724; the New York Stem Cell Foundation-Robertson Award; the US Army Research Laboratory and the US Army Research Office under contract/grant number W911NF1510548; US-Israel Binational Science Foundation Grant 2014509; the Picower Institute Innovation Fund; IARPA D16PC00008; NIH grants 1R01MH110932, 1R43MH101943, 1R01MH103910, 1R01EY023173, and 2R01DA029639; the IET A.F. Harvey Prize; the Open Philanthropy Project; the Halis Family Foundation; and the MIT Media Lab. J.-B.C. was supported by the Simons Postdoctoral Fellowship. F.C. was supported by the NSF Fellowship and Poitras Fellowship. Y.-G.Y., J.S.K., and H.-J.S. were supported by Samsung Scholarships. P.W.T. and A.T.W. were supported by Hertz Foundation fellowships. Confocal imaging was performed in the W.M. Keck Facility for Biological Imaging at the Whitehead Institute for Biomedical Research J.-B.C. was supported by the Center for Neuroscience Imaging Research. D.C. was funded by NIH grants R21GM114852 and R01MH110932. We acknowledge W. Salmon (MIT) for her assistance with confocal imaging. STORM imaging shown in Figure 2o was performed in the Center for Brain Science at Harvard University. We acknowledge E. Garner, C. Wivagg, and S. Turney (Harvard) for allowing us to use the N-STORM microscope and their assistance with STORM imaging. We acknowledge D. Park (MIT) for assistance with the preparation of cultured neurons. We also acknowledge S. Shim, Y. Sigal, C. Speer, M. Thanawala, D. Kim, M. Sauer, and S. Alon for helpful discussions. We acknowledge University of Michigan, Ann Arbor for providing antibodies against Brainbow fluorescent proteins.
Ethics declarations
Competing interests
E.S.B., J.-B.C., F.C., and P.W.T. have applied for a patent on iExM (US application 20160305856 A1). E.S.B. is cofounder of Expansion Technologies, a company that aims to provide expansion microscopy kits and services to the community.
Integrated supplementary information
Supplementary information
About this article
Cite this article
Chang, JB., Chen, F., Yoon, YG. et al. Iterative expansion microscopy. Nat Methods 14, 593–599 (2017). https://doi.org/10.1038/nmeth.4261
Received:

Accepted:

Published:

Issue Date: