Access options
Subscribe to Journal
Get full journal access for 1 year
$242.00
only $20.17 per issue
All prices are NET prices.
VAT will be added later in the checkout.
Rent or Buy article
Get time limited or full article access on ReadCube.
from$8.99
All prices are NET prices.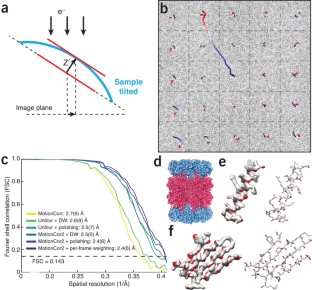 References
1

Cheng, Y. Cell 161, 450–457 (2015).

2

Kühlbrandt, W. Science 343, 1443–1444 (2014).

3

Brilot, A.F. et al. J. Struct. Biol. 177, 630–637 (2012).

4

Li, X. et al. Nat. Methods 10, 584–590 (2013).

5

Liao, M., Cao, E., Julius, D. & Cheng, Y. Nature 504, 107–112 (2013).

6

Bai, X.C., Fernandez, I.S., McMullan, G. & Scheres, S.H. eLife 2, e00461 (2013).

7

Rubinstein, J.L. & Brubaker, M.A. J. Struct. Biol. 192, 188–195 (2015).

8

Grant, T. & Grigorieff, N. eLife 4, e06980 (2015).
Acknowledgements
We thank X. Li for helpful discussion during the initial stage of this work. We also thank M. Braunfeld for supporting the cryo-EM facility at UCSF, G. Greenan (Department of Biochemistry and Biophysics, University of California San Francisco) for providing his cryo-tomographic tilt series collected on a Drosophila centriole, and C. Kennedy for supporting the computational infrastructure for processing cryo-EM data. This work was supported in part by grants from National Institute of Health—R01GM031627 to D.A.A. and P01GM111126, P50GM082250, R01GM082893 and R01GM098672 to Y.C. Y.C. and D.A.A. are Investigators of Howard Hughes Medical Institute.
Ethics declarations
Competing interests
The authors declare no competing financial interests.
Integrated supplementary information
Supplementary information
Supplementary Figures 1–8, Supplementary Table 1 and Supplementary Methods (PDF 9217 kb)
Refined coordinates and maps of archaeal 20S proteasome and TRPV1. (ZIP 52203 kb)
MotionCor2: pre-compiled program and user manual (ZIP 389 kb)
About this article
Cite this article
Zheng, S., Palovcak, E., Armache, J. et al. MotionCor2: anisotropic correction of beam-induced motion for improved cryo-electron microscopy. Nat Methods 14, 331–332 (2017) doi:10.1038/nmeth.4193