Abstract
N6-Methyladenosine (m6A) is a widespread, reversible chemical modification of RNA molecules, implicated in many aspects of RNA metabolism. Little quantitative information exists as to either how many transcript copies of particular genes are m6A modified ('m6A levels') or the relationship of m6A modification(s) to alternative RNA isoforms. To deconvolute the m6A epitranscriptome, we developed m6A-level and isoform-characterization sequencing (m6A-LAIC-seq). We found that cells exhibit a broad range of nonstoichiometric m6A levels with cell-type specificity. At the level of isoform characterization, we discovered widespread differences in the use of tandem alternative polyadenylation (APA) sites by methylated and nonmethylated transcript isoforms of individual genes. Strikingly, there is a strong bias for methylated transcripts to be coupled with proximal APA sites, resulting in shortened 3′ untranslated regions, while nonmethylated transcript isoforms tend to use distal APA sites. m6A-LAIC-seq yields a new perspective on transcriptome complexity and links APA usage to m6A modifications.
Relevant articles
Open Access articles citing this article.
Xiufei Chen

,

Haiqi Xu

…

Chun-Xiao Song

Cell Death & Differentiation Open Access 01 September 2023

Yanjiao Li

,

Yunhao Wang

…

John Arne Dahl

Nature Biotechnology Open Access 22 June 2023

Kangyue Sun

,

Lu Chen

…

Yue Zhang

Cell Death & Disease Open Access 21 February 2023
Access options
Subscribe to this journal
Receive 12 print issues and online access
$259.00 per year
only $21.58 per issue
Rent or buy this article
Prices vary by article type
from$1.95
to$39.95
Prices may be subject to local taxes which are calculated during checkout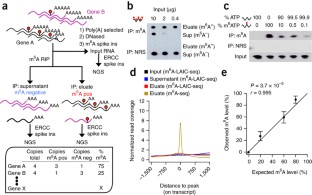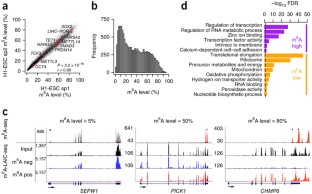 Accession codes
Accessions
Gene Expression Omnibus
References
Fu, Y. & He, C. Nucleic acid modifications with epigenetic significance. Curr. Opin. Chem. Biol. 16, 516–524 (2012).

Sibbritt, T., Patel, H.R. & Preiss, T. Mapping and significance of the mRNA methylome. Wiley Interdiscip. Rev. RNA 4, 397–422 (2013).

Meyer, K.D. & Jaffrey, S.R. The dynamic epitranscriptome: N6-methyladenosine and gene expression control. Nat. Rev. Mol. Cell Biol. 15, 313–326 (2014).

Klungland, A. & Dahl, J.A. Dynamic RNA modifications in disease. Curr. Opin. Genet. Dev. 26, 47–52 (2014).

Pan, T. N6-methyl-Adenosine modification in messenger and long non-coding RNA. Trends Biochem. Sci. 38, 204–209 (2013).

Schwartz, S. et al. High-resolution mapping reveals a conserved, widespread, dynamic mRNA methylation program in yeast meiosis. Cell 155, 1409–1421 (2013).

Wang, Y. et al. N6-methyladenosine modification destabilizes developmental regulators in embryonic stem cells. Nat. Cell Biol. 16, 191–198 (2014).

Wang, X. et al. m6A-dependent regulation of messenger RNA stability. Nature 505, 117–120 (2014).

Meyer, K.D. et al. 5′ UTR m6A promotes cap-independent translation. Cell 163, 999–1010 (2015).

Zhou, J. et al. Dynamic m6A mRNA methylation directs translational control of heat shock response. Nature 526, 591–594 (2015).

Wang, X. et al. N6-methyladenosine modulates messenger RNA translation efficiency. Cell 161, 1388–1399 (2015).

Bokar, J.A., Shambaugh, M.E., Polayes, D., Matera, A.G. & Rottman, F.M. Purification and cDNA cloning of the AdoMet-binding subunit of the human mRNA (N6-adenosine)-methyltransferase. RNA 3, 1233–1247 (1997).

Liu, J. et al. A METTL3–METTL14 complex mediates mammalian nuclear RNA N6-adenosine methylation. Nat. Chem. Biol. 10, 93–95 (2014).

Ping, X.L. et al. Mammalian WTAP is a regulatory subunit of the RNA N6-methyladenosine methyltransferase. Cell Res. 24, 177–189 (2014).

Schwartz, S. et al. Perturbation of m6A writers reveals two distinct classes of mRNA methylation at internal and 5′ sites. Cell Rep. 8, 284–296 (2014).

Zheng, G. et al. ALKBH5 is a mammalian RNA demethylase that impacts RNA metabolism and mouse fertility. Mol. Cell 49, 18–29 (2013).

Jia, G. N6-methyladenosine in nuclear RNA is a major substrate of the obesity-associated FTO. Nat. Chem. Biol. 7, 885–887 (2011).

Batista, P.J. et al. m6A RNA modification controls cell fate transition in mammalian embryonic stem cells. Cell Stem Cell 15, 707–719 (2014).

Geula, S. et al. Stem cells. m6A mRNA methylation facilitates resolution of naïve pluripotency toward differentiation. Science 347, 1002–1006 (2015).

Dominissini, D., Moshitch-Moshkovitz, S., Amariglio, N. & Rechavi, G. Transcriptome-wide mapping of N6-methyladenosine by m6A-seq. Methods Enzymol. 560, 131–147 (2015).

Dominissini, D. et al. Topology of the human and mouse m6A RNA methylomes revealed by m6A-seq. Nature 485, 201–206 (2012).

Liu, N. et al. Probing N6-methyladenosine RNA modification status at single nucleotide resolution in mRNA and long noncoding RNA. RNA 19, 1848–1856 (2013).

Horowitz, S., Horowitz, A., Nilsen, T.W., Munns, T.W. & Rottman, F.M. Mapping of N6-methyladenosine residues in bovine prolactin mRNA. Proc. Natl. Acad. Sci. USA 81, 5667–5671 (1984).

Neff, A.T., Lee, J.Y., Wilusz, J., Tian, B. & Wilusz, C.J. Global analysis reveals multiple pathways for unique regulation of mRNA decay in induced pluripotent stem cells. Genome Res. 22, 1457–1467 (2012).

Linder, B. et al. Single-nucleotide-resolution mapping of m6A and m6Am throughout the transcriptome. Nat. Methods 12, 767–772 (2015).

Wei, C., Gershowitz, A. & Moss, B. N6, O2′-dimethyladenosine a novel methylated ribonucleoside next to the 5′ terminal of animal cell and virus mRNAs. Nature 257, 251–253 (1975).

Kruse, S. et al. A novel synthesis and detection method for cap-associated adenosine modifications in mouse mRNA. Sci. Rep. 1, 126 (2011).

Keith, J.M., Ensinger, M.J. & Moss, B. HeLa cell RNA (2′-O-methyladenosine-N6-)-methyltransferase specific for the capped 5′-end of messenger RNA. J. Biol. Chem. 253, 5033–5039 (1978).

Robins, M.J., Naik, S.R. & Lee, A.S. Nucleic acid related compounds. 12. The facile and high-yield stannous chloride catalyzed monomethylation of the cis-glycol system of nucleosides by diazomethane. J. Org. Chem. 39, 1891–1899 (1974).

Zhao, X. et al. FTO-dependent demethylation of N6-methyladenosine regulates mRNA splicing and is required for adipogenesis. Cell Res. 24, 1403–1419 (2014).

Liu, N. et al. N6-methyladenosine-dependent RNA structural switches regulate RNA-protein interactions. Nature 518, 560–564 (2015).

Spitale, R.C. et al. Structural imprints in vivo decode RNA regulatory mechanisms. Nature 519, 486–490 (2015).

Shen, S. et al. MATS: a Bayesian framework for flexible detection of differential alternative splicing from RNA-seq data. Nucleic Acids Res. 40, e61 (2012).

Shen, S. et al. rMATS: robust and flexible detection of differential alternative splicing from replicate RNA-seq data. Proc. Natl. Acad. Sci. USA 111, E5593–E5601 (2014).

Masamha, C.P. et al. CFIm25 links alternative polyadenylation to glioblastoma tumour suppression. Nature 510, 412–416 (2014).

Ke, S. et al. A majority of m6A residues are in the last exons, allowing the potential for 3′ UTR regulation. Genes Dev. 29, 2037–2053 (2015).

Di Giammartino, D.C., Nishida, K. & Manley, J.L. Mechanisms and consequences of alternative polyadenylation. Mol. Cell 43, 853–866 (2011).

Berkovits, B.D. & Mayr, C. Alternative 3′ UTRs act as scaffolds to regulate membrane protein localization. Nature 522, 363–367 (2015).

Misra, A., Ou, J., Zhu, L.J. & Green, M.R. Global promotion of alternative internal exon usage by mRNA 3′ end formation factors. Mol. Cell 58, 819–831 (2015).

Shi, Y. & Manley, J.L. The end of the message: multiple protein-RNA interactions define the mRNA polyadenylation site. Genes Dev. 29, 889–897 (2015).

Nelles, D.A. et al. Programmable RNA tracking in live cells with CRISPR/Cas9. Cell 165, 488–496 (2016).

Chen, K., Zhao, B.S. & He, C. Nucleic acid modifications in regulation of gene expression. Cell Chem. Biol. 23, 74–85 (2016).

Lianoglou, S., Garg, V., Yang, J.L., Leslie, C.S. & Mayr, C. Ubiquitously transcribed genes use alternative polyadenylation to achieve tissue-specific expression. Genes Dev. 27, 2380–2396 (2013).

Chan, C.T. et al. Identification of N6,N6-dimethyladenosine in transfer RNA from Mycobacterium bovis Bacille Calmette-Guérin. Molecules 16, 5168–5181 (2011).

Livak, K.J. & Schmittgen, T.D. Analysis of relative gene expression data using real-time quantitative PCR and the 2(-ΔΔCT) method. Methods 25, 402–408 (2001).

Sigova, A.A. et al. Divergent transcription of long noncoding RNA/mRNA gene pairs in embryonic stem cells. Proc. Natl. Acad. Sci. USA 110, 2876–2881 (2013).

Trapnell, C., Pachter, L. & Salzberg, S.L. TopHat: discovering splice junctions with RNA-seq. Bioinformatics 25, 1105–1111 (2009).

Trapnell, C. et al. Transcript assembly and quantification by RNA-seq reveals unannotated transcripts and isoform switching during cell differentiation. Nat. Biotechnol. 28, 511–515 (2010).

Huang da, W., Sherman, B.T. & Lempicki, R.A. Bioinformatics enrichment tools: paths toward the comprehensive functional analysis of large gene lists. Nucleic Acids Res. 37, 1–13 (2009).

Müller, S. et al. APADB: a database for alternative polyadenylation and microRNA regulation events. Database (Oxford) 2014, bau076 (2014).

Roost, C. et al. Structure and thermodynamics of N6-methyladenosine in RNA: a spring-loaded base modification. J. Am. Chem. Soc. 137, 2107–2115 (2015).

Lewis, B.P., Burge, C.B. & Bartel, D.P. Conserved seed pairing, often flanked by adenosines, indicates that thousands of human genes are microRNA targets. Cell 120, 15–20 (2005).

Ule, J. et al. An RNA map predicting Nova-dependent splicing regulation. Nature 444, 580–586 (2006).

Dittmar, K.A. et al. Genome-wide determination of a broad ESRP-regulated posttranscriptional network by high-throughput sequencing. Mol. Cell. Biol. 32, 1468–1482 (2012).

Anderson, E.S. et al. The cardiotonic steroid digitoxin regulates alternative splicing through depletion of the splicing factors SRSF3 and TRA2B. RNA 18, 1041–1049 (2012).
Acknowledgements
This study was supported by an MGH startup and ECOR grants to C.C.G. This study was also supported by National Institutes of Health (NIH) grant R01GM088342 and an Eli & Edythe Broad Center of Regenerative Medicine and Stem Cell Research at UCLA and Rose Hills Foundation Research Award to Y.X. Y.X. is supported by an Alfred Sloan Research Fellowship. P.D. was supported by the National Research Foundation of Singapore through the Singapore–MIT Alliance for Research and Technology, National Institute of Environmental Health Science grants ES002109 and ES024615, and National Science Foundation grant CHE-1308839. A.C.M. was supported by NIH grant DK090122. We thank D. Mirsky for copy editing the manuscript. We thank J. Wan for technical support on data analyses. We thank H. Chang, P. Batista, and K. Jeffrey for reading the manuscript and providing helpful comments.
Ethics declarations
Competing interests
C.C.G., Y.X., B.M., and J.W. are in the process of filing a patent application for m6A-LAIC-seq.
Integrated supplementary information
Supplementary information
About this article
Cite this article
Molinie, B., Wang, J., Lim, K. et al. m6A-LAIC-seq reveals the census and complexity of the m6A epitranscriptome. Nat Methods 13, 692–698 (2016). https://doi.org/10.1038/nmeth.3898
Received:

Accepted:

Published:

Issue Date:

DOI: https://doi.org/10.1038/nmeth.3898