Abstract
Imaging fast cellular dynamics across large specimens requires high resolution in all dimensions, high imaging speeds, good physical coverage and low photo-damage. To meet these requirements, we developed isotropic multiview (IsoView) light-sheet microscopy, which rapidly images large specimens via simultaneous light-sheet illumination and fluorescence detection along four orthogonal directions. Combining these four views by means of high-throughput multiview deconvolution yields images with high resolution in all three dimensions. We demonstrate whole-animal functional imaging of Drosophila larvae at a spatial resolution of 1.1-2.5 μm and temporal resolution of 2 Hz for several hours. We also present spatially isotropic whole-brain functional imaging in Danio rerio larvae and spatially isotropic multicolor imaging of fast cellular dynamics across gastrulating Drosophila embryos. Compared with conventional light-sheet microscopy, IsoView microscopy improves spatial resolution at least sevenfold and decreases resolution anisotropy at least threefold. Compared with existing high-resolution light-sheet techniques, IsoView microscopy effectively doubles the penetration depth and provides subsecond temporal resolution for specimens 400-fold larger than could previously be imaged.
This is a preview of subscription content
Access options
Subscribe to Journal
Get full journal access for 1 year
$119.00
only $9.92 per issue
All prices are NET prices.
VAT will be added later in the checkout.
Tax calculation will be finalised during checkout.
Buy article
Get time limited or full article access on ReadCube.
$32.00
All prices are NET prices.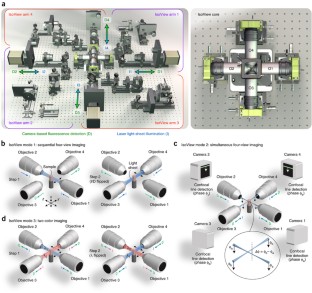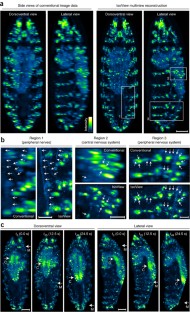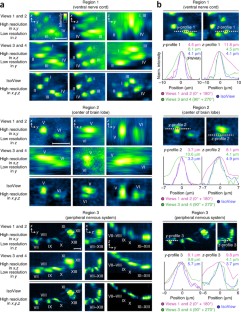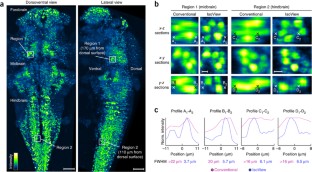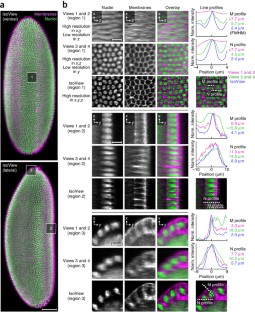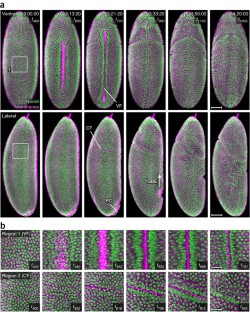 References
Winter, P.W. & Shroff, H. Faster fluorescence microscopy: advances in high speed biological imaging. Curr. Opin. Chem. Biol. 20, 46–53 (2014).

Keller, P.J. & Ahrens, M.B. Visualizing whole-brain activity and development at the single-cell level using light-sheet microscopy. Neuron 85, 462–483 (2015).

Chen, B.C. et al. Lattice light-sheet microscopy: imaging molecules to embryos at high spatiotemporal resolution. Science 346, 1257998 (2014).

Wu, Y. et al. Spatially isotropic four-dimensional imaging with dual-view plane illumination microscopy. Nat. Biotechnol. 31, 1032–1038 (2013).

Lemon, W.C. et al. Whole-central nervous system functional imaging in larval Drosophila. Nat. Commun. 6, 7924 (2015).

Tomer, R., Khairy, K., Amat, F. & Keller, P.J. Quantitative high-speed imaging of entire developing embryos with simultaneous multiview light-sheet microscopy. Nat. Methods 9, 755–763 (2012).

Krzic, U., Gunther, S., Saunders, T.E., Streichan, S.J. & Hufnagel, L. Multiview light-sheet microscope for rapid in toto imaging. Nat. Methods 9, 730–733 (2012).

Schmid, B. et al. High-speed panoramic light-sheet microscopy reveals global endodermal cell dynamics. Nat. Commun. 4, 2207 (2013).

Planchon, T.A. et al. Rapid three-dimensional isotropic imaging of living cells using Bessel beam plane illumination. Nat. Methods 8, 417–423 (2011).

Vladimirov, N. et al. Light-sheet functional imaging in fictively behaving zebrafish. Nat. Methods 11, 883–884 (2014).

Mickoleit, M. et al. High-resolution reconstruction of the beating zebrafish heart. Nat. Methods 11, 919–922 (2014).

Bouchard, M.B. et al. Swept confocally-aligned planar excitation (SCAPE) microscopy for high speed volumetric imaging of behaving organisms. Nat. Photonics 9, 113–119 (2015).

Ahrens, M.B., Orger, M.B., Robson, D.N., Li, J.M. & Keller, P.J. Whole-brain functional imaging at cellular resolution using light-sheet microscopy. Nat. Methods 10, 413–420 (2013).

Panier, T. et al. Fast functional imaging of multiple brain regions in intact zebrafish larvae using selective plane illumination microscopy. Front. Neural Circuits 7, 65 (2013).

Wolf, S. et al. Whole-brain functional imaging with two-photon light-sheet microscopy. Nat. Methods 12, 379–380 (2015).

Swoger, J., Verveer, P., Greger, K., Huisken, J. & Stelzer, E.H. Multi-view image fusion improves resolution in three-dimensional microscopy. Opt. Express 15, 8029–8042 (2007).

Preibisch, S. et al. Efficient Bayesian-based multiview deconvolution. Nat. Methods 11, 645–648 (2014).

Voie, A.H., Burns, D.H. & Spelman, F.A. Orthogonal-plane fluorescence optical sectioning: three-dimensional imaging of macroscopic biological specimens. J. Microsc. 170, 229–236 (1993).

Fuchs, E., Jaffe, J., Long, R. & Azam, F. Thin laser light sheet microscope for microbial oceanography. Opt. Express 10, 145–154 (2002).

Huisken, J., Swoger, J., Del Bene, F., Wittbrodt, J. & Stelzer, E.H.K. Optical sectioning deep inside live embryos by selective plane illumination microscopy. Science 305, 1007–1009 (2004).

Keller, P.J., Schmidt, A.D., Wittbrodt, J. & Stelzer, E.H.K. Reconstruction of zebrafish early embryonic development by scanned light sheet microscopy. Science 322, 1065–1069 (2008).

Baumgart, E. & Kubitscheck, U. Scanned light sheet microscopy with confocal slit detection. Opt. Express 20, 21805–21814 (2012).

Preibisch, S., Saalfeld, S., Schindelin, J. & Tomancak, P. Software for bead-based registration of selective plane illumination microscopy data. Nat. Methods 7, 418–419 (2010).

Temerinac-Ott, M., Ronneberger, O., Nitschke, R., Driever, W. & Burkhardt, H. Spatially-variant Lucy-Richardson deconvolution for multiview fusion of microscopic 3D images. In Proc. IEEE International Symposium on Biomedical Imaging 899–904 (IEEE, 2011).

Chen, T.W. et al. Ultrasensitive fluorescent proteins for imaging neuronal activity. Nature 499, 295–300 (2013).

Campbell, R.E. et al. A monomeric red fluorescent protein. Proc. Natl. Acad. Sci. USA 99, 7877–7882 (2002).

Morin, X., Daneman, R., Zavortink, M. & Chia, W. A protein trap strategy to detect GFP-tagged proteins expressed from their endogenous loci in Drosophila. Proc. Natl. Acad. Sci. USA 98, 15050–15055 (2001).

Fischler, M.A. & Bolles, R.C. Random sample consensus—a paradigm for model-fitting with applications to image-analysis and automated cartography. Commun. ACM 24, 381–395 (1981).
Acknowledgements
We thank B. Coop and the Janelia ID&F Team for mechanical designs and custom mechanical parts; M. Coleman for custom microscope-operating software; V. Stamataki for help with bead injections in live Drosophila embryos and larvae; E. Betzig, K. Branson and G. Rubin for helpful discussions; M. Ahrens and C.-T. Yang (Janelia Research Campus, Ashburn, Virginia, USA) for the GCaMP6s zebrafish line; E. Wieschaus (Howard Hughes Medical Institute, Princeton University, Princeton, New Jersey, USA) for the Spider-GFP flies; the Janelia Fly Facility (Janelia Research Campus, Ashburn, Virginia, USA) for sharing and maintaining transgenic Drosophila stocks; and the Janelia Vivarium Team for zebrafish animal care. This work was supported by the Howard Hughes Medical Institute.
Ethics declarations
Competing interests
P.J.K. filed a provisional US patent application for IsoView microscopy on October 9, 2013, and P.J.K. and R.K.C. filed a nonprovisional US patent application on October 8, 2014 (application number 14/509,331).
Integrated supplementary information
Supplementary information
About this article
Cite this article
Chhetri, R., Amat, F., Wan, Y. et al. Whole-animal functional and developmental imaging with isotropic spatial resolution. Nat Methods 12, 1171–1178 (2015). https://doi.org/10.1038/nmeth.3632
Received:

Accepted:

Published:

Issue Date:

DOI: https://doi.org/10.1038/nmeth.3632