Abstract
To enable sophisticated optogenetic manipulation of neural circuits throughout the nervous system with limited disruption of animal behavior, light-delivery systems beyond fiber optic tethering and large, head-mounted wireless receivers are desirable. We report the development of an easy-to-construct, implantable wireless optogenetic device. Our smallest version (20 mg, 10 mm3) is two orders of magnitude smaller than previously reported wireless optogenetic systems, allowing the entire device to be implanted subcutaneously. With a radio-frequency (RF) power source and controller, this implant produces sufficient light power for optogenetic stimulation with minimal tissue heating (<1 °C). We show how three adaptations of the implant allow for untethered optogenetic control throughout the nervous system (brain, spinal cord and peripheral nerve endings) of behaving mice. This technology opens the door for optogenetic experiments in which animals are able to behave naturally with optogenetic manipulation of both central and peripheral targets.
Access options
Subscribe to Journal
Get full journal access for 1 year
$259.00
only $21.58 per issue
All prices are NET prices.
VAT will be added later in the checkout.
Rent or Buy article
Get time limited or full article access on ReadCube.
from$8.99
All prices are NET prices.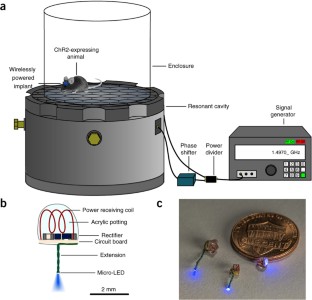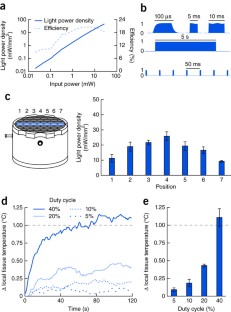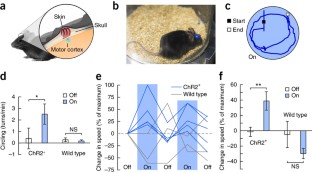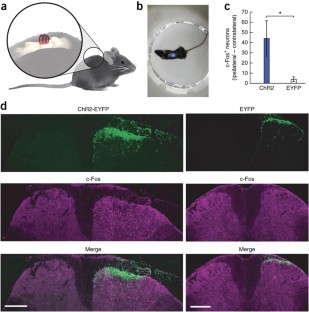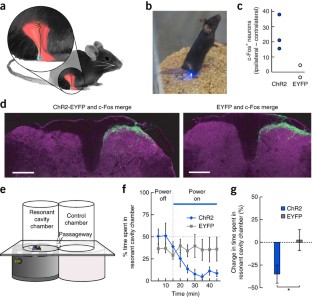 References
1

Aravanis, A.M. et al. An optical neural interface: in vivo control of rodent motor cortex with integrated fiberoptic and optogenetic technology. J. Neural Eng. 4, S143–S156 (2007).

2

Gradinaru, V. et al. Targeting and readout strategies for fast optical neural control in vitro and in vivo. J. Neurosci. 27, 14231–14238 (2007).

3

Zhang, J. et al. Integrated device for optical stimulation and spatiotemporal electrical recording of neural activity in light-sensitized brain tissue. J. Neural Eng. 6, 055007 (2009).

4

Anikeeva, P. et al. Optetrode: a multichannel readout for optogenetic control in freely moving mice. Nat. Neurosci. 15, 163–170 (2012).

5

Wang, J. et al. Integrated device for combined optical neuromodulation and electrical recording for chronic in vivo applications. J. Neural Eng. 9, 016001 (2012).

6

Warden, M.R., Cardin, J.A. & Deisseroth, K. Optical neural interfaces. Annu. Rev. Biomed. Eng. 16, 103–129 (2014).

7

Klorig, D.C. & Godwin, D.W. A magnetic rotary optical fiber connector for optogenetic experiments in freely moving animals. J. Neurosci. Methods 227, 132–139 (2014).

8

Wentz, C.T. et al. A wirelessly powered and controlled device for optical neural control of freely-behaving animals. J. Neural Eng. 8, 046021 (2011).

9

Kwon, K.Y., Lee, H.-M., Ghovanloo, M., Weber, A. & Li, W. Design, fabrication, and packaging of an integrated, wirelessly-powered optrode array for optogenetics application. Front. Syst. Neurosci. 9, 69 (2015).

10

Iwai, Y., Honda, S., Ozeki, H., Hashimoto, M. & Hirase, H. A simple head-mountable LED device for chronic stimulation of optogenetic molecules in freely moving mice. Neurosci. Res. 70, 124–127 (2011).

11

Hashimoto, M., Hata, A., Miyata, T. & Hirase, H. Programmable wireless light-emitting diode stimulator for chronic stimulation of optogenetic molecules in freely moving mice. Neurophotonics 1, 011002 (2014).

12

Kim, T.I. et al. Injectable, cellular-scale optoelectronics with applications for wireless optogenetics. Science 340, 211–216 (2013).

13

McCall, J.G. et al. Fabrication and application of flexible, multimodal light-emitting devices for wireless optogenetics. Nat. Protoc. 8, 2413–2428 (2013).

14

Lee, S.T. et al. A miniature, fiber-coupled, wireless, deep-brain optogenetic stimulator. IEEE Trans. Neural Syst. Rehabil. Eng. 23, 655–664 (2015).

15

Carr, F.B. & Zachariou, V. Nociception and pain: lessons from optogenetics. Front. Behav. Neurosci. 8, 69 (2014).

16

Yeh, A.J. et al. Wirelessly powering miniature implants for optogenetic stimulation. Appl. Phys. Lett. 103, 163701 (2013).

17

Ho, J.S. et al. Self-tracking energy transfer for neural stimulation in untethered mice. Phys. Rev. Appl. 4, 024001 (2015).

18

Yizhar, O., Fenno, L.E., Davidson, T.J., Mogri, M. & Deisseroth, K. Optogenetics in neural systems. Neuron 71, 9–34 (2011).

19

Gordon, C.J. Temperature Regulation in Laboratory Rodents (Cambridge Univ., New York, 1993).

20

Towne, C., Montgomery, K.L., Iyer, S.M., Deisseroth, K. & Delp, S.L. Optogenetic control of targeted peripheral axons in freely moving animals. PLoS ONE 8, e72691 (2013).

21

Caggiano, V., Sur, M. & Bizzi, E. Rostro-caudal inhibition of hindlimb movements in the spinal cord of mice. PLoS ONE 9, e100865 (2014).

22

Lu, C. et al. Polymer fiber probes enable optical control of spinal cord and muscle function in vivo. Adv. Funct. Mater. 24, 6594–6600 (2014).

23

Iyer, S.M. et al. Virally mediated optogenetic excitation and inhibition of pain in freely moving nontransgenic mice. Nat. Biotechnol. 32, 274–278 (2014).

24

Nguyen, T.K. et al. Closed-loop optical neural stimulation based on a 32-channel low-noise recording system with online spike sorting. J. Neural Eng. 11, 046005 (2014).

25

Mattis, J. et al. Principles for applying optogenetic tools derived from direct comparative analysis of microbial opsins. Nat. Methods 9, 159–172 (2012).

26

Lin, J.Y., Knutsen, P.M., Muller, A., Kleinfeld, D. & Tsien, R.Y. ReaChR: a red-shifted variant of channelrhodopsin enables deep transcranial optogenetic excitation. Nat. Neurosci. 16, 1499–1508 (2013).

27

Chuong, A.S. et al. Noninvasive optical inhibition with a red-shifted microbial rhodopsin. Nat. Neurosci. 17, 1123–1129 (2014).

28

Birmingham, K. et al. Bioelectronic medicines: a research roadmap. Nat. Rev. Drug Discov. 13, 399–400 (2014).

29

Williams, J.C. & Denison, T. From optogenetic technologies to neuromodulation therapies. Sci. Transl. Med. 5, 177ps6 (2013).

30

Yizhar, O. Optogenetic insights into social behavior function. Biol. Psychiatry 71, 1075–1080 (2012).

31

Franklin, K.B.J. & Paxinos, G. The Mouse Brain in Stereotaxic Coordinates (Academic Press, San Diego, 1997).

32

Schindelin, J. et al. Fiji: an open-source platform for biological-image analysis. Nat. Methods 9, 676–682 (2012).
Acknowledgements
We acknowledge support from grants from the US National Institutes of Health (National Institute of Neurological Disorders and Stroke grant R01-NS080954), the US National Science Foundation (ECCS-1351687), the Stanford Bio-X NeuroVentures program and the Stanford Bio-X Interdisciplinary Initiatives Program. K.L.M. was supported by a Stanford Interdisciplinary Graduate Fellowship through the Bio-X program. We thank E. Tanabe for his advice about constructing the resonant cavity; A. Yee for assistance with photographing experimental setups; the Stanford Behavioral and Functional Neuroscience Laboratory for assistance with Rotarod experiments; and the members of the Deisseroth, Delp and Poon labs for useful discussions and assistance with experiments.
Ethics declarations
Competing interests
K.L.M., A.J.Y., J.S.H., V.T., S.M.I., L.G., E.A.F., Y.T., K.D., S.L.D. and A.S.Y.P. have disclosed this technology to the Stanford Office of Technology Licensing for potential therapy applications.
Integrated supplementary information
Supplementary information
About this article
Cite this article
Montgomery, K., Yeh, A., Ho, J. et al. Wirelessly powered, fully internal optogenetics for brain, spinal and peripheral circuits in mice. Nat Methods 12, 969–974 (2015). https://doi.org/10.1038/nmeth.3536
Received:

Accepted:

Published:

Issue Date: