Abstract
Visualization of signal transduction in live primary cilia constitutes a technical challenge owing to the organelle's submicrometer dimensions and close proximity to the cell body. Using a genetically encoded calcium indicator targeted to primary cilia, we visualized calcium signaling in cilia of mouse fibroblasts and kidney cells upon chemical or mechanical stimulation with high specificity, high sensitivity and wide dynamic range.
Access options
Subscribe to Journal
Get full journal access for 1 year
$59.00
only $4.92 per issue
All prices are NET prices.
VAT will be added later in the checkout.
Tax calculation will be finalised during checkout.
Rent or Buy article
Get time limited or full article access on ReadCube.
from$8.99
All prices are NET prices.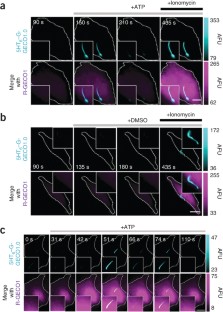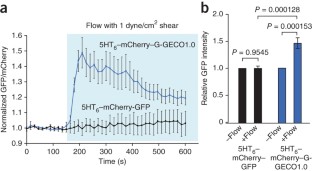 Accession codes
Primary accessions
NCBI Reference Sequence
References
1

Christensen, S., Clement, C., Satir, P. & Pedersen, L. J. Pathol. 226, 172–184 (2012).

2

Singla, V. & Reiter, J.F. Science 313, 629–633 (2006).

3

Berbari, N., Johnson, A., Lewis, J., Askwith, C. & Mykytyn, K. Mol. Biol. Cell 19, 1540–1547 (2008).

4

Praetorius, H.A. & Spring, K.R. J. Membr. Biol 184, 71–79 (2001).

5

Whitfield, J.F. Cell. Signal. 20, 1019–1024 (2008).

6

Köttgen, M. et al. J. Cell Biol. 182, 437–447 (2008).

7

Nauli, S.M. et al. Nat. Genet. 33, 129–137 (2003).

8

Belgacem, Y.H. & Borodinsky, L.N. Proc. Natl. Acad. Sci. USA 108, 4482–4487 (2011).

9

Bai, C.-X. et al. EMBO Rep. 9, 472–479 (2008).

10

Kleene, N. & Kleene, S. Cilia 1, 17 (2012).

11

Nachury, M.V., Seeley, E.S. & Jin, H. Annu. Rev. Cell Dev. Biol. 26, 59–87 (2010).

12

Mank, M. et al. Nat. Methods 5, 805–811 (2008).

13

Horikawa, K. et al. Nat. Methods 7, 729–732 (2010).

14

Akerboom, J. et al. J. Neurosci. 32, 13819–13840 (2012).

15

Zhao, Y. et al. Science 333, 1888–1891 (2011).

16

Mank, M. & Griesbeck, O. Chem. Rev. 108, 1550–1564 (2008).

17

Hori, Y. et al. Biochem. Biophys. Res. Commun. 373, 119–124 (2008).

18

Svendsen, S. et al. BMC Cell Biol. 9, 17 (2008).

19

Berbari, N.F. et al. Mol. Biol. Cell 19, 1540–1547 (2008).

20

Follit, J.A. et al. J. Cell Biol. 188, 21–28 (2010).

21

Lin, Y.C. et al. Nat. Chem. Biol. 9, 437–443 (2013).

22

Honda, A. et al. J. Biol. Chem. 285, 31362–31369 (2010).

23

Narita, K. et al. Traffic 11, 287–301 (2010).
Acknowledgements
We thank A. Seki and T. Meyer (Stanford University) for the 5HT6 construct, M. Fivaz (National University of Singapore) for the Lyn-YFP construct, A. Miyawaki (RIKEN) for the YC3.60 construct, L. Looger (Janelia Farm) for the GCaMP5G construct, G. Pazour (University of Massachusetts) for the GFP-CTS20 and GFP-CTS68 constructs, O. Griesbeck (Max Planck Institute) for the TNXXL construct, R. Reed (Johns Hopkins University) for mIMCD3 cells, and Y. Okubo, K. Kanemaru and H. Ishikawa for helpful comments on the manuscript. This study was supported in part by the US National Institutes of Health (NIH) (GM092930, DK065655 and DK090868 pilot funds provided by the Baltimore Polycystic Kidney Disease Research and Clinical Core Center) to T.I., and other grants to S.C., K.N., S.T., K.K. and T.K. from the Ministry of Education, Culture, Sports, Science and Technology of Japan and the Japan Society for the Promotion of Science. S.C.P. is supported by the Agency for Science, Technology and Research in Singapore.
Ethics declarations
Competing interests
The authors declare no competing financial interests.
Supplementary information
About this article
Cite this article
Su, S., Phua, S., DeRose, R. et al. Genetically encoded calcium indicator illuminates calcium dynamics in primary cilia. Nat Methods 10, 1105–1107 (2013). https://doi.org/10.1038/nmeth.2647
Received:

Accepted:

Published:

Issue Date: