Abstract
We established a conditional site-specific recombination system based on dimerizable Cre recombinase−mediated recombination in the apicomplexan parasite Toxoplasma gondii. Using a new single-vector strategy that allows ligand-dependent, efficient removal of a gene of interest, we generated three knockouts of apicomplexan genes considered essential for host-cell invasion. Our findings uncovered the existence of an alternative invasion pathway in apicomplexan parasites.
This is a preview of subscription content
Access options
Subscribe to Journal
Get full journal access for 1 year
$119.00
only $9.92 per issue
All prices are NET prices.
VAT will be added later in the checkout.
Tax calculation will be finalised during checkout.
Buy article
Get time limited or full article access on ReadCube.
$32.00
All prices are NET prices.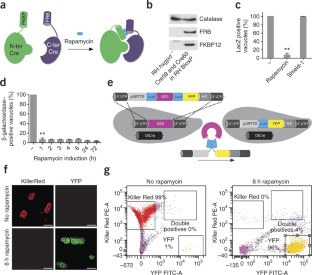 References
Herm-Götz, A. et al. Nat. Methods 4, 1003–1005 (2007).

Meissner, M., Breinich, M.S., Gilson, P.R. & Crabb, B.S. Curr. Opin. Microbiol. 10, 349–356 (2007).

Meissner, M., Schluter, D. & Soldati, D. Science 298, 837–840 (2002).

Buguliskis, J.S., Brossier, F., Shuman, J. & Sibley, L.D. PLoS Pathog. 6, e1000858 (2010).

Starnes, G.L., Coincon, M., Sygusch, J. & Sibley, L.D. Cell Host Microbe 5, 353–364 (2009).

Daher, W. & Soldati-Favre, D. Curr. Opin. Microbiol. 12, 408–414 (2009).

Plattner, F. et al. Cell Host Microbe 3, 77–87 (2008).

Huynh, M.H. & Carruthers, V.B. PLoS Pathog. 2, e84 (2006).

Jullien, N., Sampieri, F., Enjalbert, A. & Herman, J.P. Nucleic Acids Res. 31, e131 (2003).

Bulina, M.E. et al. Nat. Protoc. 1, 947–953 (2006).

Skillman, K.M. et al. PLoS Pathog. 7, e1002280 (2011).

Soldati, D.B. Mol. Cell. Biol. 15, 87–93 (1995).

Shaw, M.K., Compton, H.L., Roos, D.S. & Tilney, L.G. J. Cell Sci. 113, 1241–1254 (2000).

Fichera, M.E. & Roos, D.S. Nature 390, 407–409 (1997).

Hettmann, C. et al. Mol. Biol. Cell 11, 1385–1400 (2000).

Donald, R.G. & Roos, D.S. Proc. Natl. Acad. Sci. USA 90, 11703–11707 (1993).

Brecht, S., Erdhart, H., Soete, M. & Soldati, D. Gene 234, 239–247 (1999).

Huynh, M.H. & Carruthers, V.B. Eukaryot. Cell 8, 530–539 (2009).

Donald, R.G., Carter, D., Ullman, B. & Roos, D.S. J. Biol. Chem. 271, 14010–14019 (1996).

Kim, K., Soldati, D. & Boothroyd, J.C. Science 262, 911–914 (1993).

Black, M.W., Arrizabalaga, G. & Boothroyd, J.C. Mol. Cell. Biol. 20, 9399–9408 (2000).
Acknowledgements
We thank D. Soldati-Favre (University of Geneva), C.J. Beckers (University of North Carolina, Chapel Hill), A. Scherf (Pasteur Institute, Paris), J.F. Dubremetz (University of Montpellier), V. Carruthers (University of Michigan, Ann Arbor), B. Striepen (University of Georgia, Athens) and D.L. Sibley (Washington University) for sharing reagents, and members of the FACS facility of the Institute of Infection, Immunity and Inflammation at the University of Glasgow for their support. This work was supported by the Wellcome Trust. M.M. is funded by a Wellcome Trust Senior Fellowship (087582/Z/08/Z). N.A. is supported by an EviMalaR (European FP7/2007-2013, grant number 242095) PhD fellowship, and S.E. was funded via Signalling in life cycle stages of malaria parasites (MALSIG) (European FP7/2009-2012, grant number 223044). The Wellcome Trust Centre for Molecular Parasitology is supported by core funding from the Wellcome Trust (085349).
Ethics declarations
Competing interests
The authors declare no competing financial interests.
Supplementary information
Supplementary Figures 1–5, Supplementary Table 1, Supplementary Discussion, Supplementary Note (PDF 12842 kb)
About this article
Cite this article
Andenmatten, N., Egarter, S., Jackson, A. et al. Conditional genome engineering in Toxoplasma gondii uncovers alternative invasion mechanisms. Nat Methods 10, 125–127 (2013). https://doi.org/10.1038/nmeth.2301
Received:

Accepted:

Published:

Issue Date:

DOI: https://doi.org/10.1038/nmeth.2301