Abstract
We here describe a normalization method to combine quantitative proteomics data. By merging the output of two popular quantification software packages, we obtained a 20% increase (on average) in the number of quantified human proteins without suffering from a loss of quality. Our integrative workflow is freely available through our user-friendly, open-source Rover software (http://compomics-rover.googlecode.com/).
Access options
Subscribe to Journal
Get full journal access for 1 year
$99.00
only $8.25 per issue
All prices are NET prices.
VAT will be added later in the checkout.
Tax calculation will be finalised during checkout.
Buy article
Get time limited or full article access on ReadCube.
$32.00
All prices are NET prices.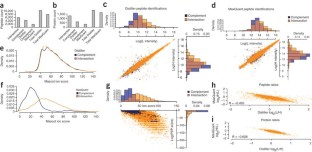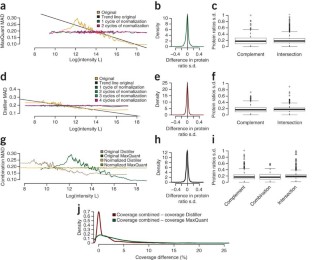 References
Domon, B. & Aebersold, R. Science 312, 212–217 (2006).

Vaudel, M., Sickmann, A. & Martens, L. Proteomics 10, 650–670 (2010).

Mueller, L.N., Brusniak, M., Mani, D.R. & Aebersold, R. J. Proteome Res. 7, 51–61 (2008).

Cox, J. & Mann, M. Nat. Biotechnol. 26, 1367–1372 (2008).

Mortensen, P. et al. J. Proteome Res. 9, 393–403 (2010).

Park, S.K., Venable, J.D., Xu, T. & Yates, J.R. III. Nat. Methods 5, 319–322 (2008).

Colaert, N., Vandekerckhove, J., Martens, L. & Gevaert, K. in Methods in Molecular Biology: Gel-Free Proteomics: Methods and Protocols (eds. Gevaert, K. and Vandekerckhove, J.) (Humana Press; in the press).

Yu, W. et al. Proteomics 10, 1172–1189 (2010).

Jones, A.R., Siepen, J.A., Hubbard, S.J. & Paton, N.W. Proteomics 9, 1220–1229 (2009).

Searle, B.C., Turner, M. & Nesvizhskii, A.I. J. Proteome Res. 7, 245–253 (2008).

Ong, S.-E. et al. Mol. Cell. Proteomics 1, 376–386 (2002).

Gevaert, K. et al. Mol. Cell. Proteomics 1, 896–903 (2002).

Bartke, T. et al. Cell 143, 470–484 (2010).

Yang, Y.H. et al. Nucleic Acids Res. 30, E15 (2002).

Colaert, N., Helsens, K., Impens, F., Vandekerckhove, J. & Gevaert, K. Proteomics 10, 1226–1229 (2010).

Perkins, D.N., Pappin, D.J., Creasy, D.M. & Cottrell, J.S. Electrophoresis 20, 3551–3567 (1999).
Acknowledgements
C.V.H. is supported by a grant of the Research Foundation–Flanders (project 3G003908). We thank B. Ghesquière, F. Impens and E. Timmerman for providing prepublication access during algorithm development to their now published data. We acknowledge the support of Ghent University (Multidisciplinary Research Partnership "Bioinformatics: from nucleotides to networks") and EU 7th Framework Programme (contract 262067-PRIME-XS). K.G. and J.V. acknowledge funding from the Fund for Scientific Research–Flanders (Belgium) (project G.0042.07), the Concerted Research Actions (project BOF07/GOA/012) from Ghent University and the Interuniversity Attraction Poles (IUAP06).
Ethics declarations
Competing interests
The authors declare no competing financial interests.
Supplementary information
Supplementary Figures 1–3, Supplementary Table 1–2, Supplementary Data (PDF 11502 kb)
About this article
Cite this article
Colaert, N., Van Huele, C., Degroeve, S. et al. Combining quantitative proteomics data processing workflows for greater sensitivity. Nat Methods 8, 481–483 (2011). https://doi.org/10.1038/nmeth.1604
Received:

Accepted:

Published:

Issue Date:

DOI: https://doi.org/10.1038/nmeth.1604
Further reading
Giulia Gonnelli
Niels Hulstaert
Lennart Martens

Analytical and Bioanalytical Chemistry (2012)