Abstract
Recording light-microscopy images of large, nontransparent specimens, such as developing multicellular organisms, is complicated by decreased contrast resulting from light scattering. Early zebrafish development can be captured by standard light-sheet microscopy, but new imaging strategies are required to obtain high-quality data of late development or of less transparent organisms. We combined digital scanned laser light-sheet fluorescence microscopy with incoherent structured-illumination microscopy (DSLM-SI) and created structured-illumination patterns with continuously adjustable frequencies. Our method discriminates the specimen-related scattered background from signal fluorescence, thereby removing out-of-focus light and optimizing the contrast of in-focus structures. DSLM-SI provides rapid control of the illumination pattern, exceptional imaging quality and high imaging speeds. We performed long-term imaging of zebrafish development for 58 h and fast multiple-view imaging of early Drosophila melanogaster development. We reconstructed cell positions over time from the Drosophila DSLM-SI data and created a fly digital embryo.
Relevant articles
Open Access articles citing this article.
Wei-Chun Tang

,

Yen-Ting Liu

…

Bi-Chang Chen

Communications Biology Open Access 26 August 2022

Frederic Strobl

,

Marc F. Schetelig

&

Ernst H. K. Stelzer

Scientific Data Open Access 15 June 2022

Karolina Dorozynska

,

Simon Ek

…

Elias Kristensson

Scientific Reports Open Access 14 October 2021
Access options
Subscribe to this journal
Receive 12 print issues and online access
$209.00 per year
only $17.42 per issue
Rent or buy this article
Get just this article for as long as you need it
$39.95
Prices may be subject to local taxes which are calculated during checkout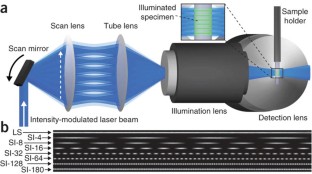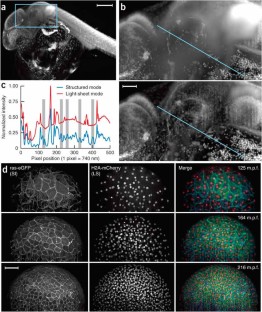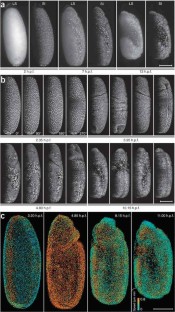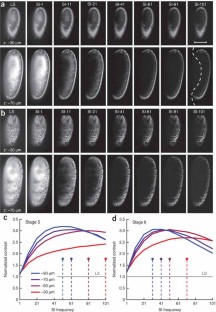 References
Bao, Z. et al. Automated cell lineage tracing in Caenorhabditis elegans. Proc. Natl. Acad. Sci. USA 103, 2707–2712 (2006).

Megason, S.G. & Fraser, S.E. Imaging in systems biology. Cell 130, 784–795 (2007).

Fowlkes, C.C. et al. A quantitative spatiotemporal atlas of gene expression in the Drosophila blastoderm. Cell 133, 364–374 (2008).

McMahon, A., Supatto, W., Fraser, S.E. & Stathopoulos, A. Dynamic analyses of Drosophila gastrulation provide insights into collective cell migration. Science 322, 1546–1550 (2008).

Murray, J.I. et al. Automated analysis of embryonic gene expression with cellular resolution in C. elegans. Nat. Methods 5, 703–709 (2008).

Keller, P.J., Schmidt, A.D., Wittbrodt, J. & Stelzer, E.H.K. Reconstruction of zebrafish early embryonic development by scanned light sheet microscopy. Science 322, 1065–1069 (2008).

Keller, P.J. & Stelzer, E.H. Quantitative in vivo imaging of entire embryos with digital scanned laser light sheet fluorescence microscopy. Curr. Opin. Neurobiol. 18, 624–632 (2008).

Long, F., Peng, H., Liu, X., Kim, S.K. & Myers, E. A 3D digital atlas of C. elegans and its application to single-cell analyses. Nat. Methods 6, 667–672 (2009).

Liu, X. et al. Analysis of cell fate from single-cell gene expression profiles in C. elegans. Cell 139, 623–633 (2009).

Neil, M.A., Juskaitis, R. & Wilson, T. Method of obtaining optical sectioning by using structured light in a conventional microscope. Opt. Lett. 22, 1905–1907 (1997).

Huisken, J., Swoger, J., Del Bene, F., Wittbrodt, J. & Stelzer, E.H.K. Optical sectioning deep inside live embryos by selective plane illumination microscopy. Science 305, 1007–1009 (2004).

Breuninger, T., Greger, K. & Stelzer, E.H. Lateral modulation boosts image quality in single plane illumination fluorescence microscopy. Opt. Lett. 32, 1938–1940 (2007).

Frohn, J.T., Knapp, H.F. & Stemmer, A. True optical resolution beyond the Rayleigh limit achieved by standing wave illumination. Proc. Natl. Acad. Sci. USA 97, 7232–7236 (2000).

Gustafsson, M.G. Surpassing the lateral resolution limit by a factor of two using structured illumination microscopy. J. Microsc. 198, 82–87 (2000).

Gustafsson, M.G. Nonlinear structured-illumination microscopy: wide-field fluorescence imaging with theoretically unlimited resolution. Proc. Natl. Acad. Sci. USA 102, 13081–13086 (2005).

Kner, P., Chhun, B.B., Griffis, E.R., Winoto, L. & Gustafsson, M.G. Super-resolution video microscopy of live cells by structured illumination. Nat. Methods 6, 339–342 (2009).

Supatto, W., McMahon, A., Fraser, S.E. & Stathopoulos, A. Quantitative imaging of collective cell migration during Drosophila gastrulation: multiphoton microscopy and computational analysis. Nat. Protocols 4, 1397–1412 (2009).

Marr, D. & Hildreth, E. Theory of edge detection. Proc. R. Soc. Lond. B 207, 187–217 (1980).

Besl, P.J. & McKay, N.D. A method for registration of 3-D shapes. IEEE Trans. Pattern Anal. Mach. Intell. 14, 239–256 (1992).

Richardson, W.H. Bayesian-based iterative method of image restoration. J. Opt. Soc. Am. 62, 55–59 (1972).

Yaroslavsky, A.N. et al. Optical properties of selected native and coagulated human brain tissues in vitro in the visible and near infrared spectral range. Phys. Med. Biol. 47, 2059–2073 (2002).
Acknowledgements
We thank members of the mechanical workshop of the European Molecular Biology Laboratory for custom hardware; A. Riedinger and G. Ritter for custom electronics; F. Härle and A. Riedinger for custom microscope software; J. Topczewski (Northwestern University) for the ras-eGFP zebrafish strain; M. Ludwig and K. White (University of Chicago) for the histone-eGFP Drosophila strain; and A. Diaspro, F. Cella and P. Theer for helpful discussions. Financial support was provided to A.D.S. by Hartmut Hoffmann-Berling International Graduate School of Molecular and Cellular Biology.
Ethics declarations
Competing interests
E.H.K.S. filed a patent application for light sheet–based structured illumination fluorescence microscopy: US patent application 11/592, 331, 2006.
Supplementary information
About this article
Cite this article
Keller, P., Schmidt, A., Santella, A. et al. Fast, high-contrast imaging of animal development with scanned light sheet–based structured-illumination microscopy. Nat Methods 7, 637–642 (2010). https://doi.org/10.1038/nmeth.1476
Received:

Accepted:

Published:

Issue Date:

DOI: https://doi.org/10.1038/nmeth.1476