Abstract
The electron mobility is one of the key parameters that characterize the charge-carrier transport properties of materials, as exemplified by the quantum Hall effect1 as well as high-efficiency thermoelectric and solar energy conversions2,3. For thermoelectric applications, introduction of chemical disorder is an important strategy for reducing the phonon-mediated thermal conduction, but is usually accompanied by mobility degradation. Here, we show a multilayered semimetal β-CuAgSe overcoming such a trade-off between disorder and mobility. The polycrystalline ingot shows a giant positive magnetoresistance and Shubnikov de Haas oscillations, indicative of a high-mobility small electron pocket derived from the Ag s-electron band. Ni doping, which introduces chemical and lattice disorder, further enhances the electron mobility up to 90,000 cm2 V−1 s−1 at 10 K, leading not only to a larger magnetoresistance but also a better thermoelectric figure of merit. This Ag-based layered semimetal with a glassy lattice is a new type of promising thermoelectric material suitable for chemical engineering.
Relevant articles
Open Access articles citing this article.
Natsumi Komatsu

,

Yota Ichinose

…

Junichiro Kono

Nature Communications Open Access 13 August 2021

Pengfei Qiu

,

Matthias T. Agne

…

G. Jeffrey Snyder

Nature Communications Open Access 25 July 2018

Xiao Yan

,

Cheng Zhang

…

Peng Zhou

Frontiers of Physics Open Access 09 June 2017
Access options
Subscribe to Journal
Get full journal access for 1 year
$119.00
only $9.92 per issue
All prices are NET prices.
VAT will be added later in the checkout.
Tax calculation will be finalised during checkout.
Buy article
Get time limited or full article access on ReadCube.
$32.00
All prices are NET prices.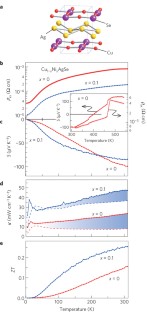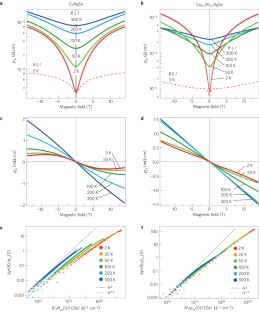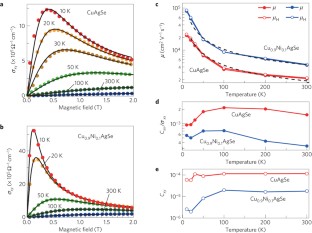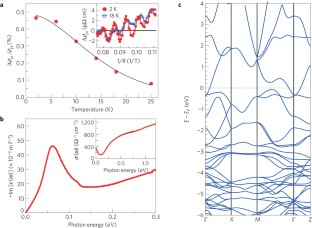 References
Novoselov, K. S. et al. Two-dimensional gas of massless Dirac fermions in graphene. Nature 438, 197–200 (2005).

Mahan, G., Sales, B. & Sharp, J. Thermoelectric materials: New approaches to an old problem. Phys. Today 50, 42–47 (March, 1997).

Shah, A. V. et al. Thin-film silicon solar cell technology. Prog. Photovolt. 12, 113–142 (2004).

Kapitza, P. L. Bismuth crystals and its change in strong the study of the specific resistance of magnetic fields and some allied problems. Proc. R. Soc. Lond. A 119, 358–443 (1928).

Xu, R. et al. Large magnetoresistance in non-magnetic silver chalcogenides. Nature 390, 57–60 (1997).

Husmann, A. et al. Megagauss sensors. Nature 417, 421–424 (2002).

Parish, M. M. & Littlewood, P. B. Classical magnetotransport of inhomogeneous conductors. Phys. Rev. B 72, 094417 (2005).

Herring, C. Effect of random inhomogeneities on electrical and galvanomagnetic measurements. J. Appl. Phys. 31, 1939–1953 (1960).

Abrikosov, A. A. Quantum linear magnetoresistance. Phys. Rev. B 58, 2788–2794 (1998).

Lee, M., Rosenbaum, T. F., Saboungi, M-L. & Schnyders, H. S. Band-gap tuning and linear magnetoresistance in the silver chalcogenides. Phys. Rev. Lett. 88, 066602 (2002).

Fang, C. M., de Groot, R. A. & Wiegers, G. A. Ab initio band structure calculations of the low-temperature phases of Ag2Se. J. Phys. Chem. Solids 63, 457–464 (2002).

Wang, X-L, Dou, S. X. & Zhang, C. Zero-gap materials for future spintronics, electronics and optics. NPG Asia Mater. 2, 31–38 (2010).

Friedman, A. L. et al. Quantum linear magnetoresistance in multilayer epitaxial graphene. Nano Lett. 10, 3962–3965 (2010).

Wang, X., Du, Y., Dou, S. & Zhang, C. Room temperature giant and linear magnetoresistance in topological insulator Bi2Te3 nanosheets. Phys. Rev. Lett. 108, 266806 (2012).

Thio, T. et al. Giant magnetoresistance in zero-band-gap Hg1−xCdxTe. Phys. Rev. B 57, 12239–12244 (1998).

Solin, S. A., Thio, T., Hines, D. R. & Heremans, J. J. Enhanced room-temperature geometric magnetoresistance in inhomogeneous narrow-gap semiconductors. Science 289, 1530–1532 (2000).

Hu, J. & Rosenbaum, T. F. Classical and quantum routes to linear magnetoresistance. Nature Mater. 7, 697–700 (2008).

Heremans, J. P. et al. Enhancement of thermoelectric efficiency in PbTe by distortion of the electronic density of states. Science 321, 554–557 (2008).

Miyatani, S. Electronic and ionic conduction in (Ag1−xCux)2Se. J. Phys. Soc. Jpn 34, 423–432 (1973).

Conn, J. B. & Taylor, R. C. Thermoelectric and crystallographic properties of Ag2Se. J. Electrochem. Soc. 107, 977–982 (1960).

Ferhat, M. & Nagao, J. Thermoelectric and transport properties of Ag2Se compounds. J. Appl. Phys. 88, 813–816 (2000).

Liu, H. et al. Copper ion liquid-like thermoelectrics. Nature Mater. 11, 422–425 (2012).

De Yoreo, J. J., Knaak, W., Meissner, M. & Pohl, R. O. Low-temperature properties of crystalline (KBr)1−x(KCN)x: A model glass. Phys. Rev. B 34, 8828–8842 (1986).

Takahashi, H., Okazaki, R., Yasui, Y. & Terasaki, I. Low-temperature magnetotransport of the narrow-gap semiconductor FeSb2 . Phys. Rev. B 84, 205215 (2011).

Shoenberg, D. Magnetic Oscillations in Metals (Cambridge Univ. Press, 1984).

Frueh, A. J., Czamanke, G. K. & Knight, C. H. The crystallography of eucairite, CuAgSe. Z. Kristallogr. 108, 389–396 (1957).

Ramasesha, S. A phenomenological model for semiconductor–metal transition in mixed conductors. J. Solid State Chem. 41, 333–337 (1982).

Fortner, J., Saboungi, M-L. & Enderby, J. E. Carrier density enhancement in semiconducting NaSn and CsPb. Phys. Rev. Lett. 74, 1415–1418 (1995).

Slack, G. A. in CRC Handbook of Thermoelectrics (ed. Rowe, M.) 407–440 (CRC, 1995).

Snyder, G. J. & Toberer, E. S. Complex thermoelectric materials. Nature Mater. 7, 105–114 (2008).

Blaha, P., Schwarz, K., Madsen, G., Kvasnicka, D. & Luitz, J. WIEN2K package, Version 10.1, http://www.wien2k.at.

Tran, F. & Blaha, P. Accurate band gaps of semiconductors and insulators with a semilocal exchange-correlation potential. Phys. Rev. Lett. 102, 226401 (2009).
Acknowledgements
The authors thank D. Okuyama and T. Arima for experimental support and thank J. G. Checkelsky, A. Tsukazaki, F. Kagawa and N. Kanazawa for useful comments. This study was in part supported by a Grant-in-Aid for Scientific Research (Grant No. 23685014) from the MEXT, and by the Funding Program for World-Leading Innovative R&D on Science and Technology (FIRST Program), Japan.
Ethics declarations
Competing interests
The authors declare no competing financial interests.
Supplementary information
About this article
Cite this article
Ishiwata, S., Shiomi, Y., Lee, J. et al. Extremely high electron mobility in a phonon-glass semimetal. Nature Mater 12, 512–517 (2013). https://doi.org/10.1038/nmat3621
Received:

Accepted:

Published:

Issue Date:

DOI: https://doi.org/10.1038/nmat3621