Abstract
Photon upconversion is promising for applications such as biological imaging, data storage or solar cells. Here, we have investigated upconversion processes in a broad range of gadolinium-based nanoparticles of varying composition. We show that by rational design of a core–shell structure with a set of lanthanide ions incorporated into separated layers at precisely defined concentrations, efficient upconversion emission can be realized through gadolinium sublattice-mediated energy migration for a wide range of lanthanide activators without long-lived intermediary energy states. Furthermore, the use of the core–shell structure allows the elimination of deleterious cross-relaxation. This effect enables fine-tuning of upconversion emission through trapping of the migrating energy by the activators. Indeed, the findings described here suggest a general approach to constructing a new class of luminescent materials with tunable upconversion emissions by controlled manipulation of energy transfer within a nanoscopic region.
Relevant articles
Open Access articles citing this article.
Zhao Jiang

,

Liangrui He

…

Wanwan Li

Nature Communications Open Access 14 February 2023

D. Przybylska

,

T. Grzyb

…

A. Szczeszak

Scientific Reports Open Access 12 November 2022

Lei Lei

,

Yubin Wang

…

Paras N. Prasad

eLight Open Access 19 September 2022
Access options
Subscribe to this journal
Receive 12 print issues and online access
$259.00 per year
only $21.58 per issue
Rent or buy this article
Get just this article for as long as you need it
$39.95
Prices may be subject to local taxes which are calculated during checkout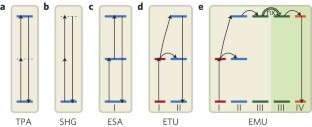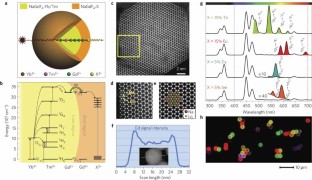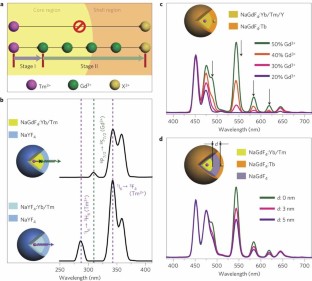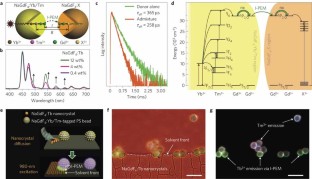 References
Auzel, F. Upconversion and anti-Stokes processes with f and d ions in solids. Chem. Rev. 104, 139–173 (2004).

Downing, E., Hesselink, L., Ralston, J. & Macfarlane, R. A three-color, solid-state, three-dimensional display. Science 273, 1185–1189 (1996).

Cohen, B. E. Beyond fluorescence. Nature 467, 407–408 (2010).

van der Ende, B. M., Aartsa, L. & Meijerink, A. Lanthanide ions as spectral converters for solar cells. Phys. Chem. Chem. Phys. 11, 11081–11095 (2009).

Wang, G., Peng, Q. & Li, Y. Lanthanide-doped nanocrystals: Synthesis, optical-magnetic properties, and applications. Acc. Chem. Res. 44, 322–332 (2011).

Kaiser, W. & Garrett, C. G. B. Two-photon excitation in CaF2:Eu2+. Phys. Rev. Lett. 7, 229–231 (1961).

Larson, D. R. et al. Water-soluble quantum dots for multiphoton fluorescence imaging in vivo. Science 300, 1434–1436 (2003).

Franken, P. A., Hill, A. E., Peters, C. W. & Weinreich, G. Generation of optical harmonics. Phys. Rev. Lett. 7, 118–119 (1961).

Pantazis, P., Maloney, J., Wu, D. & Fraser, S. E. Second harmonic generating (SHG) nanoprobes for in vivo imaging. Proc. Natl Acad. Sci. USA 107, 14535–14540 (2010).

Suyver, J. F. et al. Novel materials doped with trivalent lanthanides and transition metal ions showing near-infrared to visible photon upconversion. Opt. Mater. 27, 1111–1130 (2005).

Wang, F. & Liu, X. Recent advances in the chemistry of lanthanide-doped upconversion nanocrystals. Chem. Soc. Rev. 38, 976–989 (2009).

Chatterjee, D. K., Gnanasammandhan, M. K. & Zhang, Y. Small upconverting fluorescent nanoparticles for biomedical applications. Small 24, 2781–2795 (2010).

Bünzli, J-C. G. Lanthanide luminescence for biomedical analyses and imaging. Chem. Rev. 110, 2729–2755 (2010).

Li, C. & Lin, J. Rare earth fluoride nano-/microcrystals: Synthesis, surface modification and application. J. Mater. Chem. 20, 6831–6847 (2010).

Haase, M. & Schäfer, H. Upconverting nanoparticles. Angew. Chem. Int. Ed. 50, 5808–5829 (2011).

Wang, X., Zhuang, J., Peng, Q. & Li, Y. A general strategy for nanocrystal synthesis. Nature 437, 121–124 (2005).

Mai, H. et al. High-quality sodium rare-earth fluoride nanoparticles: Controlled synthesis and optical properties. J. Am. Chem. Soc. 128, 6426–6436 (2006).

Feng, W., Sun, L. D. & Yan, C. H. Ag nanowires enhanced upconversion emission of NaYF4:Yb, Er nanocrystals via a direct assembly method. Chem. Commun. 4393–4395 (2009).

Schäfer, H., Ptacek, P., Eickmeier, H. & Haase, M. Synthesis of hexagonal Yb3+,Er3+-doped NaYF4 nanocrystals at low temperature. Adv. Funct. Mater. 19, 3091–3097 (2009).

Wang, M. et al. Immunolabeling and NIR-excited fluorescent imaging of HeLa cells by using NaYF4:Yb, Er upconversion nanoparticles. ACS Nano 3, 1580–1586 (2009).

Wu, S. et al. Non-blinking and photostable upconverted luminescence from single lanthanide-doped nanocrystals. Proc. Natl Acad. Sci. USA 106, 10917–10921 (2009).

Zhang, F. et al. Fabrication of Ag@SiO2@Y2O3:Er nanostructures for bioimaging: Tuning of the upconversion fluorescence with silver nanoparticles. J. Am. Chem. Soc. 132, 2850–2851 (2010).

Boyer, J-C., Carling, C-J., Gates, B. D. & Branda, N. R. Two-way photoswitching using one type of near-infrared light, upconverting nanoparticles, and changing only the light intensity. J. Am. Chem. Soc. 132, 15766–15772 (2010).

Wang, F. et al. Simultaneous phase and size control of upconversion nanocrystals through lanthanide doping. Nature 463, 1061–1065 (2010).

Wang, F., Wang, J. & Liu, X. Direct evidence of a surface quenching effect on size-dependent luminescence of upconversion nanoparticles. Angew. Chem. Int. Ed. 49, 7456–7460 (2010).

Liu, Y. et al. A strategy to achieve efficient dual-mode luminescence of Eu3+ in lanthanides doped multifunctional NaGdF4 nanocrystals. Adv. Mater. 22, 3266–3271 (2010).

Ye, X. et al. Morphologically controlled synthesis of colloidal upconversion nanophosphors and their shape-directed self-assembly. Proc. Natl Acad. Sci. USA 107, 22430–22435 (2010).

Abel, K. A., Boyer, J. C., Andrei, C. M. & van Veggel, F. C. J. M. Analysis of the shell thickness distribution on NaYF4/NaGdF4 core/shell nanoparticles by EELS and EDS. J. Phys. Chem. Lett. 2, 185–189 (2011).

Bogdan, N., Vetrone, F., Ozin, G. A. & Capobianco, J. A. Synthesis of ligand-free colloidally stable water dispersible brightly luminescent lanthanide-doped upconverting nanoparticles. Nano Lett. 11, 835–840 (2011).

Chen, G., Ohulchanskyy, T. Y., Kumar, R., Agren, H. & Prasad, P. N. Ultrasmall monodisperse NaYF4:Yb3+/Tm3+ nanocrystals with enhanced near-infrared to near-infrared upconversion photoluminescence. ACS Nano 4, 3163–3168 (2010).

Mader, H. S., Kele, P., Saleh, S. M. & Wofbeis, O. S. Upconverting luminescent nanoparticles for use in bioconjugation and bioimaging. Curr. Opin. Chem. Biol. 14, 582–596 (2010).

DiMaio, J. R., Sabatier, C., Kokuoz, B. & Ballato, J. Controlling energy transfer between multiple dopants within a single nanoparticle. Proc. Natl Acad. Sci. USA 105, 1809–1813 (2008).

Zhou, J. et al. Fluorine-18-labeled Gd3+/Yb3+/Er3+ codoped NaYF4 nanophosphors for multimodality PET/MR/UCL imaging. Biomaterials 32, 1148–1156 (2011).

Liu, Q. et al. 18F-labeled magnetic-upconversion nanophosphors via rare-earth cation-assisted ligand assembly. ACS Nano 5, 3146–3157 (2011).

Schietinger, S., Aichele, T., Wang, H., Nann, T. & Benson, O. Plasmon-enhanced upconversion in single NaYF4:Yb3+/Er3+ codoped nanocrystals. Nano Lett. 10, 134–138 (2010).

Chen, D. et al. Modifying the size and shape of monodisperse bifunctional alkaline-earth fluoride nanocrystals through lanthanide doping. J. Am. Chem. Soc. 132, 9976–9978 (2010).

Yi, G. S. & Chow, G. M. Synthesis of hexagonal-phase NaYF4:Yb, Er and NaYF4:Yb, Tm nanocrystals with efficient up-conversion fluorescence. Adv. Funct. Mater. 16, 2324–2329 (2006).

Zhang, H. et al. Plasmonic modulation of the upconversion fluorescence in NaYF4:Yb/Tm hexaplate nanocrystals using gold nanoparticles or nanoshells. Angew. Chem. Int. Ed. 49, 2865–2868 (2010).

Xue, X., Wang, F. & Liu, X. Emerging functional nanomaterials for therapeutics. J. Mater. Chem. 21, 13107–13127 (2011).

Blasse, G. The physics of new luminescent materials. Mater. Chem. Phys. 16, 201–236 (1987).

Chua, M. & Tanner, P. A. Energy transfer and migration in highly forbidden transitions of lanthanide ion doped crystals. Chem. Phys. 250, 267–278 (1999).

Kutsenko, A. B., Heber, J., Kapphan, S. E., Demirbilek, R. & Zakharchenya, R. I. Energy migration and energy transfer processes in RE3+ doped nanocrystalline yttrium oxide. Phys. Status Solidi c 2, 685–688 (2005).

Wegh, R. T., Donker, H., Oskam, K. D. & Meijerink, A. Visible quantum cutting in LiGdF4:Eu3+ through downconversion. Science 283, 663–666 (1999).

Qin, W. et al. Ultraviolet upconversion fluorescence from 6DJ of Gd3+ induced by 980 nm excitation. Opt. Lett. 33, 2167–2169 (2008).

Tu, D. et al. Time-resolved FRET biosensor based on amine-functionalized lanthanide-doped NaYF4 nanocrystals. Angew. Chem. Int. Ed. 50, 6306–6310 (2011).

Bruchez, M. Jr, Moronne, M., Gin, P., Weiss, S. & Alivisatos, A. P. Semiconductor nanoparticles as fluorescent biological labels. Science 281, 2013–2016 (1998).

Binnemans, K. Lanthanide-based luminescent hybrid materials. Chem. Rev. 109, 4283–4374 (2009).

Jares-Erijman, E. A. & Jovin, T. M. FRET imaging. Nature Biotechnol. 21, 1387–1395 (2003).
Acknowledgements
The bulk of the work was supported by the Singapore Ministry of Education (No. MOE2010T2-1-083), the Singapore-MIT Alliance, and the Agency for Science, Technology and Research (No. IMRE/11-1C0110). Y.H. is grateful to KAUST Global Collaborative Research for the Academic Excellence Alliance (AEA) fund. H.Z. and X.C. acknowledge the financial support from the NSFC (Nos. 10974200 and 51002151) and the 863 programs of MOST (Nos. 2009AA03Z430 and 2011AA03A407). We thank T. Nguyen, Y. Liu and L. Tan for their help in sample characterization.
Ethics declarations
Competing interests
The authors declare no competing financial interests.
Supplementary information
About this article
Cite this article
Wang, F., Deng, R., Wang, J. et al. Tuning upconversion through energy migration in core–shell nanoparticles. Nature Mater 10, 968–973 (2011). https://doi.org/10.1038/nmat3149
Received:

Accepted:

Published:

Issue Date:

DOI: https://doi.org/10.1038/nmat3149