A newly derived set of differential equations provides a numerical solution to the classic question of predicting the shape of a Möbius strip.
Access options
Subscribe to Journal
Get full journal access for 1 year
$119.00
only $9.92 per issue
All prices are NET prices.
VAT will be added later in the checkout.
Tax calculation will be finalised during checkout.
Buy article
Get time limited or full article access on ReadCube.
$32.00
All prices are NET prices.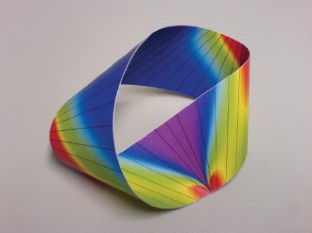 References
Sadowsky, M. Proc. Int. Congr. Appl. Mech. Stockholm 2, 444–451 (1930).

Sadowsky, M. Sitzungsber. Preuss. Akad. Wiss. 22, 412–415 (1930).

Tanda, S. et al. Nature 417, 397–398 (2002).

Tanda, S., Tsuneta, T., Toshima, T., Matsuura, T. & Tsubota, M. J. Phys. IV 131, 289–294 (2005).

Starostin, E. L. & Van Der Heijden, G. H. M. Nature Mater. 10.1038/nmat1929 (2007).

Randrup, T. & Røgen, P. Arch. Math. 66, 511–521 (1996).

Wunderlich, W. Monatsh. Math. 66, 276–289 (1962).

Anderson, I. M. Technical Report (Utah State Univ. 1989); available at http://www.math.usu.edu/~fg_mp/Publications/VB/vb.pdf.

Maritan, A., Micheletti, C., Trovato, A. & Banavar, J. R. Nature 406, 287–290 (2000).

Stasiak, A. & Maddocks, J. H. Nature 406, 251–252 (2000).

Chouaieb, N., Goriely, A. & Maddocks, J. H. Proc Natl Acad. Sci. USA 103, 9398–9403 (2006).
About this article
Cite this article
Maddocks, J. Around the Möbius band. Nature Mater 6, 547–548 (2007). https://doi.org/10.1038/nmat1960
Published:

Issue Date:

DOI: https://doi.org/10.1038/nmat1960