[First published on 18 December 2020; Nature India Spotlight on Odisha]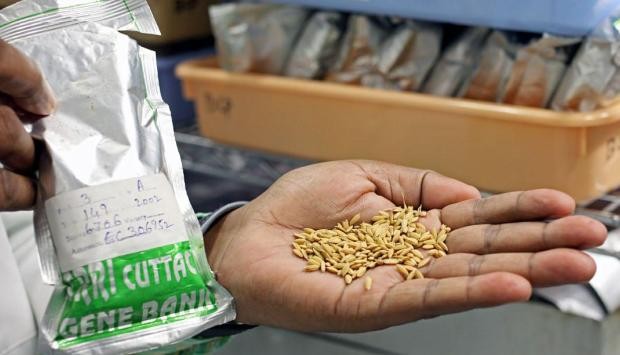 The contribution of agriculture to Odisha's economy has increased significantly, according to its latest economic survey (2019-20), which shows that about 20% of the state's revenue comes from crops, livestock, fisheries and aquaculture. While 'natural shocks' interrupted crop production — a cyclone in 2013-14, drought in 2015-16 and pest attacks in 2017-18 — the growth in livestock and fisheries has risen steadily for a decade. The state's Agriculture Policy 2020 indicated the sector's GDP nearly doubled in real terms, clocking an annual growth rate of about 4.5%, higher than the all-India average of 3.1% between 2000-01 and 2016-17.
Odisha's agricultural success can be traced back to a legacy of scientific exploration and interventions.
Rice science leading the way
Rice is synonymous with Odisha's agriculture. Orissa, the English spelling of Odisha's former name led to a widespread presumption that its origin came from Oryza, from the rice genus. The Jeypore tract of Odisha has been described as the secondary centre of rice's origin and diversity, and covers more than 60% of its cultivated area. Odisha's economy is directly linked to the production and productivity of rice.
Rice varieties from Odisha are consumed across the world. The state is home to numerous landraces, particularly in the earlier undivided Koraput district that includes Jeypore. Before the semi-dwarf, high-yielding paddy types were adopted by the state in the 1960s and 70s, farmers used to grow many traditional varieties.
Over the past 20 years, the high yielding varieties have almost replaced the diverse, locally adapted varieties, but farmers still grow these traditional cultivates in the rain-fed uplands and regions with deep and semi-deep water conditions. These cultivars were grown for specific traits like maturity duration (usually in sync with specific cultural festivals), aroma of grains, and tolerance to biotic and abiotic stresses. Some of these traditional rice varieties still grown in limited scale are: Kakudimanji, Saruchinamali, Ratna Chudi, Cuttack Chandi, Kedar Gauri, Kala-kartik and Pateni .
The aromatic landraces of rice in Odisha have been used for generations, and indigenous scented varieties like Kalajeera, Kalikati, Jubraj, Karpura Kranti, Tulsiphoola and Pimpudibasa are still popular locally and beyond. Many rice varieties of Odisha have been preserved ex situ at the National Bureau of Plant Genetic Resources (NBPGR), Delhi, This Indian Council of Agricultural Research (ICAR) body has developed 70 biofortified crop varieties, some of which are derived from such traditional varieties.
Institutions like the Chennai-based M. S. Swaminathan Research Foundation (MSSRF) preserve traditional varieties of rice in situ in the tribal heartland of Koraput. Kamala Pujari, from Jeypore (Koraput) was awarded with the Padmashri honour in 2019 for her conservation of rice landraces in crop fields after leading a push for participatory breeding in her village and adjoining areas that led to the development of Kalinga Kalajeera variety.
The establishment of the Central Rice Research Institute (renamed National Rice Research Institute) at Cuttack in 1946 was a milestone in India's agricultural research, as systematic rice hybridization efforts started here. However, the initial indica-japonica hybridization program launched in 1950s to break the yield barriers in indica rice wasn't as successful. Subsequently, the indica variety, TN-1, was the basis for a series of high yielding dwarf varieties including IR-8. This new variety, referred to as miracle rice, was short-statured and highly responsive to fertilizer application — breaching the yield barrier in tropical rice.
CRRI scientists and the All-India Coordinated Rice Improvement Program (AICRIP) led to the development of a number of rice varieties, later released across the country. Agricultural scientists such as Krishnaswamy Ramiah, M.B.V.N. Rao, C. Challam, and S.V.S. Shastry laid the foundation of rice science and variety development in India. The father of India's green revolution, M.S. Swaminathan, also started his research career at the Central Rice Research Institute in Odisha.
A long line of other scientists and breeders contributed steadily, developing high yielding varieties for various agro-ecologies and agronomic traits. Jagannath, Parijat, Jajati, Khandagiri, Surendra, Lalat, and Pratikshya are among popular varieties released by the Odisha University of Agriculture and Technology (OUAT) in the last 50 years.
Using technology, resistant genes or quantitative trait loci (QTL) have been organised into elite genotypes to include desired traits in rice varieties. The best example is the Swarna Sub 1 variety in which the submergence-tolerant sub1 gene (isolated from the landrace FRI3A) has been introduced through a technique called marker-assisted selection. Swarna Sub1 has now been further improved at CRRI to include multiple QTL to develop new varieties like CR Dhan 801 and CR Dhan 802, which are both drought and flood resilient. Odisha has diverse germplasms of rice, which could be screened to map the QTL for varieties resilient to multiple biotic and abiotic stresses.
Similarly, a high-protein trait from two landraces of Assam was transferred to high-yield rice varieties Naveen and Swarna through systematic back cross breeding programmes The Cuttack-based National Rice Research Institute (NRRI) released its first high protein rice variety CR Dhan 310 with 10.3 % grain protein content (GPC) in 2019 followed by another variety CR Dhan 311 with 10.1% GPC and zinc content of 20 parts per million. These accomplishments are significant as India aims to strengthen nutritional security.
Fisheries
Fisheries and aquaculture are among the fastest growing sectors in Odisha. Production (from fresh water, brackish water and the ocean) has grown over the last two decades (from 260,000 tonnes in 2000-01 to 759,000 tonnes in 2018-19). Exports during this period has seen a 7.5-fold increase (3.79 billion rupees in 2000-01 to 2.871 billion in 2017-18).
A major development has been the genetic improvement of rohu ( Labeo rohita ) at the ICAR-Central Institute of Fresh Water Aquaculture (CIFA), Bhubaneshwar. After 11 generations of systematic selection, the new variety, Jayanti Rohu, has a 60%-plus growth performance compared to normal rohu stock. Similar improvement has yielded 30% higher growth in catla ( Catla catla ) after second generation of selection, and 30% higher growth in giant freshwater prawn ( Macrobrachium rosenbergii ) after 10th generation selection. Induced breeding, mass-scale seed production and grow-out farming technologies have been developed for more than a dozen freshwater finfishes, and Indian river prawn.
Technology allowing carp breeding using improved brood stock maintenance protocol has resulted in multiple breeding of the same brood fish by stretching the breeding season, leading to a threefold-increase in spawn production in a season. The development of a specialized brood stock diet 'CIFABROOD' has been a significant step in bringing early maturity, higher spawn yield and increased seed survival in carp, and is used by several hatcheries in India. 'CIFAX', a chemical formulation, developed by CIFA, is a significant breakthrough for prevention and cure against the 'Epizootic Ulcerative Syndrome (EUS)' which has been a major disease threat in freshwater aquaculture system since the late 1980s. 'TreatMyFish' app for fish disease treatment is serving as a tool for active interaction between farmers and scientists.
Another development in the aquaculture sector is freshwater pearl culture technology at CIFA. The institute is identifying suitable pearl mussel species, and defining appropriate surgical implantation procedures. The technology offers great scope for commercialization.
*Country Director-India, International Crops Research Institute for the Semi-Arid Tropics (ICRISAT). **Director General, Indian Council of Agricultural Research (ICAR).
The authors thank Dr S R Das, Rice Breeder and Honorary Professor, OUAT, and J K Jena, Deputy Director General, Fisheries, ICAR.