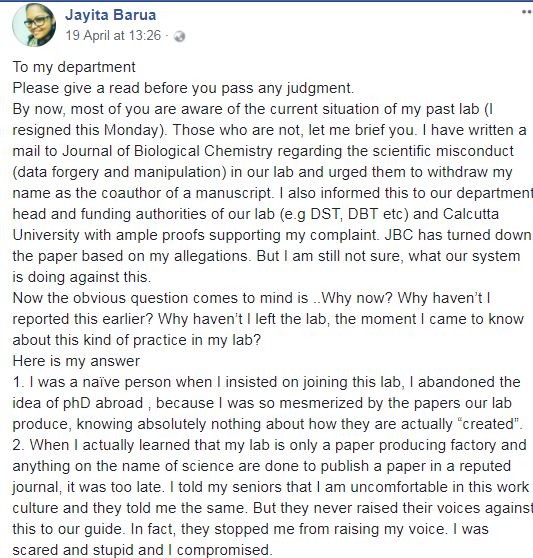 A disgruntled PhD scholar from the biochemistry laboratory of Calcutta University in Kolkata quit her research into infectious diseases this month alleging scientific malpractice by her PhD guide and other senior research fellows.
Following her exit from the lab on 16 April 2018, biochemist Jayita Barua wrote a public post on Facebook on 19 April detailing how she was forced for years to carry out malpractice, including 'creating' papers with forged data. The post has created quite a stir on the social media platform, having been shared over 400 times. Support for Barua has been pouring in from researchers across the country, many of whom are commenting about similar experiences in their own laboratories.
Barua said while senior members of the lab, working on infectious diseases such as leishmaniasis, had remained silent in the interest of their doctorate degrees, she took this drastic step because the "burden on my conscience started eating me up". Her lab submitted a paper after revisions to the Journal of Biological Chemistry (JBC) in March 2018. Barua claims that the paper was replete with forged and manipulated data, about which she alerted the editorial board of the journal requesting that her name be removed as a co-author. The journal subsequently turned down the paper, Barua said.
The biochemist claimed in her 'whistle-blowing email' to the journal that the latest case of forgery in her lab happened on a set of figures (copies of what Barua claims to be original and forged figures are available with Nature India ). She alleges that her guide and a senior research scholar manipulated data by drawing "molecular weight markers with pencil on a blot and 'rescanned' the blot to convince the reviewers and the editorial board of the journal".
Not immediately disclosing whether they had detected any fraud in the paper, JBC said that matters regarding their peer review process were confidential. "When we receive an allegation, we look into the matter and respond appropriately," Kaoru Sabake, the data integrity manager of the journal's publishers American Society for Biochemistry and Molecular Biology, told Nature India in an email.
Barua's PhD guide Anindita Ukil, an assistant professor in the department, denied having forged data or being involved in any kind of scientific misconduct. "All these allegations are entirely false," Ukil told Nature India
over phone. "I have already informed the authorities of the Calcutta University and the matter is under scrutiny," she said.Barua said she had also informed Prasanta Kumar Bag, head of biochemistry department of the University, and funding authorities – the Department of Science and Technology and Department of Biotechnology – about years of wrongdoing at the lab. Contacted, Bag also refrained from commenting saying that the issue was "under scrutiny by higher authorities".
Barua also admitted to committing 'a big mistake' on another occasion — while presenting similar false data in a poster at the World Congress on Leishmaniasis at Toledo, Spain in May 2017. "I somehow comforted myself saying that it is not a paper, I will do real work and give true data when time comes."
Barua said in her Facebook post that she was attracted to the lab known to produce a huge number of papers but knew "absolutely nothing about how they are created. Shortly after starting research there, I began to notice how this lab indulges in data forgery."
Barua claims she got tired of producing forged data in 2016, a year into her research, and wanted to quit but her guide convinced her to stay back. "But things didn't change. Every time I performed experiments my guide told me I am doing useless work and I should produce 'paper quality data'," Barua said.
The biochemist said she had been 'stupid and scared' and, therefore, had turned a blind eye to malpractice for so long. Her final decision to quit came from a belief that she would prefer 'inner peace' over a degree obtained through fraudulent means, she said.