Abstract
El Niño/Southern Oscillation (ENSO) is the largest natural interannual climate signal in the tropics; oscillations between warm El Niño and cold La Niña phases occur every few years. The effects are felt not only in the centre of action, the tropical Pacific region, but around the globe. Observational studies show a clear response in European climate to ENSO in late winter1. However, the underlying mechanisms of the link are not yet understood. Here we use a general circulation model of the atmosphere, that has been extended into the upper atmospheric layers, to provide end-to-end evidence for a global teleconnection pathway from the Pacific region to Europe via the stratosphere. We present evidence for an active stratospheric role in the transition to cold conditions in northern Europe and mild conditions in southern Europe in late winter during El Niño years. In our experiments, this mechanism is restricted to years when stratospheric sudden warmings occur. The response in European surface climate to the El Niño signal is large enough to be useful for seasonal forecasting.
Relevant articles
Open Access articles citing this article.
Steven C. Hardiman

,

Nick J. Dunstone

…

Hong-Li Ren

npj Climate and Atmospheric Science Open Access 11 July 2022

Tao Wang

,

Wenshou Tian

…

Kai Qie

Climate Dynamics Open Access 04 April 2022

Bianca Mezzina

,

Froila M. Palmeiro

…

Marianna Benassi

Climate Dynamics Open Access 13 June 2021
Access options
Subscribe to Journal
Get full journal access for 1 year
$119.00
only $9.92 per issue
All prices are NET prices.
VAT will be added later in the checkout.
Tax calculation will be finalised during checkout.
Buy article
Get time limited or full article access on ReadCube.
$32.00
All prices are NET prices.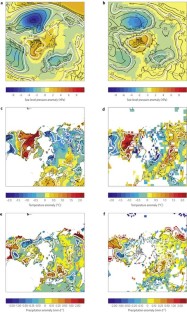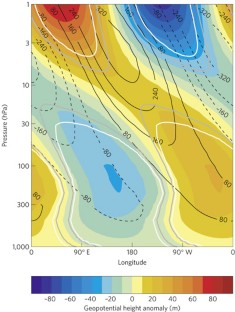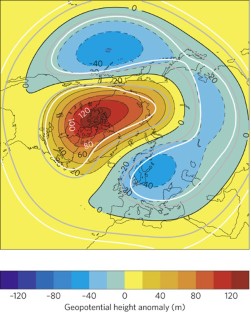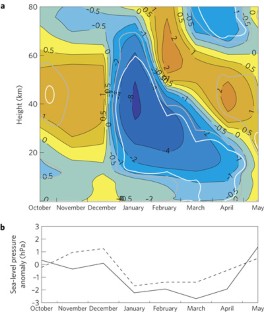 References
Brönnimann, S., Xoplaki, E., Casty, C., Pauling, A. & Luterbacher, J. ENSO influence on Europe during the last centuries. Clim. Dyn. 28, 181–197 (2007).

Trenberth, K. E. et al. Progress during TOGA in understanding and modelling global teleconnections associated with tropical sea surface temperatures. J. Geophys. Res. 103, 14291–14324 (1998).

Brönnimann, S. Impact of El Niño–Southern Oscillation on European climate. Rev. Geophys. 45, RG3003 (2007).

Moron, V. & Gouirand, I. Seasonal modulation of the ENSO relationships with sea level pressure anomalies over the North Atlantic in October–March 1873–1996. Int. J. Climatol. 23, 143–155 (2003).

Brönnimann, S. et al. Extreme climate of the global troposphere and stratosphere in 1940–42 related to El Niño. Nature 431, 971–974 (2004).

Fraedrich, K. European Grosswetter during the warm and cold extremes of the El Niño/Southern Oscillation. Int. J. Climatol. 10, 21–31 (1990).

Fereday, D., Knight, J. R., Scaife, A. A., Folland, C. K. & Philipp, A. Cluster analysis of North Atlantic European weather types. J. Clim. 21, 3687–3703 (2008).

Toniazzo, T. & Scaife, A. A. The influence of ENSO on winter North Atlantic climate. Geophys. Res. Lett. 33, L24704 (2006).

Greatbatch, R. J., Lu, J. & Peterson, K. A. Nonstationary impact of ENSO on Euro-Atlantic winter climate. Geophys. Res. Lett. 31, L02208 (2004).

Greatbatch, R. J. & Jung, T. Local versus tropical diabatic heating and the winter North Atlantic Oscillation. J. Clim. 20, 2058–2075 (2007).

Thompson, D. W. J. & Wallace, J. M. The Arctic Oscillation signature in the wintertime geopotential height and temperature fields. Geophys. Res. Lett. 25, 1297–1300 (1998).

Manzini, E., Giorgetta, M. A., Esch, M., Kornblueh, L. & Roeckner, E. The influence of sea surface temperatures on the Northern winter stratosphere: Ensemble simulations with the MAECHAM5 model. J. Clim. 19, 3863–3881 (2006).

Taguchi, M. & Hartmann, D. L. Increased occurrence of stratospheric sudden warmings during El Niño as simulated by WACCM. J. Clim. 19, 324–332 (2006).

Charney, J. G. & Drazin, P. G. Propagation of planetaryscale disturbances from the lower into the upper atmosphere. J. Geophys. Res. 66, 83–109 (1961).

van Loon, H. & Labitzke, K. The Southern Oscillation. Part V: The anomalies in the lower stratosphere of the Northern Hemisphere in winter and a comparison with the quasi-biennial oscillation. Mon. Weath. Rev. 115, 357–369 (1987).

Hamilton, K. An examination of observed Southern Oscillation effects in the Northern Hemisphere stratosphere. J. Atmos. Sci. 50, 3468–3473 (1993).

Hamilton, K. A general circulation model simulation of El Niño effects in the extratropical Northern Hemisphere stratosphere. Geophys. Res. Lett. 20, 1803–1806 (1993).

Bell, C. J., Gray, L. J., Charlton-Perez, A. J. & Scaife, A. A. Stratospheric communication of ENSO teleconnections to European Winter. J. Clim. Submitted.

Matsuno, T. A dynamical model of stratospheric warmings. J. Atmos. Sci. 28, 1479–1494 (1971).

Baldwin, M. P. & Dunkerton, T. J. Propagation of the Arctic Oscillation from the stratosphere to the troposphere. J. Geophys. Res. 104, 30937–30946 (1999).

Haynes, P. H. et al. On the 'downward control' of extratropical diabatic circulations by eddy-induced mean zonal forces. J. Atmos. Sci. 48, 651–678 (1991).

Thompson, D. W. J., Furtado, J. C. & Shepherd, T. G. On the tropospheric response to anomalous stratospheric wave drag and radiative heating. J. Atmos. Sci. 63, 2616–2629 (2006).

Song, Y. & Robinson, W. A. Dynamical mechanisms for stratospheric influences on the troposphere. J. Atmos. Sci. 61, 1711–1725 (2004).

van Oldenborgh, G. J. Comments on 'Predictability of winter climate over the North Atlantic European region during ENSO events'. J. Clim. 18, 2770–2772 (2005).

Luo, J.J., Masson, S., Behera, S. K. & Yamagata, T. Extended ENSO predictions using a fully coupled ocean-atmosphere model. J. Clim. 21, 84–93 (2008).

Rayner, N. A. et al. Global analyses of sea surface temperature, sea ice, and night marine air temperature since the late nineteenth century. J. Geophys. Res. 108, 4407 (2003).

Martin, G. M. et al. The physical properties of the atmosphere in the new Hadley Centre Global Environmental Model (HadGEM1). Part I: Model description and global climatology. J. Clim. 19, 1274–1301 (2006).

Allan, R. J. & Ansell, T. J. A new globally complete monthly historical mean sea level pressure data set (HadSLP2): 1850–2004. J. Clim. 19, 5816–5842 (2006).

Brohan, P., Kennedy, J. J., Harris, I., Tett, S. F. B. & Jones, P. D. Uncertainty estimates in regional and global observed temperature changes: A new dataset from 1850. J. Geophys. Res. 111, D12106 (2006).

Hulme, M., Osborn, T. & Johns, T. Precipitation sensitivity to global warming: Comparison of observations to HadCM2 simulations. Geophys. Res. Lett. 25, 3379–3382 (1998).
Acknowledgements
This work is supported by the joint DECC and MoD Integrated Climate Programme (DECC) GA01101 (MoD) CBC/2B/0417_Annex C5 and by the EU Framework 6 Programme under contract 003903-GOCE (DYNAMITE).
About this article
Cite this article
Ineson, S., Scaife, A. The role of the stratosphere in the European climate response to El Niño. Nature Geosci 2, 32–36 (2009). https://doi.org/10.1038/ngeo381
Received:

Accepted:

Published:

Issue Date:

DOI: https://doi.org/10.1038/ngeo381