Abstract
The notable rise in surface air temperatures over southern Africa over the past two decades is thought to largely result from the human-induced increase in atmospheric greenhouse gas concentrations1,2,3. In addition, the loss of stratospheric ozone over Antarctica is thought to have had a significant impact on tropospheric circulation, and hence climate, in the Southern Hemisphere summer4,5,6,7,8,9, by favouring the positive phase of the Southern Annular Mode4,10,11. Here, we use reanalysis data to compare the climate of southern Africa before and after the development of the large ozone hole, and investigate possible links between the development of the Antarctic ozone hole and summer warming in the region, defining 1970–1993 as the pre-ozone hole era, and 1993–2011 as the large ozone hole era. We find that the ozone-induced shift in the polarity of the Southern Annular Mode after 1993 coincided with an intensification of the Angola Low, a continental low pressure system that normally develops in austral summer and is mostly located over Angola. We show that the deepening of this low pressure system, in turn, was associated with an increase in the flux of warm surface air from the lower latitudes to southern Africa. We suggest that the recent summer warming over southern Africa is linked to these shifts in atmospheric circulation that are probably induced by Antarctic ozone loss.
Relevant articles
Open Access articles citing this article.
Desmond Manatsa

&

Geoffrey Mukwada

Scientific Reports Open Access 17 July 2017

Jayanarayanan Kuttippurath

&

Prijitha J. Nair

Scientific Reports Open Access 03 April 2017

V. Favier

,

D. Verfaillie

…

V. Rinterknecht

Scientific Reports Open Access 01 September 2016
Access options
Subscribe to Journal
Get full journal access for 1 year
$119.00
only $9.92 per issue
All prices are NET prices.
VAT will be added later in the checkout.
Tax calculation will be finalised during checkout.
Buy article
Get time limited or full article access on ReadCube.
$32.00
All prices are NET prices.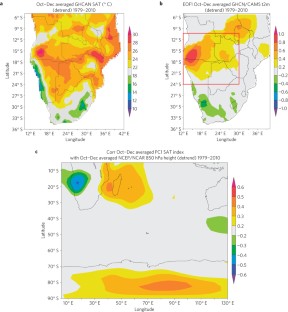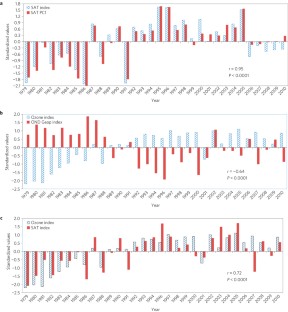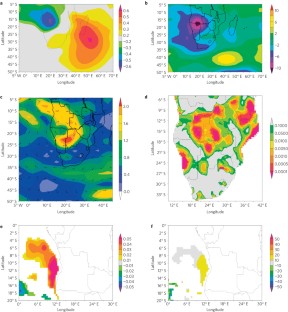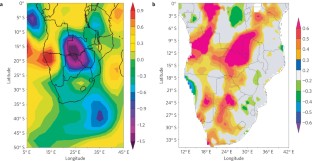 References
Shongwe, M. E. et al. Projected changes in mean and extreme precipitation in africa under global warming. Part I: Southern africa. J. Clim. 22, 3819–3837 (2009).

McCarthy, J. J., Canziani, O. F., Leary, N. A., Dokken, D. J. & White, K. S. (eds) IPCC Climate Change 2001: Impacts, Adaptation, and Vulnerability (Cambridge Univ. Press, 2001).

Joubert, A. M. & Kohler, M. O. Projected temperature increases over southern Africa due to increasing levels of greenhouse gases. South Afr. J. Sci. 92, 524–526 (1996).

Gillett, N. P. & Thompson, D. W. J. Simulation of recent southern hemisphere climate changes. Science 302, 273–275 (2003).

Thompson, D. W. J & Solomon, S. Interpretation of recent Southern Hemisphere climate change. Science 296, 895–899 (2002).

Hartmann, D. L. et al. Can ozone depletion and global warming interact to produce rapid climate change? Proc. Natl Acad. Sci. USA 97, 1412–1417 (2000).

Arblaster, J. M., Meehl, G. A. & Karly, D. J. Future climate change in the Southern Hemisphere: Competing effects of ozone and greenhouse gases. Geophys. Res. Lett. 38, L02701 (2011).

Shindell, D. T. & Schmidt, G. A. Southern Hemisphere climate response to ozone changes and greenhouse gas increases. Geophys. Res. Lett. 31, L18209 (2004).

Polvani, L., Waugh, D., Correa, G. & Son, S-W. Stratospheric ozone depletion: The main driver of 20th century atmospheric changes in the Southern Hemisphere. J. Clim. 24, 795–812 (2011).

Marshall, G. J. Trends in the Southern Annular Mode from observations and reanalyses. J. Clim. 16, 4134–4143 (2003).

Sexton, D. M. H. The effect of stratospheric ozone depletion on the phase of the Antarctic Oscillation. Geophys. Res. Lett. 28, 3697–3700 (2001).

Kang, S. M. et al. The impact of polar ozone depletion on subtropical precipitation. Science 332, 951–954 (2011).

Cataldo, M. et al. Mineral dust variability in central West Antarctica associated with ozone depletion. Atmos. Chem. Phys. 13, 2165–2175 (2013).

Manatsa, D., Reason, C. J. C. & Mukwada, G. On the decoupling of the IODZM from southern African rainfall variability. Int. J. Climatol. 32, 727–746 (2011).

Xue, F., Wang, H. J. & He, J. H. Interannual variability of Mascarene High and Australian High and their influence on the East Asian summer monsoon. J. Meteorol. Soc. Japan 80, 173–1186 (2004).

Tyson, P. D. & Preston-Whyte, R. A. The Weather and Climate of Southern Africa (Oxford Univ. Press, 2000).

Garzoli, S. L. & Gordon, A. L. Origins and variability of the Benguela Current. J. Geophys. Res. 101, 897–906 (1996).

WMO (World Meteorological Organization). Scientific assessment of ozone depletion: 2002. Global Ozone Research and Monitoring Project-Report No. 47 (Geneva, Switzerland, 2003).

Baldwin, M. P. & Dunkerton, T. J. Propagation of the Arctic Oscillation from the stratosphere to the troposphere. J. Geophys. Res. 104, 30937–30946 (1999).

Miller, R. L., Schmidt, G. A. & Shindell, D. T. Forced annular variation in the 20th century Intergovernmental Panel on Climate Change Fourth Assessment Report models. J. Geophys. Res. 111, D18108 (2006).

Reason, C. & Rouault, M. Links between the Antarctic Oscillation and winter rainfall over western South Africa. Geophys. Res. Lett. 32, L07705 (2005).

Gillet, N. P., Kell, P. D. & Jones, P. D. Regional climate impacts of the Southern Annular Mode. Geophys. Res. Lett. 33, L23704 (2006).

Purich, A. & Son, S-W. Impact of Antarctic ozone depletion and recovery on Southern Hemisphere precipitation, evaporation and extreme changes. J. Clim. 25, 3145–3154 (2012).

Newman, P. A. et al. When will the Antarctic ozone hole recover? Geophys. Res. Lett. 33, L12814 (2006).

Thompson, D. W. J. et al. Signatures of the Antarctic ozone hole in Southern Hemisphere surface climate change. Nature Geosci. 4, 741–746 (2011).

Peterson, T. C., Karl, T. R., Jameson, P. F., Knight, R. & Easterling, D. R. The first difference method: Maximizing station density for the calculation of long-term global temperature change. J. Geophys. Res. 103, 25967–25974 (1998).

Fan, Y. & van den Dool, H. A global monthly land surface air temperature analysis for 1948–present. J. Geophys. Res 113, D01103 (2008).

Christy, J. R., Norris, W. B. & McNider, R. T. Surface temperature variations in East Africa and possible causes. J. Clim. 22, 3342–3356 (2009).

Kalnay, E. et al. The NCEP/NCAR 40 year reanalysis project. Bull. Am. Meteorol. Soc. 77, 437–471 (1996).

Thompson, D. W. J. & Wallace, J. M. Annular modes in the extratropical circulation. Part I: Month-to-month variability. J. Clim. 13, 1000–1016 (2000).
Acknowledgements
The first author is supported by the Japan Society for the Promotion of Science (JSPS) RONPANKU program to perform the present research at both JAMSTEC and the University of Tokyo. Bindura University of Science is thanked for providing additional research support facilities.
Ethics declarations
Competing interests
The authors declare no competing financial interests.
About this article
Cite this article
Manatsa, D., Morioka, Y., Behera, S. et al. Link between Antarctic ozone depletion and summer warming over southern Africa. Nature Geosci 6, 934–939 (2013). https://doi.org/10.1038/ngeo1968
Received:

Accepted:

Published:

Issue Date:

DOI: https://doi.org/10.1038/ngeo1968