Phosphorus is an important element for biogeochemical development. According to a set of experiments, martian phosphate minerals dissolve more quickly than terrestrial ones, possibly providing nutrients in aqueous environments for early martian life.
Your institute does not have access to this article
Access options
Subscribe to Journal
Get full journal access for 1 year
$99.00
only $8.25 per issue
All prices are NET prices.
VAT will be added later in the checkout.
Tax calculation will be finalised during checkout.
Buy article
Get time limited or full article access on ReadCube.
$32.00
All prices are NET prices.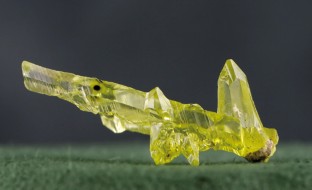 References
McCubbin, F. M. & Nekvasil, H. Am. Mineral. 93, 676–684 (2008).

Adcock, C. T., Hausrath, E. M. & Forster, P. M. Nature Geosci. http://dx.doi.org/10.1038/ngeo1923 (2013).

Hud, N. V., Cafferty, B. J., Krishnamurthy, R. & Williams, L. D. Chem. Biol. 20, 466–474 (2013).

Van Mooy, B. A. S., Rocap, G., Fredricks, H. F., Evans, C. T. & Devol, A. H. Proc. Natl Acad. Sci. USA 103, 8607–8612 (2006).

Keefe, A. & Miller, S. J. Mol. Evol. 41, 693–702 (1995).

Hazen, R. M. & Ferry, J. M. Elements 6, 9–12 (2010).

Powner, M. W., Gerland, B. & Sutherland, J. D. Nature 459, 239–242 (2009).

Pasek, M. A. & Block, K. Nature Geosci. 2, 553–556 (2009).

Bryant, D. E. et al. Geochim. Cosmochim. Acta 109, 90–112 (2013).

Ming, D. W. et al. J. Geophys. Res. 113, E12S39 (2008).

Pasek, M. A., Harnmeijer, J., Buick, R., Gull, M. & Atlas, Z. Proc. Natl Acad. Sci. USA 110, 10089–10094 (2013).
About this article
Cite this article
Pasek, M. Without phosphate limits. Nature Geosci 6, 806–807 (2013). https://doi.org/10.1038/ngeo1929
Published:

Issue Date:

DOI: https://doi.org/10.1038/ngeo1929