Observations from the Cassini–Huygens mission have produced potentially contradictory constraints on the origin of Titan's atmosphere. Experiments and a simple model demonstrate that a new mechanism for late formation is plausible.
Access options
Subscribe to Journal
Get full journal access for 1 year
$119.00
only $9.92 per issue
All prices are NET prices.
VAT will be added later in the checkout.
Tax calculation will be finalised during checkout.
Buy article
Get time limited or full article access on ReadCube.
$32.00
All prices are NET prices.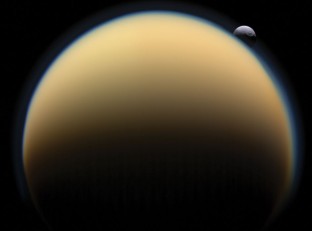 References
Sekine, Y., Genda, H., Sugita, S., Kandono, T. & Matsui, T. Nature Geosci. 4, 359–362 (2011).

Niemann, H. B. et al. Nature 438, 779–784 (2005).

Atreya, S. K., Donahue, T. M. & Kuhn, W. R. Science 201, 611–613 (1978).

Jones, T. D. & Lewis, J. S. Icarus 72, 381–393 (1987).

Zahnle, K., Pollack, J. B., Grinspoon, D. & Dones, L. Icarus 95, 1–23 (1992).

Glein, C. R., Desch, S. J. & Shock, E. L. Icarus 204, 637–644 (2009).

Iess, L. et al. Science 327, 1367–1369 (2010).

Cui, J., Yelle, R. V. & Volk, K. J. Geophys. Res. 113, E10004 (2008).

Atreya, S. K., Lorenz, R. D. & Waite, J. H. in Titan from Cassini-Huygens (eds Brown, R. H., Lebreton, J-P. & Waite, J. H.) 177–199 (Springer, 2009).

Weaver, H. A. et al. Astrophys. J. 576, L95–L98 (2002).
About this article
Cite this article
Neish, C. Titan's nitrogenesis. Nature Geosci 4, 356–357 (2011). https://doi.org/10.1038/ngeo1162
Published:

Issue Date:

DOI: https://doi.org/10.1038/ngeo1162