Abstract
We identified a set of SNPs in the first intron of the FTO (fat mass and obesity associated) gene on chromosome 16q12.2 that is consistently strongly associated with early-onset and severe obesity in both adults and children of European ancestry with an experiment-wise P value of 1.67 × 10−26 in 2,900 affected individuals and 5,100 controls. The at-risk haplotype yields a proportion of attributable risk of 22% for common obesity. We conclude that FTO contributes to human obesity and hence may be a target for subsequent functional analyses.
Access options
Subscribe to Journal
Get full journal access for 1 year
$209.00
only $17.42 per issue
All prices are NET prices.
VAT will be added later in the checkout.
Rent or Buy article
Get time limited or full article access on ReadCube.
from$8.99
All prices are NET prices.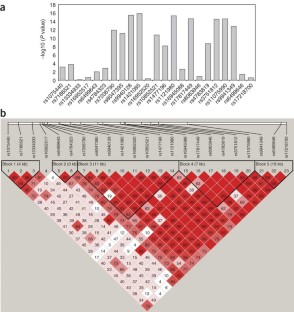 References
1

Peters, T., Ausmeier, K. & Ruther, U. Mamm. Genome 10, 983–986 (1999).

2

Dina, C. et al. Science 315, 187 (2007).

3

King, D.C. et al. Genome Res. 15, 1051–1060 (2005).

4

Ott, J. Neurology 63, 955–958 (2004).

5

Hercberg, S. et al. Arch. Intern. Med. 164, 2335–2342 (2004).

6

Vu-Hong, T.A. et al. J. Clin. Endocrinol. Metab. 91, 2437–2440 (2006).

7

Le Fur, S., Le Stunff, C. & Bougneres, P. Diabetes 51, S304–S307 (2002).

8

Körner, A., Berndt, J., Stumvoll, M., Kiess, W. & Kovacs, P. J. Clin. Endocrinol. Metab. published online 20 February 2007 (doi:10.1210/jc.2006-2514).

9

Nyholt, D.R. Am. J. Hum. Genet. 74, 765–769 (2004).

10

Jacobson, P., Torgerson, J.S., Sjostrom, L. & Bouchard, C. Am. J. Epidemiol. 165, 101–108 (2007).

11

Stratakis, C.A. et al. J. Clin. Endocrinol. Metab. 85, 3396–3401 (2000).

12

Su, A.I. et al. Proc. Natl. Acad. Sci. USA 101, 6062–6067 (2004).
Acknowledgements
The authors thank M. Deweirder and F. Allegaert for DNA preparation and D.-A. Tregouet for discussions on statistics. This study was supported by the ANR Diabomics grant from the French National Agency for Research. Work on the German replication data set was supported by grants from the DFG (KFO 152: "Atherobesity", project KO 3512/1–1 (TP 1) to A.K. and 1264/10–1 (TP5) to W.K.) and from the EC ("PIONEER" integrated project grant to W.K.). The Leipzig Schoolchildren project was supported by unrestricted grants from Pfizer Pharma and Novo Nordisk (W.K.).
Ethics declarations
Competing interests
The authors declare no competing financial interests.
Supplementary information
About this article
Cite this article
Dina, C., Meyre, D., Gallina, S. et al. Variation in FTO contributes to childhood obesity and severe adult obesity. Nat Genet 39, 724–726 (2007). https://doi.org/10.1038/ng2048
Received:

Accepted:

Published:

Issue Date: