Abstract
We identified constitutional truncating mutations of the BRCA1-interacting helicase BRIP1 in 9/1,212 individuals with breast cancer from BRCA1/BRCA2 mutation–negative families but in only 2/2,081 controls (P = 0.0030), and we estimate that BRIP1 mutations confer a relative risk of breast cancer of 2.0 (95% confidence interval = 1.2–3.2, P = 0.012). Biallelic BRIP1 mutations were recently shown to cause Fanconi anemia complementation group J. Thus, inactivating truncating mutations of BRIP1, similar to those in BRCA2, cause Fanconi anemia in biallelic carriers and confer susceptibility to breast cancer in monoallelic carriers.
Access options
Access options
Subscribe to Journal
Get full journal access for 1 year
$225.00
only $18.75 per issue
All prices are NET prices.
VAT will be added later in the checkout.
Rent or Buy article
Get time limited or full article access on ReadCube.
from$8.99
All prices are NET prices.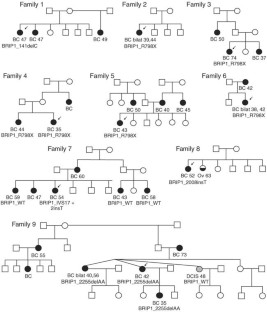 References
1

Antoniou, A.C. & Easton, D.F. Genet. Epidemiol. 21, 1–18 (2001).

2

Cantor, S.B. et al. Cell 105, 149–160 (2001).

3

Cantor, S. et al. Proc. Natl. Acad. Sci. USA 101, 2357–2362 (2004).

4

Peng, M. et al. Oncogene 25, 2245–2253 (2006).

5

Cantor, S.B. & Andreassen, P.R. Cell Cycle 5, 164–167 (2006).

6

Meijers-Heijboer, H. et al. Nat. Genet. 31, 55–59 (2002).

7

Renwick, A. et al. Nat. Genet. 38, 873–875 (2006).

8

Levitus, M. et al. Nat. Genet. 37, 934–935 (2005).

9

Levran, O. et al. Nat. Genet. 37, 931–933 (2005).

10

Litman, R. et al. Cancer Cell 8, 255–265 (2005).

11

Howlett, N.G. et al. Science 297, 606–609 (2002).

12

Taniguchi, T. & D'Andrea, A.D. Blood 107, 4223–4233 (2006).

13

Swift, M. et al. J. Natl. Cancer Inst. 65, 863–867 (1980).

14

Seal, S. et al. Cancer Res. 63, 8596–8599 (2003).

15

Reid, S. et al. J. Med. Genet. 42, 147–151 (2005).
Acknowledgements
We thank the participating families who were recruited to the study by the Familial Breast Cancer Collaboration (UK), which includes the following contributors: A. Ardern-Jones, J. Berg, A. Brady, N. Bradshaw, C. Brewer, G. Brice, B. Bullman, J. Campbell, B. Castle, R. Cetnarsryj, C. Chapman, C. Chu, N. Coates, T. Cole, R. Davidson, A. Donaldson, H. Dorkins, F. Douglas, D. Eccles, R. Eeles, F. Elmslie, D.G. Evans, S. Goff, S. Goodman, D. Goudie, J. Gray, L. Greenhalgh, H. Gregory, N. Haites, S.V. Hodgson, T. Homfray, R.S. Houlston, L. Izatt, L. Jeffers, V. Johnson-Roffey, F. Kavalier, C. Kirk, F. Lalloo, I. Locke, M. Longmuir, J. Mackay, A. Magee, S. Mansour, Z. Miedzybrodzka, J. Miller, P. Morrison, V. Murday, J. Paterson, M. Porteous, N. Rahman, M. Rogers, S. Rowe, S. Shanley, A. Saggar, G. Scott, L. Side, L. Snadden, M. Steel, M. Thomas and S. Thomas. We thank A. Hall and E. Mackie for coordination of sample collection. We are grateful for the support of the Daniel Faulkner Trust and the Geoffrey Berger Charitable Trust. We acknowledge use of DNA from the British 1958 Birth Cohort collection, funded by the Medical Research Council grant G0000934 and the Wellcome Trust grant 068545/Z/02. P. Kelly is supported by a grant from the Breast Cancer Campaign. M.A., B.N. and A.E. are supported by US Army Medical Research and Material Command grant #W81XWH-05-1-0204. This research was supported by the Institute of Cancer Research and Cancer Research UK.
Ethics declarations
Competing interests
The authors declare no competing financial interests.
Supplementary information
Primers and PCR conditions for BRIP1 coding exons. (PDF 9 kb)
Nonsynonymous BRIP1 missense variants in breast cancer cases and controls. (PDF 8 kb)