Abstract
Aggressive behavior is pervasive throughout the animal kingdom, and yet very little is known about its molecular underpinnings. To address this problem, we have developed a population-based selection procedure to increase aggression in Drosophila melanogaster. We measured changes in aggressive behavior in the selected subpopulations with a new two-male arena assay. In only ten generations of selection, the aggressive lines became markedly more aggressive than the neutral lines. After 21 generations, the fighting index increased more than 30-fold. Using microarray analysis, we identified genes with differing expression levels in the aggressive and neutral lines as candidates for this strong behavioral selection response. We tested a small set of these genes through mutant analysis and found that one significantly increased fighting frequency. These results suggest that selection for increases in aggression can be used to molecularly dissect this behavior.
Relevant articles
Open Access articles citing this article.
Trieu-Duc Vu

,

Kenshiro Oshima

…

Norihiro Okada

BMC Genomics Open Access 30 May 2022

Budhaditya Chowdhury

,

Meng Wang

…

Herman A. Dierick

Communications Biology Open Access 19 January 2021

Scientific Reports Open Access 14 December 2020
Access options
Subscribe to Journal
Get full journal access for 1 year
$79.00
only $6.58 per issue
All prices are NET prices.
VAT will be added later in the checkout.
Tax calculation will be finalised during checkout.
Buy article
Get time limited or full article access on ReadCube.
$32.00
All prices are NET prices.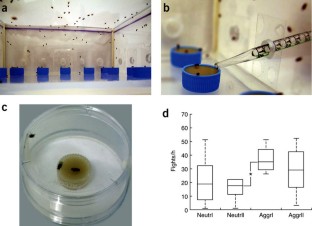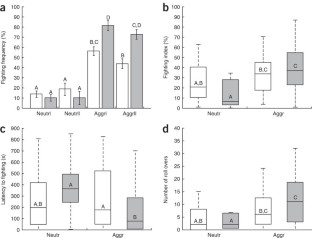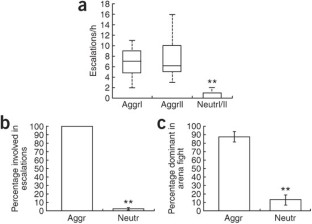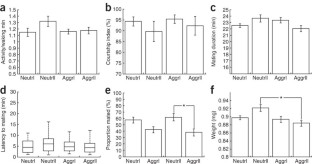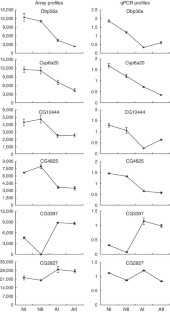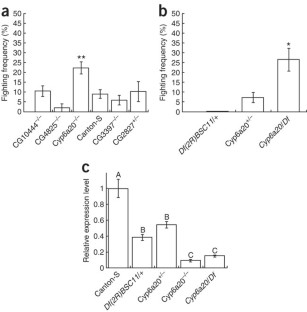 References
Blanchard, D.C. & Blanchard, R.J. The colony model of aggression and defense. in Contemporary Issues in Comparative Psychology (ed. Dewsbury, D.A.) (Sinauer, Sunderland, Massachusetts, 1990).

Popova, N.K., Nikulina, E.M. & Kulikow, A.V. Genetic analysis of different kinds of aggressive behavior. Behav. Genet. 23, 491–497 (1993).

Baker, R.R. Insect territoriality. Annu. Rev. Entomol. 28, 65–89 (1983).

Lorenz, K.Z. On Aggression (Harcourt, Brace and World, New York, 1963).

Sturtevant, A.H. Experiments on sex recognition and the problem of sexual selection in Drosophila. J. Anim. Behav. 5, 351–366 (1915).

Jacobs, M.E. Influence of light on mating of Drosphila melanogaster. Ecology 41, 182–188 (1960).

Dow, M.A. & von Schilcher, F. Aggression and mating success in Drosophila melanogaster. Nature 254, 511–512 (1975).

Jacobs, M.E. Influence of β-alanine on mating and territorialism in Drosophila melanogaster. Behav. Genet. 8, 487–502 (1978).

Partridge, L., Hoffmann, A. & Jones, J.S. Male size and mating success in Drosophila melanogaster and Drosophila pseudoobscura under field conditions. Anim. Behav. 35, 468–476 (1987).

Hoffmann, A.A. A laboratory study of male territoriality in the sibling species Drosophila melanogaster and D. simulans. Anim. Behav. 35, 807–818 (1987).

Hoffmann, A.A. Territorial encounters between Drosophila males of different sizes. Anim. Behav. 35, 1899–1901 (1987).

Hoffmann, A.A. Heritable variation for territorial success in two Drosophila melanogaster populations. Anim. Behav. 36, 1180–1189 (1988).

Hoffmann, A.A. Selection for territoriality in Drosophila melanogaster: correlated responses in mating success and other fitness components. Anim. Behav. 38, 23–34 (1989).

Hoffmann, A.A. Geographic variation in the territorial success of Drosophila melanogaster males. Behav. Genet. 19, 241–255 (1989).

Hoffmann, A.A. The influence of age and experience with conspecifics on territorial behavior in Drosophila melanogaster. J. Insect Behav. 3, 1–12 (1990).

Hoffmann, A.A. & Cacoyanni, Z. Territoriality in Drosophila melanogaster as a conditional strategy. Anim. Behav. 40, 526–537 (1990).

Hoffmann, A.A. Heritable variation for territorial success in field-collected Drosophila melanogaster. Am. Nat. 138, 668–679 (1991).

Lee, G. & Hall, J.C. A newly uncovered phenotype associated with the fruitless gene of Drosophila melanogaster: aggression-like head interactions between mutant males. Behav. Genet. 30, 263–275 (2000).

Ueda, A. & Kidokoro, Y. Aggressive behaviours of female Drosophila melanogaster are influenced by their social experience and food resources. Physiol. Entomol. 27, 21–28 (2002).

Baier, A., Wittek, B. & Brembs, B. Drosophila as a new model organism for the neurobiology of aggression? J. Exp. Biol. 205, 1233–1240 (2002).

Chen, S., Lee, A.Y., Bowens, N.M., Huber, R. & Kravitz, E.A. Fighting fruit flies: a model system for the study of aggression. Proc. Natl. Acad. Sci. USA 99, 5664–5668 (2002).

Nilsen, S.P., Chan, Y.B., Huber, R. & Kravitz, E.A. Gender-selective patterns of aggressive behavior in Drosophila melanogaster. Proc. Natl. Acad. Sci. USA 101, 12342–12347 (2004).

Nelson, R. & Chiavegatto, S. Molecular basis of aggression. Trends Neurosci. 24, 713–719 (2001).

Droney, D.C. Tests of hypotheses for lek formation in Hawaiian Drosophila. Anim. Behav. 47, 351–361 (1994).

Sivinski, J.M., Epsky, N. & Heath, R.R. Pheromone deposition on leaf territories by male Caribbean fruit flies, Anastrepha suspensa (Loew) (Diptera: Tetriphidae). J. Insect Behav. 7, 43–52 (1994).

Droney, D.C. & Hock, B.M. Male sexual signals and female choice in Drosophila grimshawi (Diptera: Drosophilidae). J. Insect Behav. 11, 59–71 (1998).

Hamblen, M. et al. Germ-line transformation involving DNA from the period locus in Drosophila melanogaster: overlapping genomic fragments that restore circadian and ultradian rhythmicity to per0 and per- mutants. J. Neurogenet. 3, 249–291 (1986).

Shaw, P.J., Cirelli, C., Greenspan, R.J. & Tononi, G. Correlates of sleep and waking in Drosophila melanogaster. Science 287, 1834–1837 (2000).

Harshman, L.G. & Hoffmann, A.A. Laboratory selection experiments using Drosophila: what do they really tell us? Trends Ecol. Evol. 15, 32–36 (2000).

Osborne, K.A. et al. Natural behavior polymorphism due to a cGMP-dependent protein kinase of Drosophila Science 277, 834–836 (1997).

Lesch, K.P. et al. Association of anxiety-related traits with a polymorphism in the serotonin transporter gene regulatory region. Science 274, 1527–1531 (1996).

Grumbling, G. & Strelets, V. The FlyBase Consortium FlyBase: anatomical data, images and queries. Nucl. Acids Res. 34, D484–D488 (2006).

Mackay, T.F. et al. Genetics and genomics of Drosophila mating behavior. Proc. Natl. Acad. Sci. USA 102, 6622–6629 (2005).

Toma, D.P., White, K.P., Hirsch, J. & Greenspan, R.J. Identification of genes involved in Drosophila melanogaster geotaxis, a complex behavioral trait. Nat. Genet. 31, 349–353 (2002).

Greenspan, R.J. The varieties of selectional experience in behavioral genetics. J. Neurogenet. 17, 241–270 (2003).

Gibson, G. & Dworkin, I. Uncovering cryptic genetic variation. Nat. Rev. Genet. 5, 681–690 (2004).

Maibeche-Coisne, M., Merlin, C., Francois, M-C., Porcheron, P. & Jacquin-Joly, E. P450 and P450 reductase cDNAs from the moth Mamestra brassicae: cloning and expression patterns in male antennae. Gene 346, 195–203 (2005).

Wang, Q., Hasan, G. & Pikielny, C.W. Preferential expression of biotransformation enzymes in the olfactory organs of Drosophila melanogaster, the antennae. J. Biol. Chem., 274, 10309–10315 (1999).

Maibeche-Coisne, M., Nikonov, A.A., Ishida, Y., Jacquin-Joly, E. & Leal, W.S. Pheromone anosmia in a scarab beetle induced by in vivo inhibition of a pheromone-degrading enzyme. Proc. Natl. Acad. Sci. USA 101, 11459–11464 (2004).

McDonald, M.J. & Rosbash, M. Microarray analysis and organization of circadian gene expression in Drosophila. Cell 107, 567–578 (2001).

Bray, S. & Amrein, H. A putative Drosophila pheromone receptor expressed in male-specific taste neurons is required for efficient courtship. Neuron 39, 1019–1029 (2003).

Broughton, S.J., Kitamoto, T. & Greenspan, R.J. Excitatory and inhibitory switches for courtship in the brain of Drosophila melanogaster. Curr. Biol. 14, 538–547 (2004).

Hall, J.C. Control of male reproductive behavior by the central nervous system of Drosophila: dissection of a courtship pathway by genetic mosaics. Genetics 92, 437–457 (1979).
Acknowledgements
We would like to thank J. Sullivan for help with the behavioral analysis, D. Robinson for technical assistance, A. McCartney for help with the figures, J. Fleisher for help with the video files, B. van Swinderen for discussions and for comments on the manuscript and R. Andretic and S. Pangas for comments on the manuscript. This material is based on work supported by the US National Science Foundation under grant no. 0432063 (R.J.G. and H.A.D.) as well as by a grant from the Wacker Foundation (R.J.G.). R.J.G. is the Dorothy and Lewis B. Cullman Fellow at The Neurosciences Institute, which is supported by the Neurosciences Research Foundation.
Ethics declarations
Competing interests
The authors declare no competing financial interests.
Supplementary information
About this article
Cite this article
Dierick, H., Greenspan, R. Molecular analysis of flies selected for aggressive behavior. Nat Genet 38, 1023–1031 (2006). https://doi.org/10.1038/ng1864
Received:

Accepted:

Published:

Issue Date:

DOI: https://doi.org/10.1038/ng1864