Abstract
Congenital hereditary endothelial dystrophy (CHED) is a heritable, bilateral corneal dystrophy characterized by corneal opacification and nystagmus. We describe seven different mutations in the SLC4A11 gene in ten families with autosomal recessive CHED. Mutations in SLC4A11, which encodes a membrane-bound sodium-borate cotransporter, cause loss of function of the protein either by blocking its membrane targeting or nonsense-mediated decay.
Access options
Subscribe to Journal
Get full journal access for 1 year
$209.00
only $17.42 per issue
All prices are NET prices.
VAT will be added later in the checkout.
Rent or Buy article
Get time limited or full article access on ReadCube.
from$8.99
All prices are NET prices.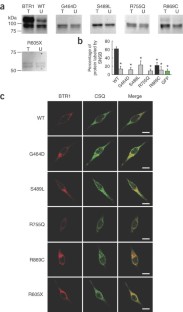 Accession codes
Accessions
GenBank/EMBL/DDBJ
References
1

Chan, C.C., Green, W.R., Barraquer, J., Barraquer-Somers, E. & de la Cruz, Z.C. Cornea 1, 155–172 (1982).

2

Kirkness, C.M., McCarthy, A., Rice, N.S., Garner, A. & Steele, A.D. Br. J. Ophthalmol. 71, 130–144 (1987).

3

Toma, N.M. et al. Hum. Mol. Genet. 4, 2395–2398 (1995).

4

Hand, C.K. et al. Genomics 61, 1–4 (1999).

5

Mohamed, M.D. et al. Br. J. Ophthalmol. 85, 758–759 (2001).

6

Parker, M.D., Ourmozdi, E.P. & Tanner, M.J. Biochem. Biophys. Res. Commun. 282, 1103–1109 (2001).

7

Alper, S.L., Darman, R.B., Chernova, M.N. & Dahl, N.K. J. Nephrol. (Suppl.) 5, S41–S53 (2002).

8

Romero, M.F., Fulton, C.M. & Boron, W.F. Pflugers Arch. 447, 495–509 (2004).

9

Gottsch, J.D. et al. Invest. Ophthalmol. Vis. Sci. 44, 594–599 (2003).

10

Wilusz, C.J., Wormington, M. & Peltz, S.W. Nat. Rev. Mol. Cell Biol. 2, 237–246 (2001).

11

Park, M., Li, Q., Shcheynikov, N., Zeng, W. & Muallem, S. Mol. Cell 16, 331–341 (2004).
Acknowledgements
We thank the affected individuals and their families for participating in this study. This work was supported by a grant from the National Medical Research Council of Singapore (NMRC 0940/2005) and the Singapore Eye Research Institute. J.R.C. and P.M. are recipients of scientist and fellowship awards from the Alberta Heritage Foundation for Medical Research. Research in the laboratory of J.R.C. is funded by the Canadian Institutes of Health Research. We thank A. Liu and A. Barathi for assistance with dissection of human and mouse cornea.
Ethics declarations
Competing interests
The authors declare no competing financial interests.
Supplementary information
About this article
Cite this article
Vithana, E., Morgan, P., Sundaresan, P. et al. Mutations in sodium-borate cotransporter SLC4A11 cause recessive congenital hereditary endothelial dystrophy (CHED2). Nat Genet 38, 755–757 (2006). https://doi.org/10.1038/ng1824
Received:

Accepted:

Published:

Issue Date: