Abstract
SIL1 (also called BAP) acts as a nucleotide exchange factor for the Hsp70 chaperone BiP (also called GRP78), which is a key regulator of the main functions of the endoplasmic reticulum. We found nine distinct mutations that would disrupt the SIL1 protein in individuals with Marinesco-Sjögren syndrome, an autosomal recessive cerebellar ataxia complicated by cataracts, developmental delay and myopathy. Identification of SIL1 mutations implicates Marinesco-Sjögren syndrome as a disease of endoplasmic reticulum dysfunction and suggests a role for this organelle in multisystem disorders.
Access options
Access options
Subscribe to Journal
Get full journal access for 1 year
$225.00
only $18.75 per issue
All prices are NET prices.
VAT will be added later in the checkout.
Rent or Buy article
Get time limited or full article access on ReadCube.
from$8.99
All prices are NET prices.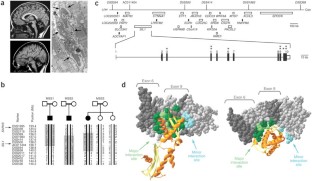 References
1

Marinesco, G., Draganesco, S. & Vasiliu, D. Encephale 26, 97–109 (1931).

2

Sewry, C.A., Voit, T. & Dubovitz, V. Ann. Neurol. 24, 576–580 (1988).

3

Lagier-Tourenne, C. et al. Eur. J. Hum. Genet. 11, 770–778 (2003).

4

Jones, B. et al. Nat. Genet. 34, 29–31 (2003).

5

Varon, R. et al. Nat. Genet. 35, 185–189 (2003).

6

Chung, K.T., Shen, Y. & Hendershot, L.M. J. Biol. Chem. 277, 47557–47563 (2002).

7

Shomura, Y. et al. Mol. Cell 17, 367–379 (2005).

8

Schnell, D.J. & Hebert, D.N. Cell 112, 491–505 (2003).

9

Alder, N.N., Shen, Y., Brodsky, J.L., Hendershot, L.M. & Johnson, A.E. J. Cell Biol. 168, 389–399 (2005).

10

Hendershot, L.M. Mt. Sinai J. Med. 71, 289–297 (2004).

11

Boisrame, A., Beckerich, J.M. & Gaillardin, C. J. Biol. Chem. 271, 11668–11675 (1996).

12

Rao, R.V., Ellerby, H.M. & Bredesen, D.E. Cell Death Differ. 11, 372–380 (2004).

13

Suzuki, Y. et al. Acta Neuropathol. (Berl.) 94, 410–415 (1997).

14

Kitao, Y. et al. J. Neurosci. 24, 1486–1496 (2004).

15

Tanaka, T. et al. Genes Cells 3, 801–810 (1998).
Acknowledgements
We thank the members of the families with MSS for their participation in this study; M.C. Walter for clinical work; and N.B. Romero and J.-P. Leroy for immunohistochemical and electron microscopy studies. J.S. was supported by the START program of the medical faculty of Aachen University of Technology and by the Doktor Robert Pfleger-Stiftung. Financial support of the Muscular Dystrophy Campaign to F.M. and M.B. is acknowledged. R.H., H.L., T.V. and J.W. are members of the German network on muscular dystrophies (MD-NET) funded by the German ministry of education and research (BMBF).
Ethics declarations
Competing interests
The authors declare no competing financial interests.
Supplementary information