Abstract
It has been suggested that gene silencing evolved as a defense against genomic parasites such as transposons1. This idea is based on analysis of mutations that reactivate transposons that are stably silenced2,3,4,5,6,7,8,9: they affect maintenance rather than initiation of silencing. Here we describe the cloning and characterization of a naturally occurring locus able to heritably silence the otherwise highly active MuDR transposon in maize. This locus, Mu killer (Muk), results from the inverted duplication of a partially deleted autonomous MuDR element located at the breakpoint of a genomic deletion. Muk produces a hybrid hairpin transcript that is processed into small RNAs, which are amplified when the target MuDR transcript is present. Muk provides the first example of a naturally occurring transposon derivative capable of initiating the heritable silencing of an active transposon family. Further, transposon-generated inverted duplications may be important for the generation of double-stranded RNAs used in gene silencing.
Relevant articles
Open Access articles citing this article.
Shanhe Zhang

,

Zhihua Wu

…

Zhijun Li

Communications Biology Open Access 04 November 2022

Michael Thieme

,

Sophie Lanciano

…

Etienne Bucher

Genome Biology Open Access 07 July 2017

Jun Wang

,

Yeisoo Yu

…

Chuanzhu Fan

Genome Biology Open Access 06 May 2016
Access options
Subscribe to this journal
Receive 12 print issues and online access
$189.00 per year
only $15.75 per issue
Rent or buy this article
Get just this article for as long as you need it
$39.95
Prices may be subject to local taxes which are calculated during checkout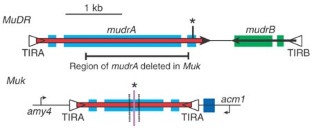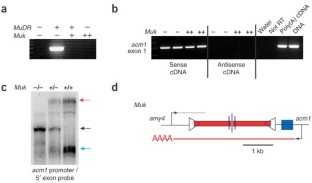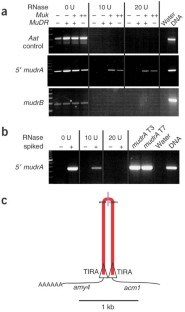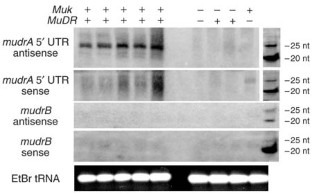 References
Yoder, J.A., Walsh, C.P. & Bestor, T.H. Cytosine methylation and the ecology of intragenomic parasites. Trends Genet. 13, 335–340 (1997).

Sijen, T. & Plasterk, R.H.A. Transposon silencing in the Caenorhabditis elegans germ line by natural RNAi. Nature 426, 310–314 (2003).

Kato, M., Miura, A., Bender, J., Jacobsen, S.E. & Kakutani, T. Role of CG and non-CG methylation in immobilization of transposons in Arabidopsis. Curr. Biol. 13, 421–426 (2003).

Ketting, R.F., Haverkamp, T.H.A., Luenen, G.G.A.M. & Plasterk, R.H.A. mut-7 of C. elegans, required for transposon silencing and RNA interference, is a homolog of Werner syndrome helicase and RNAaseD. Cell 99, 133–141 (1999).

Tabara, H. et al. The rde-1 gene, RNA interference, and transposon silencing in C. elegans. Cell 99, 123–132 (1999).

Wu-Scharf, D., Jeong, B-R., Zhang, C. & Cerutti, H. Transgene and transposon silencing in Chlamydomonas reinhardtii by a DEAH-box RNA helicase. Science 290, 1159–1162 (2000).

Miura, A. et al. Mobilization of transposons by a mutation abolishing full DNA methylation in Arabidopsis. Nature 411, 212–214 (2001).

Zilberman, D., Cao, X. & Jacobsen, S.E. ARGONAUTE4 Control of locus-specific siRNA accumulation and DNA and histone methylation. Science 299, 716–719 (2003).

Singer, T., Yordan, C. & Martienssen, R.A. Robertson's Mutator transposons in A. thaliana are regulated by the chromatin-remodeling gene decrease in DNA methylation (DDM1). Genes Dev. 15, 591–602 (2001).

Kidwell, M.G. & Lisch, D.R. Transposable elements and host genome evolution. Trends Ecol. Evol. 15, 95–99 (2000).

Zilberman, D. & Henikoff, S. Silencing of transposons in plant genomes: kick them when they're down. Genome Biol. 5, 249 (2004).

Lippman, Z. et al. Role of transposable elements in heterochromatin and epigenetic control. Nature 430, 471–476 (2004).

Lisch, D. Mutator transposons. Trends Plant Sci. 7, 498–504 (2002).

Lisch, D., Girard, L., Donlin, M. & Freeling, M. Functional analysis of deletion derivates of the maize transposon MuDR delineates roles for the MURA and MURB proteins. Genetics 151, 331–341 (1999).

Kim, S.H. & Walbot, V. Deletion derivates of the MuDR regulatory transposon of maize encode antisense transcripts but are not dominant-negative regulators of Mutator activities. Plant Cell 15, 2430–2447 (2003).

Rudenko, G.N. & Walbot, V. Expression and post-transcriptional regulation of maize transposable element MuDR and its derivatives. Plant Cell 13, 553–570 (2001).

Slotkin, R.K., Freeling, M. & Lisch, D. Mu killer causes the heritable inactivation of the Mutator family of transposable elements in Zea mays. Genetics 165, 781–797 (2003).

Luff, B., Pawlowski, L. & Bender, J. An inverted repeat triggers cytosine methylation of identical sequences in Arabidopsis. Mol. Cell 3, 505–511 (1999).

Martienssen, R.A. Maintenance of heterochromatin by RNA interference of tandem repeats. Nat. Genet. 35, 213–214 (2003).

Schramke, V. & Allshire, R. Hairpin RNAs and retrotransposon LTRs effect RNA and chromatin-based gene silencing. Science 301, 1069–1074 (2003).

Puig, M., Caceres, M. & Ruiz, A. Silencing of a gene adjacent to the breakpoint of a widespread Drosophila inversion by a transposon-induced antisense RNA. Proc. Natl. Acad. Sci. USA 101, 9013–9018 (2004).

Aravin, A.A. et al. Double-stranded RNA-mediated silencing of genomic tandem repeats and transposable elements in the D. melanogaster germline. Curr. Biol. 11, 1017–1027 (2001).

Bartel, D.P. MicroRNAs: genomics, biogenesis, mechanism, and function. Cell 116, 281–297 (2004).

Hamilton, A., Voinnet, O., Chappell, L. & Baulcombe, D. Two classes of short interfering RNA in RNA silencing. EMBO J. 21, 4671–4679 (2002).

Vazquez, F. et al. Endogenous trans-acting siRNAs regulate the accumulation of Arabidopsis mRNAs. Mol. Cell 16, 69–79 (2004).

Jiang, N., Bao, Z.R., Zhang, X.Y., Eddy, S.R. & Wessler, S.R. Pack-MULE transposable elements mediate gene evolution in plants. Nature 431, 569–573 (2004).

Allen, E. et al. Evolution of microRNA genes by inverted duplication of target gene sequences in Arabidopsis thaliana. Nat. Genet. 36, 1282–1290 (2004).

Melquist, S. & Bender, J. Transcription from an upstream promoter controls methylation signaling from an inverted repeat of endogenous genes in Arabidopsis. Genes Dev. 17, 2036–2047 (2003).
Acknowledgements
The authors thank M. Roth-Woodhouse and C. Hale for critical review of the manuscript. Research was supported by grant DBI-0321726 from the US National Science Foundation.
Ethics declarations
Competing interests
The authors declare no competing financial interests.
Supplementary information
About this article
Cite this article
Slotkin, R., Freeling, M. & Lisch, D. Heritable transposon silencing initiated by a naturally occurring transposon inverted duplication. Nat Genet 37, 641–644 (2005). https://doi.org/10.1038/ng1576
Received:

Accepted:

Published:

Issue Date:

DOI: https://doi.org/10.1038/ng1576