Abstract
The locus for the incomplete form of X-linked congenital stationary night blindness (CSNB2) maps to a 1.1-Mb region in Xp11.23 between markers DXS722 and DXS255. We identified a retina-specific calcium channel α1-subunit gene (CACNA1F) in this region, consisting of 48 exons encoding 1966 amino acids and showing high homology to L-type calcium channel α1–subunits. Mutation analysis in 13 families with CSNB2 revealed nine different mutations in 10 families, including three nonsense and one frameshift mutation. These data indicate that aberrations in a voltage-gated calcium channel, presumably causing a decrease in neurotransmitter release from photoreceptor presynaptic terminals, are a frequent cause of CSNB2.
Access options
Access options
Subscribe to Journal
Get full journal access for 1 year
$225.00
only $18.75 per issue
All prices are NET prices.
VAT will be added later in the checkout.
Rent or Buy article
Get time limited or full article access on ReadCube.
from$8.99
All prices are NET prices.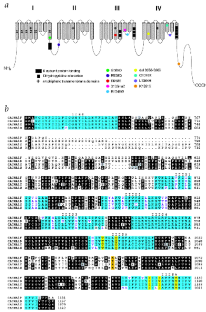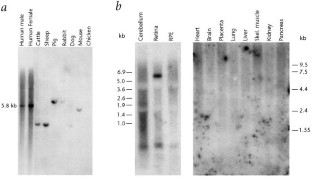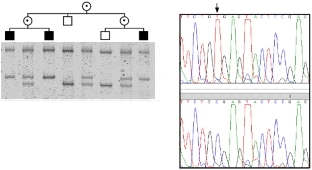 References
1

Schubert, G. & Bornschein, H. Beitrag zur Analyse des menschlichen Electroretinogramms. Ophthalmologica 123, 396–413 (1952).

2

Ruether, K., Apfelstedt-Sylla, E. & Zrenner, E. Clinical findings in patients with congenital stationary night blindness of the Schubert-Bornschein type. Ger. J. Ophthalmol. 2 , 429–435 (1993).

3

Miyake, Y., Horiuchi, M., Ota, I. & Shiroyama, N. Characteristic ERG flicker anomaly in incomplete congenital stationary night blindness. Invest. Ophthalmol. Vis. Sci. 28, 1816– 1823 (1987).

4

Lorenz, B., Andrassi, M. & Miliczek, K.D. Die inkomplette kongenitale stationäre Nachtblindheit (CSNB). Eine wichtige Differentialdiagnose des kongenitalen Nystagmus. Klin. Monatsbl. Augenheilkd. 208, 48– 55 (1996).

5

Bergen, A.A.B., ten Brink, J.B., Riemslag, F., Schuurman, E.J.M. & Tijmes N. Localization of a novel X-linked congenital stationary night blindness locus: Close linkage to the RP3 type retinitis pigmentosa gene region. Hum. Mol. Genet. 4, 931–935 (1995).

6

Bech-Hansen, N.T. & Pearce, W.G. Manifestations of X-linked congenital stationary night blindness in three daughters of an affected male: Demonstration of homozygosity. Am. J. Hum. Genet. 52, 71–77 (1993).

7

Boycott, K.M. et al. Evidence for genetic heterogeneity in X-linked congenital stationary night blindness. Am. J. Hum. Genet. 62, 865– 875 (1998).

8

Hood, D.C. & Greenstein, V. Models of the normal and abnormal rod system. Vision Res. 30, 51– 68 (1990).

9

Schmitz, Y. & Witkovsky, P. Dependence of photoreceptor glutamate release on a dihydropyridine-sensitive calcium channel. Neuroscience 78, 1209–1216 ( 1997).

10

Hogan, K., Powers, P.A. & Gregg R.G. Cloning of the human skeletal muscle a subunit of the dihydropyridine-sensitive L-type calcium channel (CACNL1A3). Genomics 24, 608–609 (1994).

11

Schultz, D. et al. Cloning, chromosomal localization, and functional expression of the α 1 subunit of the L-type voltage-dependent calcium channel from normal heart. Proc. Natl Acad. Sci. USA 90, 6228 –6232 (1990).

12

Williams, M.E. et al. Structure and functional expression of alpha 1, alpha 2, and beta subunits of a novel human neuronal calcium channel subtype. Neuron 8, 71–84 (1992).

13

Fisher, S.E. et al. Sequence-based exon prediction around the synaptophysin locus reveals a gene-rich area containing novel genes in human proximal Xp. Genomics 46, 340–347 (1997).

14

Burge, C. & Karlin, S. Prediction of complete gene structures in human genomic DNA. J. Mol. Biol. 268, 78–94 (1997).

15

Uberbacher, E.C. & Mural, R.J. Locating protein-coding regions in human DNA-sequences by a multiple sensor neural network approach. Proc. Natl Acad. Sci. USA 88, 11261– 11265 (1992).

16

Stuhmer, W. et al. Structural parts involved in activation and inactivation of the sodium channel . Nature 339, 597–603 (1989).

17

Schuster, A. et al. The IVS6 segment of the L-type calcium channel is critical for the action of dihydropyridines and phenylalkylamines. EMBO J. 15, 2365–2370 (1996).

18

Sinnegger, M.J. et al. Nine L-type amino acid residues confer full 1,4-dihydropyridine sensitivity to the neuronal calcium channel alpha1A subunit. Role of L- type Met1188. J. Biol. Chem. 272, 27686–27693 (1997).

19

Pragnell, M. et al. Calcium channel β-subunit binds to a conserved motif in the I-II cytoplasmic linker of the a1-subunit. Nature 368, 67–71 (1994).

20

Witkovsky, P., Schmitz, Y., Akopian, A., Krizaj, D. & Tranchina, D. Gain of rod to horizontal cell synaptic transfer: relation to glutamate release and a dihydropyridine-sensitive calcium current. J. Neurosci. 17, 7297–7306 (1997).

21

Stockton, M. & Slaughter, M.M. B-wave of the electroretinogram. A reflection of ON-bipolar cell activity. J. Gen. Physiol. 93, 101–122 (1989).

22

Schindelhauer, D. et al. Long range map of a 3.5-Mb region in Xp11.23 with a sequence ready map from a 1.1 Mb gene-rich interval. Genome Res. 6, 1056–1069 (1996).

23

Craxton, M. Cosmid sequencing . Methods Mol. Biol. 23, 149– 167 (1993).

24

Bonfield, J.K., Smith, K.F. & Staden, R. A new DNA sequence assembly program. Nucleic Acids Res. 24, 4992–4999 (1995).

25

Leimeister, C., Bach, A. & Gessler, M. Developmental expression patterns of mouse sFRP genes encoding members of the secreted frizzled related protein family. Mech. Dev. (in press).

26

Meindl, A. et al. A gene (RPGR) with homology to the RCC1 guanine nucleotide exchange factor is mutated in X-linked retinitis pigmentosa (RP3). Nature Genet. 13, 35–42 ( 1996).
Acknowledgements
We are grateful to the families who participated in this study. We thank B. Wissinger and M. Andrassi for sending DNA samples, K.B. Jedele for extensive help in manuscript preparation and H. Achatz for technical assistance. The work was supported by the German Federal Ministery for Education, Research and Technology by a grant to A.R. and A.M. as well as by Deutsche Retinitis Pigmentosa Gesellschaft by a grant to N.G.