MicroRNAs (miRNAs) regulate expression of more than one half of the genes in the human genome. A study now reports a new method for selectively silencing whole families of miRNAs, thus providing a new paradigm for disease therapy.
Access options
Subscribe to Journal
Get full journal access for 1 year
$79.00
only $6.58 per issue
All prices are NET prices.
VAT will be added later in the checkout.
Tax calculation will be finalised during checkout.
Buy article
Get time limited or full article access on ReadCube.
$32.00
All prices are NET prices.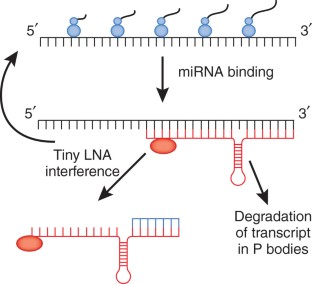 References
Lee, R.C., Feinbaum, R.L. & Ambros, V. Cell 75, 843–854 (1993).

Garzon, R., Marcucci, G. & Croce, C.M. Nat. Rev. Drug Discov. 9, 775–789 (2010).

Obad, S. et al. Nat. Genet. 43, 371–378 (2011).

Krützfeldt, J. et al. Nature 438, 685–689 (2005).

Krützfeldt, J. et al. Nucleic Acids Res. 35, 2885–2892 (2007).

Lewis, B.P., Burge, C.B. & Bartel, D.P. Cell 120, 15–20 (2005).

Baek, D. et al. Nature 455, 64–71 (2008).

Ebert, M.S., Neilson, J.R. & Sharp, P.A. Nat. Methods 4, 721–726 (2007).

Orum, H. & Wengel, J. Curr. Opin. Mol. Ther. 3, 239–243 (2001).

Elmén, J. et al. Nature 452, 896–899 (2008).

Meister, G. et al. Mol. Cell 15, 185–197 (2004).
Ethics declarations
Competing interests
The author declares no competing financial interests.
About this article
Cite this article
Rossi, J. Stopping RNA interference at the seed. Nat Genet 43, 288–289 (2011). https://doi.org/10.1038/ng0411-288
Published:

Issue Date:

DOI: https://doi.org/10.1038/ng0411-288