The HIV viral lifecycle includes infection of a host cell, followed by a critical decision between latency and lysis. A new study suggests that positive feedback in the HIV-1 promoter, involving Tat protein and gene expression, has a role in this critical choice of fate.
Access options
Subscribe to Journal
Get full journal access for 1 year
$209.00
only $17.42 per issue
All prices are NET prices.
VAT will be added later in the checkout.
Rent or Buy article
Get time limited or full article access on ReadCube.
from$8.99
All prices are NET prices.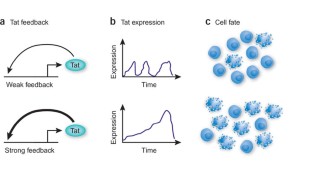 References
1

Chun, T.W. et al. Proc. Natl. Acad. Sci. USA 94, 13193–13197 (1997).

2

Weinberger, L.S., Dar, R.D. & Simpson, M.L. Nat. Genet. 40, 466–470 (2008).

3

Ptashne, M. A Genetic Switch: Phage Lambda Revisited (Cold Spring Harbor Laboratory Press, Cold Spring Harbor, New York, 2004).

4

Suel, G.M., Garcia-Ojalvo, J., Liberman, L.M. & Elowitz, M.B. Nature 440, 545–550 (2006).

5

Nachman, I., Regev, A. & Ramanathan, S. Cell 131, 544–556 (2007).

6

Karn, J. J. Mol. Biol. 293, 235–254 (1999).

7

Weinberger, L.S., Burnett, J.C., Toettcher, J.E., Arkin, A.P. & Schaffer, D.V. Cell 122, 169–182 (2005).

8

Weinberger, L.S. & Shenk, T. PLoS Biol. 5, e9 (2007).

9

Pagans, S. et al. PLoS Biol. 3, e41 (2005).

10

Stevenson, M. Nat. Med. 9, 853–860 (2003).
About this article
Cite this article
Nachman, I., Ramanathan, S. HIV-1 positive feedback and lytic fate. Nat Genet 40, 382–383 (2008). https://doi.org/10.1038/ng0408-382
Further reading
Alasdair J. E. Gordon

,

Dominik Satory

,

Jennifer A. Halliday

,

Christophe Herman

&

Josep Casadesús

PLoS Genetics (2013)