Abstract
Mutations or rearrangements in the gene encoding the receptor tyrosine kinase RET result in Hirschsprung disease, cancer and renal malformations. The standard model of renal development involves reciprocal signaling between the ureteric bud epithelium, inducing metanephric mesenchyme to differentiate into nephrons, and metanephric mesenchyme, inducing the ureteric bud to grow and branch1,2. RET and GDNF (a RET ligand) are essential mediators of these epithelial–mesenchymal interactions3. Vitamin A deficiency has been associated with widespread embryonic abnormalities, including renal malformations4. The vitamin A signal is transduced by nuclear retinoic acid receptors (RARs). We previously showed that two RAR genes, Rara and Rarb2, were colocalized in stromal mesenchyme, a third renal cell type, where their deletion led to altered stromal cell patterning, impaired ureteric bud growth and downregulation of Ret in the ureteric bud5,6. Here we demonstrate that forced expression of Ret in mice deficient for both Rara and Rarb2 (Rara−/−Rarb2−/−) genetically rescues renal development, restoring ureteric bud growth and stromal cell patterning. Our studies indicate the presence of a new reciprocal signaling loop between the ureteric bud epithelium and the stromal mesenchyme, dependent on Ret and vitamin A. In the first part of the loop, vitamin-A–dependent signals secreted by stromal cells control Ret expression in the ureteric bud. In the second part of the loop, ureteric bud signals dependent on Ret control stromal cell patterning.
Access options
Subscribe to Journal
Get full journal access for 1 year
$225.00
only $18.75 per issue
All prices are NET prices.
VAT will be added later in the checkout.
Rent or Buy article
Get time limited or full article access on ReadCube.
from$8.99
All prices are NET prices.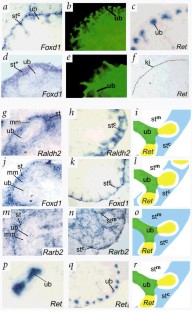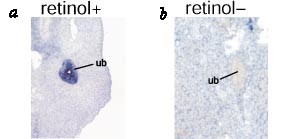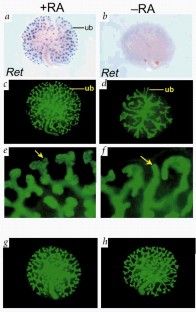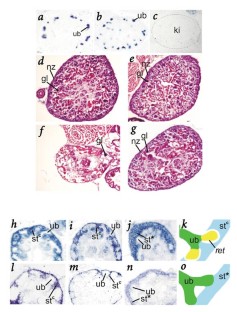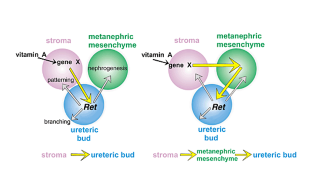 References
1

Grobstein, C. Inductive epithelio-mesenchymal interaction in cultured organ rudiments. Science 113, 52–55 (1953).

2

Grobstein, C. Inductive interaction in the development of the mouse metanephros. J. Exp. Zool. 130, 319–340 (1955).

3

Sariola, H. & Saarma, M. GDNF and its receptors in the regulation of the ureteric branching. Int. J. Dev. Biol. 43, 413–418 (1999).

4

Wilson, J.G. & Warkany, J. Malformations in the genito-urinary tract induced by maternal vitamin A deficiency in the rat. Am. J. Anat. 83, 357–407 (1948).

5

Mendelsohn, C., Batourina, E., Fung, S., Gilbert, T. & Dodd, J. Stromal cells mediate retinoid-dependent functions essential for renal development. Development 126, 1139–1148 (1999).

6

Mendelsohn, C. et al. Function of the retinoic acid receptors (RARs) during development (II). Multiple abnormalities at various stages of organogenesis in RAR double mutants. Development 120, 2749–2771 (1994).

7

Duester, G. Families of retinoid dehydrogenases regulating vitamin A function production of visual pigment and retinoic acid. Eur. J. Biochem. 267, 4315–4324 (2000).

8

Napoli, J.L. Retinoic acid: its biosynthesis and metabolism. Prog. Nucleic Acid Res. Mol. Biol. 63, 139–188 (1999).

9

Niederreither, K., Subbarayan, V., Dolle, P. & Chambon, P. Embryonic retinoic acid synthesis is essential for early mouse post-implantation development. Nature Genet. 21, 444–448 (1999).

10

Hatini, V., Huh, S.O., Herzlinger, D., Soares, V.C. & Lai, E. Essential role of stromal mesenchyme in kidney morphogenesis revealed by targeted disruption of Winged Helix transcription factor BF-2. Genes Dev. 10, 1467–1478 (1996).

11

White, J.C. et al. Defects in embryonic hindbrain development and fetal resorption resulting from vitamin A deficiency in the rat are prevented by feeding pharmacological levels of all-trans-retinoic acid. Proc. Natl. Acad. Sci. USA 95, 13459–13464 (1998).

12

White, J.C., Highland, M., Kaiser, M. & Clagett-Dame, M. Vitamin A deficiency results in the dose-dependent acquisition of anterior character and shortening of the caudal hindbrain of the rat embryo. Dev. Biol. 220, 263–284 (2000).

13

Srinivas, S. et al. Expression of green fluorescent protein in the ureteric bud of transgenic mice: a new tool for the analysis of ureteric bud morphogenesis. Dev. Genet. 24, 241–251 (1999).

14

Vilar, J., Gilbert, T., Moreau, E. & Merlet-Benichou, C. Metanephros organogenesis is highly stimulated by vitamin A derivatives in organ culture. Kidney Int. 49, 1478–1487 (1996).

15

Thang, S.H., Kobayashi, M. & Matsuoka, I. Regulation of glial cell line-derived neurotrophic factor responsiveness in developing rat sympathetic neurons by retinoic acid and bone morphogenetic protein-2. J. Neurosci. 20, 2917–2925 (2000).

16

Moreau, E., Vilar, J., Lelievre-Pegorier, M., Merlet-Benichou, C. & Gilbert, T. Regulation of c-ret expression by retinoic acid in rat metanephros: implication in nephron mass control. Am. J. Physiol. 275, F938–945 (1998).

17

Robertson, K. & Mason, I. Expression of ret in the chicken embryo suggests roles in regionalisation of the vagal neural tube and somites and in development of multiple neural crest and placodal lineages. Mech. Dev. 53, 329–344 (1995).

18

Patrone, G., Puliti, A., Bocciardi, R., Ravazzolo, R. & Romeo, G. Sequence and characterisation of the RET proto-oncogene 5′ flanking region: analysis of retinoic acid responsiveness at the transcriptional level. FEBS Lett. 419, 76–82 (1997).

19

Schuchardt, A., D'Agati, V., Larsson-Blomberg, L., Costantini, F. & Pachnis, V. Defects in the kidney and enteric nervous system of mice lacking the tyrosine kinase receptor Ret. Nature 367, 380–383 (1994).

20

Schuchardt, A., D'Agati, V., Pachnis, V. & Costantini, F. Renal agenesis and hypodysplasia in ret-k- mutant mice result from defects in ureteric bud development. Development 122, 1919–1929 (1996).

21

Srinivas, S., Wu, Z., Chen, C.M., D'Agati, V. & Costantini, F. Dominant effects of RET receptor misexpression and ligand-independent RET signaling on ureteric bud development. Development 126, 1375–1386 (1999).

22

Sariola, H. et al. Antibodies to cell surface ganglioside GD3 perturb inductive epithelial-mesenchymal interactions. Cell 54, 235–245 (1988).

23

Quaggin, S.E. et al. The basic-helix-loop-helix protein pod1 is critically important for kidney and lung organogenesis. Development 126, 5771–5783 (1999).

24

Weller, A., Sorokin, L., Illgen, E.M. & Ekblom, P. Development and growth of mouse embryonic kidney in organ culture and modulation of development by soluble growth factor. Dev. Biol. 144, 248–261 (1991).

25

Dudley, A.T., Godin, R.E. & Robertson, E.J. Interaction between FGF and BMP signaling pathways regulates development of metanephric mesenchyme. Genes Dev. 13, 1601–1613 (1999).

26

Brenner, B.M. & Mackenzie, H.S. Nephron mass as a risk factor for progression of renal disease. Kidney Int. Suppl. 63, S124–127 (1997).
Acknowledgements
We thank Q. Al-awqati, J. Barasch, D. Herzlinger, T. Jessell, A. Pierani, S. Sockanathan and R. Hen for discussions and critical reading of the manuscript; E. Lai and R. Levinson for the Foxd1 probe; S. Sockanathan and T. Jessell for the Raldh2 probe; and P. Chambon for Rara−/−Rarb2−/− mutants. This work was supported by NIH grants to C.M. and F.C.
About this article
Cite this article
Batourina, E., Gim, S., Bello, N. et al. Vitamin A controls epithelial/mesenchymal interactions through Ret expression. Nat Genet 27, 74–78 (2001) doi:10.1038/83792
Received:

Accepted:

Issue Date: