Abstract
Recent evidence suggests that a substantial portion of complex disease risk alleles modify gene expression in a cell-specific manner1,2,3,4. To identify candidate causal genes and biological pathways of immune-related complex diseases, we conducted expression quantitative trait loci (eQTL) analysis on five subsets of immune cells (CD4+ T cells, CD8+ T cells, B cells, natural killer (NK) cells and monocytes) and unfractionated peripheral blood from 105 healthy Japanese volunteers. We developed a three-step analytical pipeline comprising (i) prediction of individual gene expression using our eQTL database and public epigenomic data, (ii) gene-level association analysis and (iii) prediction of cell-specific pathway activity by integrating the direction of eQTL effects. By applying this pipeline to rheumatoid arthritis data sets, we identified candidate causal genes and a cytokine pathway (upregulation of tumor necrosis factor (TNF) in CD4+ T cells). Our approach is an efficient way to characterize the polygenic contributions and potential biological mechanisms of complex diseases.
Relevant articles
Open Access articles citing this article.
Masato Akiyama

,

Saori Sakaue

…

Yoichiro Kamatani

Communications Biology Open Access 03 February 2023

Kensuke Yamaguchi

,

Kazuyoshi Ishigaki

…

Yuta Kochi

Nature Communications Open Access 24 August 2022

Qingbo S. Wang

,

Ryuya Edahiro

…

Yukinori Okada

Nature Communications Open Access 22 August 2022
Access options
Access Nature and 54 other Nature Portfolio journals
Get Nature+, our best-value online-access subscription
$29.99 per month
cancel any time
Subscribe to this journal
Receive 12 print issues and online access
$189.00 per year
only $15.75 per issue
Rent or buy this article
Get just this article for as long as you need it
$39.95
Prices may be subject to local taxes which are calculated during checkout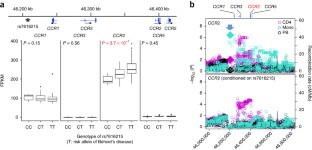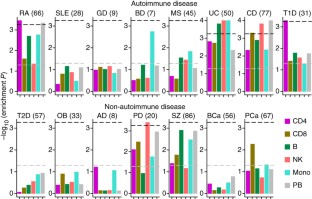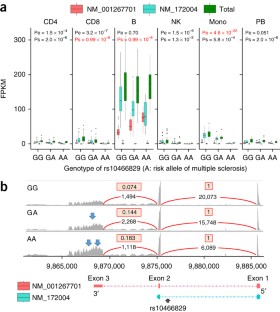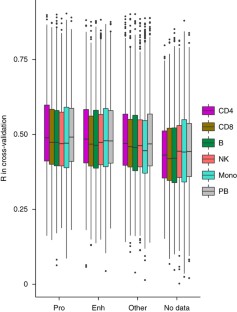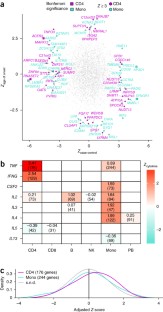 References
Kundaje, A. et al. Integrative analysis of 111 reference human epigenomes. Nature 518, 317–330 (2015).

Trynka, G. et al. Chromatin marks identify critical cell types for fine mapping complex trait variants. Nat. Genet. 45, 124–130 (2013).

Raj, T. et al. Polarization of the effects of autoimmune and neurodegenerative risk alleles in leukocytes. Science 344, 519–523 (2014).

Fairfax, B.P. et al. Genetics of gene expression in primary immune cells identifies cell type-specific master regulators and roles of HLA alleles. Nat. Genet. 44, 502–510 (2012).

Westra, H.J. et al. Systematic identification of trans eQTLs as putative drivers of known disease associations. Nat. Genet. 45, 1238–1243 (2013).

GTEx Consortium. Human genomics. The Genotype-Tissue Expression (GTEx) pilot analysis: multitissue gene regulation in humans. Science 348, 648–660 (2015).

Lappalainen, T. et al. Transcriptome and genome sequencing uncovers functional variation in humans. Nature 501, 506–511 (2013).

Buil, A. et al. Gene-gene and gene-environment interactions detected by transcriptome sequence analysis in twins. Nat. Genet. 47, 88–91 (2015).

Hettinger, J. et al. Origin of monocytes and macrophages in a committed progenitor. Nat. Immunol. 14, 821–830 (2013).

Basso, K. & Dalla-Favera, R. Roles of BCL6 in normal and transformed germinal center B cells. Immunol. Rev. 247, 172–183 (2012).

Tamura, A. et al. Accelerated apoptosis of peripheral blood monocytes in Cebpb-deficient mice. Biochem. Biophys. Res. Commun. 464, 654–658 (2015).

Flutre, T., Wen, X., Pritchard, J. & Stephens, M. A statistical framework for joint eQTL analysis in multiple tissues. PLoS Genet. 9, e1003486 (2013).

Dimas, A.S. et al. Common regulatory variation impacts gene expression in a cell type-dependent manner. Science 325, 1246–1250 (2009).

Nica, A.C. et al. Candidate causal regulatory effects by integration of expression QTLs with complex trait genetic associations. PLoS Genet. 6, e1000895 (2010).

Bentham, J. et al. Genetic association analyses implicate aberrant regulation of innate and adaptive immunity genes in the pathogenesis of systemic lupus erythematosus. Nat. Genet. 47, 1457–1464 (2015).

Giambartolomei, C. et al. Bayesian test for colocalisation between pairs of genetic association studies using summary statistics. PLoS Genet. 10, e1004383 (2014).

Kirino, Y. et al. Genome-wide association analysis identifies new susceptibility loci for Behçet's disease and epistasis between HLA-B*51 and ERAP1. Nat. Genet. 45, 202–207 (2013).

Hsieh, C.L. et al. CCR2 deficiency impairs macrophage infiltration and improves cognitive function after traumatic brain injury. J. Neurotrauma 31, 1677–1688 (2014).

Clarkson, B.D. et al. CCR2-dependent dendritic cell accumulation in the central nervous system during early effector experimental autoimmune encephalomyelitis is essential for effector T cell restimulation in situ and disease progression. J. Immunol. 194, 531–541 (2015).

Yang, J., Zhang, L., Yu, C., Yang, X.F. & Wang, H. Monocyte and macrophage differentiation: circulation inflammatory monocyte as biomarker for inflammatory diseases. Biomark. Res. 2, 1 (2014).

Jostins, L. et al. Host-microbe interactions have shaped the genetic architecture of inflammatory bowel disease. Nature 491, 119–124 (2012).

Kannarkat, G.T., Boss, J.M. & Tansey, M.G. The role of innate and adaptive immunity in Parkinson's disease. J. Parkinsons Dis. 3, 493–514 (2013).

Sawcer, S. et al. Genetic risk and a primary role for cell-mediated immune mechanisms in multiple sclerosis. Nature 476, 214–219 (2011).

Ryan, E.J. et al. Dendritic cell-associated lectin-1: a novel dendritic cell-associated, C-type lectin-like molecule enhances T cell secretion of IL-4. J. Immunol. 169, 5638–5648 (2002).

Gamazon, E.R. et al. A gene-based association method for mapping traits using reference transcriptome data. Nat. Genet. 47, 1091–1098 (2015).

Gusev, A. et al. Integrative approaches for large-scale transcriptome-wide association studies. Nat. Genet. 48, 245–252 (2016).

Zhu, Z. et al. Integration of summary data from GWAS and eQTL studies predicts complex trait gene targets. Nat. Genet. 48, 481–487 (2016).

McInnes, I.B., Buckley, C.D. & Isaacs, J.D. Cytokines in rheumatoid arthritis—shaping the immunological landscape. Nat. Rev. Rheumatol. 12, 63–68 (2016).

McInnes, I.B. & Schett, G. Cytokines in the pathogenesis of rheumatoid arthritis. Nat. Rev. Immunol. 7, 429–442 (2007).

Weinblatt, M.E. et al. A trial of etanercept, a recombinant tumor necrosis factor receptor:Fc fusion protein, in patients with rheumatoid arthritis receiving methotrexate. N. Engl. J. Med. 340, 253–259 (1999).

Weinblatt, M.E. et al. Head-to-head comparison of subcutaneous abatacept versus adalimumab for rheumatoid arthritis: findings of a phase IIIb, multinational, prospective, randomized study. Arthritis Rheum. 65, 28–38 (2013).

Jones, G. et al. Comparison of tocilizumab monotherapy versus methotrexate monotherapy in patients with moderate to severe rheumatoid arthritis: the AMBITION study. Ann. Rheum. Dis. 69, 88–96 (2010).

Pieper, J. et al. Peripheral and site-specific CD4+CD28null T cells from rheumatoid arthritis patients show distinct characteristics. Scand. J. Immunol. 79, 149–155 (2014).

James, E.A. et al. Citrulline-specific Th1 cells are increased in rheumatoid arthritis and their frequency is influenced by disease duration and therapy. Arthritis Rheumatol. 66, 1712–1722 (2014).

Efimov, G.A. et al. Cell-type-restricted anti-cytokine therapy: TNF inhibition from one pathogenic source. Proc. Natl. Acad. Sci. USA 113, 3006–3011 (2016).

Storey, J.D. & Tibshirani, R. Statistical significance for genomewide studies. Proc. Natl. Acad. Sci. USA 100, 9440–9445 (2003).

Nakamura, Y. The BioBank Japan Project. Clin. Adv. Hematol. Oncol. 5, 696–697 (2007).

Kochi, Y. et al. A regulatory variant in CCR6 is associated with rheumatoid arthritis susceptibility. Nat. Genet. 42, 515–519 (2010).

Battle, A. et al. Characterizing the genetic basis of transcriptome diversity through RNA-sequencing of 922 individuals. Genome Res. 24, 14–24 (2014).

Okada, Y. et al. Genetics of rheumatoid arthritis contributes to biology and drug discovery. Nature 506, 376–381 (2014).
Acknowledgements
We would like to thank all the doctors and staff who participated in sample collection for eQTL analysis and the BioBank Japan Project and staff at the Laboratory for Genotyping Development. This research was supported by funding from Takeda pharmaceutical Co., Ltd. (Y. Kochi, K.F. and K. Yamamoto), and a grant from RIKEN (K. Ishigaki, Y. Kochi, A.S., Y.M., Y. Kamatani and M.K.). The BioBank Japan Project is supported by the Japanese Ministry of Education, Culture, Sports, Sciences and Technology.
Ethics declarations
Competing interests
The authors declare no competing financial interests.
Supplementary information
About this article
Cite this article
Ishigaki, K., Kochi, Y., Suzuki, A. et al. Polygenic burdens on cell-specific pathways underlie the risk of rheumatoid arthritis. Nat Genet 49, 1120–1125 (2017). https://doi.org/10.1038/ng.3885
Received:

Accepted:

Published:

Issue Date:

DOI: https://doi.org/10.1038/ng.3885