Abstract
Transgenerational epigenetic inheritance (TEI) describes the transmission of alternative functional states through multiple generations in the presence of the same genomic DNA sequence. Very little is known about the principles and the molecular mechanisms governing this type of inheritance. Here, by transiently enhancing 3D chromatin interactions, we established stable and isogenic Drosophila epilines that carry alternative epialleles, as defined by differential levels of Polycomb-dependent trimethylation of histone H3 Lys27 (forming H3K27me3). After being established, epialleles can be dominantly transmitted to naive flies and can induce paramutation. Importantly, epilines can be reset to a naive state by disruption of chromatin interactions. Finally, we found that environmental changes modulate the expressivity of the epialleles, and we extended our paradigm to naturally occurring phenotypes. Our work sheds light on how nuclear organization and Polycomb group (PcG) proteins contribute to epigenetically inheritable phenotypic variability.
Relevant articles
Open Access articles citing this article.
Nikolay Postika

,

Paul Schedl

…

Olga Kyrchanova

Scientific Reports Open Access 18 February 2021

Ki-Hyeon Seong

,

Nhung Hong Ly

…

Shunsuke Ishii

Communications Biology Open Access 04 May 2020

Stefan Grob

&

Ueli Grossniklaus

Genome Biology Open Access 11 June 2019
Access options
Subscribe to Nature+
Get immediate online access to Nature and 55 other Nature journal
Subscribe to Journal
Get full journal access for 1 year
$79.00
only $6.58 per issue
All prices are NET prices.
VAT will be added later in the checkout.
Tax calculation will be finalised during checkout.
Buy article
Get time limited or full article access on ReadCube.
$32.00
All prices are NET prices.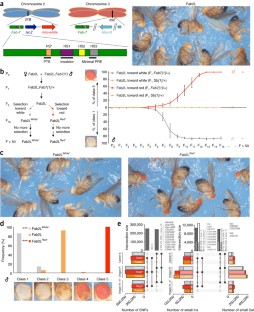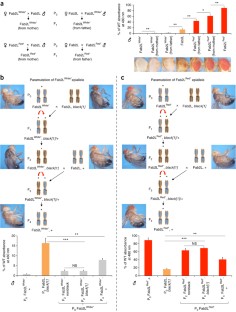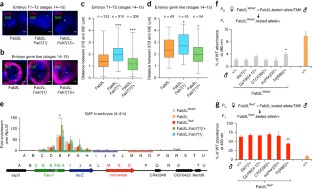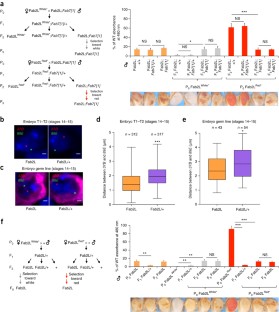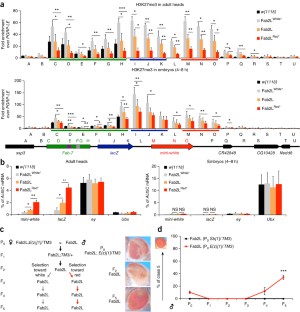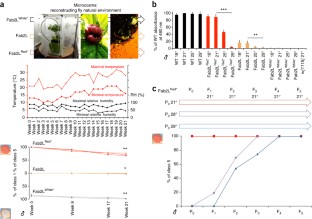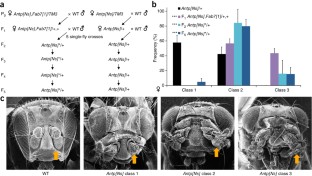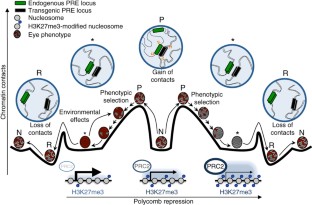 Accession codes
Primary accessions
Gene Expression Omnibus
References
Jablonka, E. & Raz, G. Transgenerational epigenetic inheritance: prevalence, mechanisms, and implications for the study of heredity and evolution. Q. Rev. Biol. 84, 131–176 (2009).

Danchin, É. et al. Beyond DNA: integrating inclusive inheritance into an extended theory of evolution. Nat. Rev. Genet. 12, 475–486 (2011).

Heard, E. & Martienssen, R.A. Transgenerational epigenetic inheritance: myths and mechanisms. Cell 157, 95–109 (2014).

Lim, J.P. & Brunet, A. Bridging the transgenerational gap with epigenetic memory. Trends Genet. 29, 176–186 (2013).

Daxinger, L. & Whitelaw, E. Understanding transgenerational epigenetic inheritance via the gametes in mammals. Nat. Rev. Genet. 13, 153–162 (2012).

Houri-Ze'evi, L. et al. A tunable mechanism determines the duration of the transgenerational small RNA inheritance in C. elegans. Cell 165, 88–99 (2016).

Seong, K.H., Li, D., Shimizu, H., Nakamura, R. & Ishii, S. Inheritance of stress-induced, ATF-2-dependent epigenetic change. Cell 145, 1049–1061 (2011).

Dias, B.G. & Ressler, K.J. Parental olfactory experience influences behavior and neural structure in subsequent generations. Nat. Neurosci. 17, 89–96 (2014).

Zeybel, M. et al. Multigenerational epigenetic adaptation of the hepatic wound-healing response. Nat. Med. 18, 1369–1377 (2012).

Johannes, F. et al. Assessing the impact of transgenerational epigenetic variation on complex traits. PLoS Genet. 5, e1000530 (2009).

Reinders, J. et al. Compromised stability of DNA methylation and transposon immobilization in mosaic Arabidopsis epigenomes. Genes Dev. 23, 939–950 (2009).

Greer, E.L. et al. Transgenerational epigenetic inheritance of longevity in Caenorhabditis elegans. Nature 479, 365–371 (2011).

Rassoulzadegan, M. et al. RNA-mediated non-mendelian inheritance of an epigenetic change in the mouse. Nature 441, 469–474 (2006).

Xing, Y. et al. Evidence for transgenerational transmission of epigenetic tumor susceptibility in Drosophila. PLoS Genet. 3, 1598–1606 (2007).

Ashe, A. et al. piRNAs can trigger a multigenerational epigenetic memory in the germline of C. elegans. Cell 150, 88–99 (2012).

Cubas, P., Vincent, C. & Coen, E. An epigenetic mutation responsible for natural variation in floral symmetry. Nature 401, 157–161 (1999).

Manning, K. et al. A naturally occurring epigenetic mutation in a gene encoding an SBP-box transcription factor inhibits tomato fruit ripening. Nat. Genet. 38, 948–952 (2006).

Morgan, H.D., Sutherland, H.G., Martin, D.I. & Whitelaw, E. Epigenetic inheritance at the agouti locus in the mouse. Nat. Genet. 23, 314–318 (1999).

Kassis, J.A. & Brown, J.L. Polycomb group response elements in Drosophila and vertebrates. Adv. Genet. 81, 83–118 (2013).

Steffen, P.A. & Ringrose, L. What are memories made of? How Polycomb and Trithorax proteins mediate epigenetic memory. Nat. Rev. Mol. Cell Biol. 15, 340–356 (2014).

Cavalli, G. & Paro, R. The Drosophila Fab-7 chromosomal element conveys epigenetic inheritance during mitosis and meiosis. Cell 93, 505–518 (1998).

Dekker, J. & Mirny, L. The 3D genome as moderator of chromosomal communication. Cell 164, 1110–1121 (2016).

Nguyen, H.Q. & Bosco, G. Gene positioning effects on expression in eukaryotes. Annu. Rev. Genet. 49, 627–646 (2015).

Dixon, J.R., Gorkin, D.U. & Ren, B. Chromatin domains: the unit of chromosome organization. Mol. Cell 62, 668–680 (2016).

Ciabrelli, F. & Cavalli, G. Chromatin-driven behavior of topologically associating domains. J. Mol. Biol. 427, 608–625 (2015).

Bantignies, F., Grimaud, C., Lavrov, S., Gabut, M. & Cavalli, G. Inheritance of Polycomb-dependent chromosomal interactions in Drosophila. Genes Dev. 17, 2406–2420 (2003).

Zink, D. & Paro, R. Drosophila Polycomb-group regulated chromatin inhibits the accessibility of a trans-activator to its target DNA. EMBO J. 14, 5660–5671 (1995).

Kyrchanova, O. et al. Functional dissection of the blocking and bypass activities of the Fab-8 boundary in the Drosophila Bithorax complex. PLoS Genet. 12, e1006188 (2016).

Bantignies, F. et al. Polycomb-dependent regulatory contacts between distant Hox loci in Drosophila. Cell 144, 214–226 (2011).

Li, H.B. et al. Insulators, not Polycomb response elements, are required for long-range interactions between Polycomb targets in Drosophila melanogaster. Mol. Cell. Biol. 31, 616–625 (2011).

Li, H.B., Ohno, K., Gui, H. & Pirrotta, V. Insulators target active genes to transcription factories and polycomb-repressed genes to polycomb bodies. PLoS Genet. 9, e1003436 (2013).

Sievers, C., Comoglio, F., Seimiya, M., Merdes, G. & Paro, R. A deterministic analysis of genome integrity during neoplastic growth in Drosophila. PLoS One 9, e87090 (2014).

Hodgetts, R. & Choi, A. Beta alanine and cuticle maturation in Drosophila. Nature 252, 710–711 (1974).

Pilu, R. Paramutation: just a curiosity or fine tuning of gene expression in the next generation? Curr. Genomics 12, 298–306 (2011).

de Vanssay, A. et al. Paramutation in Drosophila linked to emergence of a piRNA-producing locus. Nature 490, 112–115 (2012).

Tolhuis, B. et al. Interactions among Polycomb domains are guided by chromosome architecture. PLoS Genet. 7, e1001343 (2011).

Mahmoudi, T., Katsani, K.R. & Verrijzer, C.P. GAGA can mediate enhancer function in trans by linking two separate DNA molecules. EMBO J. 21, 1775–1781 (2002).

Déjardin, J. et al. Recruitment of Drosophila Polycomb group proteins to chromatin by DSP1. Nature 434, 533–538 (2005).

Schuettengruber, B. et al. Functional anatomy of polycomb and trithorax chromatin landscapes in Drosophila embryos. PLoS Biol. 7, e13 (2009).

Iovino, N., Ciabrelli, F. & Cavalli, G. PRC2 controls Drosophila oocyte cell fate by repressing cell cycle genes. Dev. Cell 26, 431–439 (2013).

Herzog, V.A. et al. A strand-specific switch in noncoding transcription switches the function of a Polycomb/Trithorax response element. Nat. Genet. 46, 973–981 (2014).

Pirrotta, V. & Rastelli, L. White gene expression, repressive chromatin domains and homeotic gene regulation in Drosophila. BioEssays 16, 549–556 (1994).

Lynch, M. & Walsh, B. Genetics and Analysis of Quantitative Traits (Sinauer, 1998).

Talbert, P.B. & Garber, R.L. The Drosophila homeotic mutation Nasobemia (AntpNs) and its revertants: an analysis of mutational reversion. Genetics 138, 709–720 (1994).

Melnikova, L. et al. Interaction between the GAGA factor and Mod(mdg4) proteins promotes insulator bypass in Drosophila. Proc. Natl. Acad. Sci. USA 101, 14806–14811 (2004).

Bantignies, F. & Cavalli, G. Topological organization of Drosophila Hox genes using DNA fluorescent in situ hybridization. Methods Mol. Biol. 1196, 103–120 (2014).

Langmead, B. & Salzberg, S.L. Fast gapped-read alignment with Bowtie 2. Nat. Methods 9, 357–359 (2012).

Li, H. et al. The Sequence Alignment/Map format and SAMtools. Bioinformatics 25, 2078–2079 (2009).

Obenchain, V. et al. VariantAnnotation: a Bioconductor package for exploration and annotation of genetic variants. Bioinformatics 30, 2076–2078 (2014).

Eden, E., Navon, R., Steinfeld, I., Lipson, D. & Yakhini, Z. GOrilla: a tool for discovery and visualization of enriched GO terms in ranked gene lists. BMC Bioinformatics 10, 48 (2009).

Thorvaldsdóttir, H., Robinson, J.T. & Mesirov, J.P. Integrative Genomics Viewer (IGV): high-performance genomics data visualization and exploration. Brief. Bioinform. 14, 178–192 (2013).

Langmead, B., Trapnell, C., Pop, M. & Salzberg, S.L. Ultrafast and memory-efficient alignment of short DNA sequences to the human genome. Genome Biol. 10, R25 (2009).

Quinlan, A.R. & Hall, I.M. BEDTools: a flexible suite of utilities for comparing genomic features. Bioinformatics 26, 841–842 (2010).

Love, M.I., Huber, W. & Anders, S. Moderated estimation of fold change and dispersion for RNA-seq data with DESeq2. Genome Biol. 15, 550 (2014).
Acknowledgements
This study benefited from the CNRS human and technical resources allocated to the ECOTRONS Research Infrastructure as well as from the state allocation 'Investissement d'Avenir' AnaEE-France ANR-11-INBS-0001. We thank J. Roy, S. Devidal, A. Milcu, D. Landais, O. Ravel and A. Faez for assistance at the Ecotron-CNRS Facility in Montpellier; J. Foucaud, B. Serrate and A. Rombaut for assistance with conducting experiments on environmental effects in CBGP; J.-M. Chang and V. Loubiere for technical support; M. Siomi (Keio University) for providing the anti-Aubergine 4D10 antibody; and the Montpellier Ressources Imagerie facility MRI-IGH for microscopy support. F. Ciabrelli was supported by the Fondation pour la Recherche Médicale (FRM). F.B. was supported by CNRS. F. Comoglio was supported by ETH Zurich. B.B. was supported by the Sir Henry Wellcome Postdoctoral Fellowship (WT100136MA). The research of R.P. was supported by the FP7 European Network of Excellence EpiGeneSys, the Swiss National Science Foundation and ETH Zurich. M.N. and A.A. were supported by NIH R01 grant GM097363. Research in the laboratory of G.C. was supported by grants from the European Research Council (ERC-2008-AdG no. 232947), the CNRS, the FP7 European Network of Excellence EpiGeneSys, the European Union's Horizon 2020 Research and Innovation Programme under grant agreement 676556 (MuG), the Agence Nationale de la Recherche, the Fondation pour la Recherche Médicale, the INSERM, the French National Cancer Institute (INCa) and the Laboratory of Excellence EpiGenMed.
Ethics declarations
Competing interests
The authors declare no competing financial interests.
Integrated supplementary information
Supplementary information
About this article
Cite this article
Ciabrelli, F., Comoglio, F., Fellous, S. et al. Stable Polycomb-dependent transgenerational inheritance of chromatin states in Drosophila. Nat Genet 49, 876–886 (2017). https://doi.org/10.1038/ng.3848
Received:

Accepted:

Published:

Issue Date:

DOI: https://doi.org/10.1038/ng.3848