Abstract
Recent studies suggest that individual subunits of chromatin-remodeling complexes produce biologically specific meaning in different cell types through combinatorial assembly. Here we show that granulocyte development requires SMARCD2, a subunit of ATP-dependent SWI/SNF (BAF) chromatin-remodeling complexes. Smarcd2-deficient mice fail to generate functionally mature neutrophils and eosinophils, a phenotype reminiscent of neutrophil-specific granule deficiency (SGD) in humans, for which loss-of-function mutations in CEBPE (encoding CEBPɛ) have been reported. SMARCD2-containing SWI/SNF complexes are necessary for CEBPɛ transcription factor recruitment to the promoter of neutrophilic secondary granule genes and for granulocyte differentiation. The homologous SMARCD1 protein (63% identical at the amino acid level) cannot replace the role of SMARCD2 in granulocyte development. We find that SMARCD2 functional specificity is conferred by its divergent coiled-coil 1 and SWIB domains. Strikingly, both CEBPE and SMARCD2 loss-of-function mutations identified in patients with SGD abolish the interaction with SWI/SNF and thereby secondary granule gene expression, thus providing a molecular basis for this disease.
Access options
Subscribe to Journal
Get full journal access for 1 year
$209.00
only $17.42 per issue
All prices are NET prices.
VAT will be added later in the checkout.
Rent or Buy article
Get time limited or full article access on ReadCube.
from$8.99
All prices are NET prices.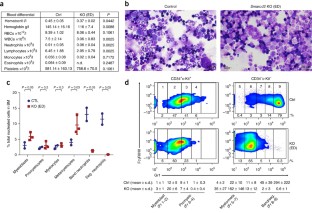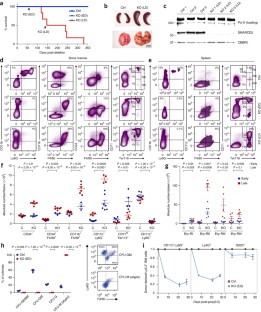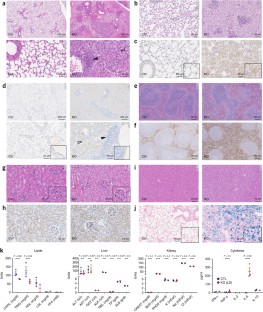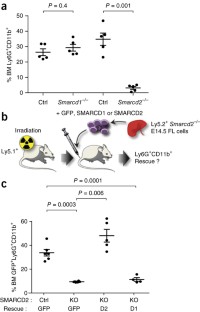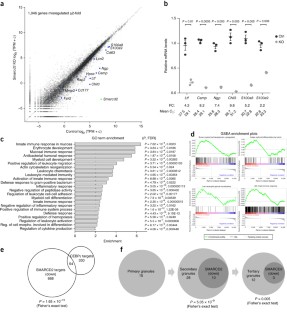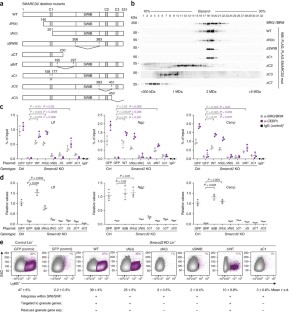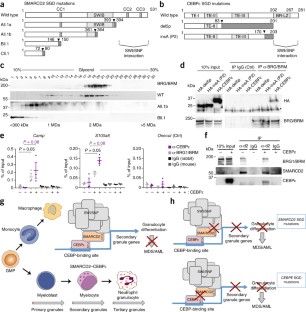 Accession codes
Primary accessions
BioProject
Gene Expression Omnibus
Referenced accessions
NCBI Reference Sequence
References
1

Akashi, K., Traver, D., Miyamoto, T. & Weissman, I.L. A clonogenic common myeloid progenitor that gives rise to all myeloid lineages. Nature 404, 193–197 (2000).

2

Iwasaki, H. et al. The order of expression of transcription factors directs hierarchical specification of hematopoietic lineages. Genes Dev. 20, 3010–3021 (2006).

3

Berliner, N. Lessons from congenital neutropenia: 50 years of progress in understanding myelopoiesis. Blood 111, 5427–5432 (2008).

4

Cantor, A.B. & Orkin, S.H. Hematopoietic development: a balancing act. Curr. Opin. Genet. Dev. 11, 513–519 (2001).

5

Enver, T., Heyworth, C.M. & Dexter, T.M. Do stem cells play dice? Blood 92, 348–351, discussion 352 (1998).

6

Metcalf, D. Hematopoietic cytokines. Blood 111, 485–491 (2008).

7

Metcalf, D. Lineage commitment and maturation in hematopoietic cells: the case for extrinsic regulation. Blood 92, 345–347, discussion 352 (1998).

8

Yamanaka, R. et al. Impaired granulopoiesis, myelodysplasia, and early lethality in CCAAT/enhancer binding protein ɛ–deficient mice. Proc. Natl. Acad. Sci. USA 94, 13187–13192 (1997).

9

Lekstrom-Himes, J. & Xanthopoulos, K.G. CCAAT/enhancer binding protein ɛ is critical for effective neutrophil-mediated response to inflammatory challenge. Blood 93, 3096–3105 (1999).

10

Verbeek, W. et al. Myeloid transcription factor C/EBPɛ is involved in the positive regulation of lactoferrin gene expression in neutrophils. Blood 94, 3141–3150 (1999).

11

Strauss, R.G., Bove, K.E., Jones, J.F., Mauer, A.M. & Fulginiti, V.A. An anomaly of neutrophil morphology with impaired function. N. Engl. J. Med. 290, 478–484 (1974).

12

Komiyama, A., Morosawa, H., Nakahata, T., Miyagawa, Y. & Akabane, T. Abnormal neutrophil maturation in a neutrophil defect with morphologic abnormality and impaired function. J. Pediatr. 94, 19–25 (1979).

13

Breton-Gorius, J., Mason, D.Y., Buriot, D., Vilde, J.L. & Griscelli, C. Lactoferrin deficiency as a consequence of a lack of specific granules in neutrophils from a patient with recurrent infections. Detection by immunoperoxidase staining for lactoferrin and cytochemical electron microscopy. Am. J. Pathol. 99, 413–428 (1980).

14

Gallin, J.I. et al. Human neutrophil-specific granule deficiency: a model to assess the role of neutrophil-specific granules in the evolution of the inflammatory response. Blood 59, 1317–1329 (1982).

15

Boxer, L.A. et al. Lactoferrin deficiency associated with altered granulocyte function. N. Engl. J. Med. 307, 404–410 (1982).

16

Ambruso, D.R. et al. Defective bactericidal activity and absence of specific granules in neutrophils from a patient with recurrent bacterial infections. J. Clin. Immunol. 4, 23–30 (1984).

17

Borregaard, N., Boxer, L.A., Smolen, J.E. & Tauber, A.I. Anomalous neutrophil granule distribution in a patient with lactoferrin deficiency: pertinence to the respiratory burst. Am. J. Hematol. 18, 255–260 (1985).

18

Ganz, T., Metcalf, J.A., Gallin, J.I., Boxer, L.A. & Lehrer, R.I. Microbicidal/cytotoxic proteins of neutrophils are deficient in two disorders: Chediak–Higashi syndrome and "specific" granule deficiency. J. Clin. Invest. 82, 552–556 (1988).

19

Lomax, K.J. et al. Selective defect in myeloid cell lactoferrin gene expression in neutrophil specific granule deficiency. J. Clin. Invest. 83, 514–519 (1989).

20

Raphael, G.D. et al. Glandular secretion of lactoferrin in a patient with neutrophil lactoferrin deficiency. J. Allergy Clin. Immunol. 84, 914–919 (1989).

21

Gombart, A.F. et al. Neutrophil-specific granule deficiency: homozygous recessive inheritance of a frameshift mutation in the gene encoding transcription factor CCAAT/enhancer binding protein-ɛ. Blood 97, 2561–2567 (2001).

22

Wada, T. et al. A novel in-frame deletion in the leucine zipper domain of C/EBPɛ leads to neutrophil-specific granule deficiency. J. Immunol. 195, 80–86 (2015).

23

Bultman, S. et al. A Brg1 null mutation in the mouse reveals functional differences among mammalian SWI/SNF complexes. Mol. Cell 6, 1287–1295 (2000).

24

Olave, I., Wang, W., Xue, Y., Kuo, A. & Crabtree, G.R. Identification of a polymorphic, neuron-specific chromatin remodeling complex. Genes Dev. 16, 2509–2517 (2002).

25

Nagl, N.G. Jr., Wang, X., Patsialou, A., Van Scoy, M. & Moran, E. Distinct mammalian SWI/SNF chromatin remodeling complexes with opposing roles in cell-cycle control. EMBO J. 26, 752–763 (2007).

26

Flowers, S., Nagl, N.G. Jr., Beck, G.R. Jr. & Moran, E. Antagonistic roles for BRM and BRG1 SWI/SNF complexes in differentiation. J. Biol. Chem. 284, 10067–10075 (2009).

27

Kadam, S. & Emerson, B.M. Transcriptional specificity of human SWI/SNF BRG1 and BRM chromatin remodeling complexes. Mol. Cell 11, 377–389 (2003).

28

Wu, J.I. et al. Regulation of dendritic development by neuron-specific chromatin remodeling complexes. Neuron 56, 94–108 (2007).

29

Lessard, J. et al. An essential switch in subunit composition of a chromatin remodeling complex during neural development. Neuron 55, 201–215 (2007).

30

Krasteva, V. et al. The BAF53a subunit of SWI/SNF-like BAF complexes is essential for hemopoietic stem cell function. Blood 120, 4720–4732 (2012).

31

Krosl, J. et al. A mutant allele of the Swi/Snf member BAF250a determines the pool size of fetal liver hemopoietic stem cell populations. Blood 116, 1678–1684 (2010).

32

Choi, J. et al. The SWI/SNF-like BAF complex is essential for early B cell development. J. Immunol. 188, 3791–3803 (2012).

33

Chi, T.H. et al. Reciprocal regulation of CD4/CD8 expression by SWI/SNF-like BAF complexes. Nature 418, 195–199 (2002).

34

Witzel, M. et al. Chromatin remodelling factor SMARCD2 regulates transcriptional networks controlling differentiation of neutrophil granulocytes. Nat. Genet. http://dx.doi.org/10.1038/ng.3833 (2017).

35

Shi, J. et al. Role of SWI/SNF in acute leukemia maintenance and enhancer-mediated Myc regulation. Genes Dev. 27, 2648–2662 (2013).

36

Wang, N.D. et al. Impaired energy homeostasis in C/EBPα knockout mice. Science 269, 1108–1112 (1995).

37

Wang, W. et al. Purification and biochemical heterogeneity of the mammalian SWI–SNF complex. EMBO J. 15, 5370–5382 (1996).

38

Wang, W. et al. Diversity and specialization of mammalian SWI/SNF complexes. Genes Dev. 10, 2117–2130 (1996).

39

Gombart, A.F. et al. Regulation of neutrophil and eosinophil secondary granule gene expression by transcription factors C/EBPɛ and PU.1. Blood 101, 3265–3273 (2003).

40

Lupas, A., Van Dyke, M. & Stock, J. Predicting coiled coils from protein sequences. Science 252, 1162–1164 (1991).

41

Bennett-Lovsey, R., Hart, S.E., Shirai, H. & Mizuguchi, K. The SWIB and the MDM2 domains are homologous and share a common fold. Bioinformatics 18, 626–630 (2002).

42

Sandelin, A., Alkema, W., Engstrom, P., Wasserman, W.W. & Lenhard, B. JASPAR: an open-access database for eukaryotic transcription factor binding profiles. Nucleic Acids Res. 32, D91–D94 (2004).

43

Ho, L. et al. An embryonic stem cell chromatin remodeling complex, esBAF, is essential for embryonic stem cell self-renewal and pluripotency. Proc. Natl. Acad. Sci. USA 106, 5181–5186 (2009).

44

Alajem, A. et al. Differential association of chromatin proteins identifies BAF60a/SMARCD1 as a regulator of embryonic stem cell differentiation. Cell Rep. 10, 2019–2031 (2015).

45

Gao, Z. et al. Determination of protein interactome of transcription factor Sox2 in embryonic stem cells engineered for inducible expression of four reprogramming factors. J. Biol. Chem. 287, 11384–11397 (2012).

46

Chen, L. et al. Transcriptional control in cardiac progenitors: Tbx1 interacts with the BAF chromatin remodeling complex and regulates Wnt5a. PLoS Genet. 8, e1002571 (2012).

47

Lickert, H. et al. Baf60c is essential for function of BAF chromatin remodelling complexes in heart development. Nature 432, 107–112 (2004).

48

Ochi, H., Hans, S. & Westerfield, M. Smarcd3 regulates the timing of zebrafish myogenesis onset. J. Biol. Chem. 283, 3529–3536 (2008).

49

Mallappa, C. et al. Myogenic microRNA expression requires ATP-dependent chromatin remodeling enzyme function. Mol. Cell. Biol. 30, 3176–3186 (2010).

50

Goljanek-Whysall, K. et al. Regulation of multiple target genes by miR-1 and miR-206 is pivotal for C2C12 myoblast differentiation. J. Cell Sci. 125, 3590–3600 (2012).

51

Wu, J.I., Lessard, J. & Crabtree, G.R. Understanding the words of chromatin regulation. Cell 136, 200–206 (2009).

52

Armstrong, J.A., Bieker, J.J. & Emerson, B.M.A. SWI/SNF-related chromatin remodeling complex, E-RC1, is required for tissue-specific transcriptional regulation by EKLF in vitro. Cell 95, 93–104 (1998).

53

Takeuchi, J.K. & Bruneau, B.G. Directed transdifferentiation of mouse mesoderm to heart tissue by defined factors. Nature 459, 708–711 (2009).

54

Forcales, S.V. et al. Signal-dependent incorporation of MyoD–BAF60c into Brg1-based SWI/SNF chromatin-remodelling complex. EMBO J. 31, 301–316 (2012).

55

Thorsteinsdottir, U., Kroon, E., Jerome, L., Blasi, F. & Sauvageau, G. Defining roles for HOX and MEIS1 genes in induction of acute myeloid leukemia. Mol. Cell. Biol. 21, 224–234 (2001).

56

Wilhelm, B.T. et al. NRNA–seq analysis of 2 closely related leukemia clones that differ in their self-renewal capacity. Blood 117, e27–e38 (2011).

57

Lessard, J. & Sauvageau, G. Bmi-1 determines the proliferative capacity of normal and leukaemic stem cells. Nature 423, 255–260 (2003).

58

Carson, F.L. Histotechnology: A Self Instructional Text (ASCP Press, 2015).
Acknowledgements
The authors thank B. Turgeon, S. Harton and V. Paradis for generating the Smarcd2-deficient mice; J. Gervais for veterinary services, C. Klein (Ludwig Maximilians University) for the SMARCD2 SGD mutants and critical discussions, J. Féthière for the antibodies to SMARCD1, SMARCD2 and SMARCD3, G.R. Crabtree (Stanford University) for J1 antibody; J. Krosl and T. Hoang for hemopoietic cytokines; P. Gendron and V. Lavallée for bioinformatics analyses; D. Gagné and G. Dulude for flow cytometry; C. Charbonneau for microscopy; J. Hébert and the Quebec Leukemia Cell Bank (BCLQ) for human samples; and J. Chagraoui for scientific discussions. P.P. is supported by a scholarship from the Cole Foundation. These studies were also supported in part by grants from the Canadian Institutes for Health Research (MOP_133546 to J.L.) and a Canada Research Chair Tier 2 to J.A.L.
Ethics declarations
Competing interests
The authors declare no competing financial interests.
Integrated supplementary information
Supplementary information
About this article
Cite this article
Priam, P., Krasteva, V., Rousseau, P. et al. SMARCD2 subunit of SWI/SNF chromatin-remodeling complexes mediates granulopoiesis through a CEBPɛ dependent mechanism. Nat Genet 49, 753–764 (2017). https://doi.org/10.1038/ng.3812
Received:

Accepted:

Published:

Issue Date: