Abstract
Although ribosomes are ubiquitous and essential for life, recent data indicate that monogenic causes of ribosomal dysfunction can confer a remarkable degree of specificity in terms of human disease phenotype. Box C/D small nucleolar RNAs (snoRNAs) are evolutionarily conserved non-protein-coding RNAs involved in ribosome biogenesis. Here we show that biallelic mutations in the gene SNORD118, encoding the box C/D snoRNA U8, cause the cerebral microangiopathy leukoencephalopathy with calcifications and cysts (LCC), presenting at any age from early childhood to late adulthood. These mutations affect U8 expression, processing and protein binding and thus implicate U8 as essential in cerebral vascular homeostasis.
Relevant articles
Open Access articles citing this article.
Michelle Paff

,

Nardin Samuel

…

Andres M. Lozano

BMC Neurology Open Access 05 January 2022

Suzanne Murphy

,

Gabriella Grima

…

Kristian Aquilina

Child's Nervous System Open Access 21 May 2021

Minjie Zhang

,

Kongpan Li

…

Zhipeng Lu

Nature Communications Open Access 20 April 2021
Access options
Subscribe to Journal
Get full journal access for 1 year
$79.00
only $6.58 per issue
All prices are NET prices.
VAT will be added later in the checkout.
Tax calculation will be finalised during checkout.
Buy article
Get time limited or full article access on ReadCube.
$32.00
All prices are NET prices.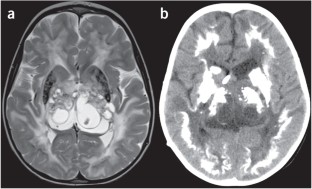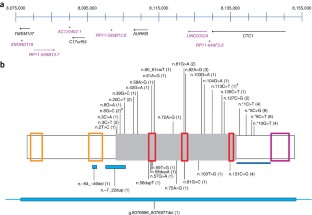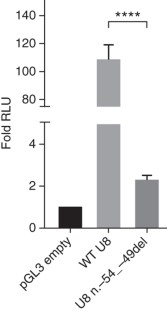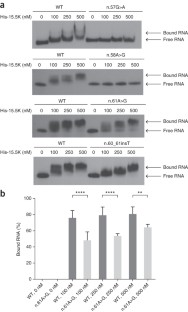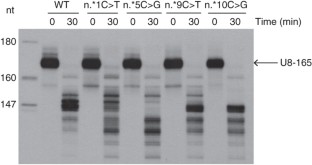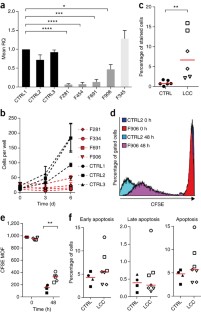 Accession codes
Accessions
NCBI Reference Sequence
References
Labrune, P. et al. Extensive brain calcifications, leukodystrophy, and formation of parenchymal cysts: a new progressive disorder due to diffuse cerebral microangiopathy. Neurology 46, 1297–1301 (1996).

Nagae-Poetscher, L.M. et al. Leukoencephalopathy, cerebral calcifications, and cysts: new observations. Neurology 62, 1206–1209 (2004).

Corboy, J.R., Gault, J. & Kleinschmidt-DeMasters, B.K. An adult case of leukoencephalopathy with intracranial calcifications and cysts. Neurology 67, 1890–1892 (2006).

Livingston, J.H. et al. Leukoencephalopathy with calcifications and cysts: a purely neurological disorder distinct from coats plus. Neuropediatrics 45, 175–182 (2014).

Watkins, N.J. & Bohnsack, M.T. The box C/D and H/ACA snoRNPs: key players in the modification, processing and the dynamic folding of ribosomal RNA. Wiley Interdiscip. Rev. RNA 3, 397–414 (2012).

Peculis, B.A., DeGregorio, S. & McDowell, K. The U8 snoRNA gene family: identification and characterization of distinct, functional U8 genes in Xenopus. Gene 274, 83–92 (2001).

Kiss, T., Fayet, E., Jády, B.E., Richard, P. & Weber, M. Biogenesis and intranuclear trafficking of human box C/D and H/ACA RNPs. Cold Spring Harb. Symp. Quant. Biol. 71, 407–417 (2006).

Tomasevic, N. & Peculis, B.A. Xenopus LSm proteins bind U8 snoRNA via an internal evolutionarily conserved octamer sequence. Mol. Cell. Biol. 22, 4101–4112 (2002).

Kufel, J., Allmang, C., Petfalski, E., Beggs, J. & Tollervey, D. Lsm proteins are required for normal processing and stability of ribosomal RNAs. J. Biol. Chem. 278, 2147–2156 (2003).

Watkins, N.J., Lemm, I. & Lührmann, R. Involvement of nuclear import and export factors in U8 box C/D snoRNP biogenesis. Mol. Cell. Biol. 27, 7018–7027 (2007).

Watkins, N.J. et al. A common core RNP structure shared between the small nucleoar box C/D RNPs and the spliceosomal U4 snRNP. Cell 103, 457–466 (2000).

Watkins, N.J., Dickmanns, A. & Lührmann, R. Conserved stem II of the box C/D motif is essential for nucleolar localization and is required, along with the 15.5K protein, for the hierarchical assembly of the box C/D snoRNP. Mol. Cell. Biol. 22, 8342–8352 (2002).

Anderson, B.H. et al. Mutations in CTC1, encoding conserved telomere maintenance component 1, cause Coats plus. Nat. Genet. 44, 338–342 (2012).

Takai, H. et al. A POT1 mutation implicates defective telomere end fill-in and telomere truncations in Coats plus. Genes Dev. 30, 812–826 (2016).

Briggs, T.A. et al. Cerebroretinal microangiopathy with calcifications and cysts (CRMCC). Am. J. Med. Genet. A. 146A, 182–190 (2008).

Polvi, A. et al. Mutations in CTC1, encoding the CTS telomere maintenance complex component 1, cause cerebroretinal microangiopathy with calcifications and cysts. Am. J. Hum. Genet. 90, 540–549 (2012).

Christopher, K.J., Wang, B., Kong, Y. & Weatherbee, S.D. Forward genetics uncovers transmembrane protein 107 as a novel factor required for ciliogenesis and Sonic hedgehog signaling. Dev. Biol. 368, 382–392 (2012).

Shaheen, R. et al. Identification of a novel MKS locus defined by TMEM107 mutation. Hum. Mol. Genet. 24, 5211–5218 (2015).

Hanks, S. et al. Constitutional aneuploidy and cancer predisposition caused by biallelic mutations in BUB1B. Nat. Genet. 36, 1159–1161 (2004).

Scheper, G.C. et al. Mitochondrial aspartyl-tRNA synthetase deficiency causes leukoencephalopathy with brain stem and spinal cord involvement and lactate elevation. Nat. Genet. 39, 534–539 (2007).

Lafontaine, D.L. Noncoding RNAs in eukaryotic ribosome biogenesis and function. Nat. Struct. Mol. Biol. 22, 11–19 (2015).

Tyc, K. & Steitz, J.A. U3, U8 and U13 comprise a new class of mammalian snRNPs localized in the cell nucleolus. EMBO J. 8, 3113–3119 (1989).

Peculis, B.A. & Steitz, J.A. Sequence and structural elements critical for U8 snRNP function in Xenopus oocytes are evolutionarily conserved. Genes Dev. 8, 2241–2255 (1994).

Peculis, B.A. The sequence of the 5′ end of the U8 small nucleolar RNA is critical for 5.8S and 28S rRNA maturation. Mol. Cell. Biol. 17, 3702–3713 (1997).

Freed, E.F., Bleichert, F., Dutca, L.M. & Baserga, S.J. When ribosomes go bad: diseases of ribosome biogenesis. Mol. Biosyst. 6, 481–493 (2010).

Ramagopal, S. Are eukaryotic ribosomes heterogeneous? Affirmations on the horizon. Biochem. Cell Biol. 70, 269–272 (1992).

Xue, S. & Barna, M. Specialized ribosomes: a new frontier in gene regulation and organismal biology. Nat. Rev. Mol. Cell Biol. 13, 355–369 (2012).

Abecasis, G.R., Cherny, S.S., Cookson, W.O. & Cardon, L.R. Merlin—rapid analysis of dense genetic maps using sparse gene flow trees. Nat. Genet. 30, 97–101 (2002).

Kong, A. & Cox, N.J. Allele-sharing models: LOD scores and accurate linkage tests. Am. J. Hum. Genet. 61, 1179–1188 (1997).

Dobbyn, H.C. & O'Keefe, R.T. Analysis of Snu13p mutations reveals differential interactions with the U4 snRNA and U3 snoRNA. RNA 10, 308–320 (2004).
Acknowledgements
We are very grateful to the affected families for their involvement in our research. The authors would like to thank the Exome Aggregation Consortium and the groups that provided exome variant data for comparison. DNA panels from the NINDS Human Genetics Resource Center DNA and Cell Line Repository were used in this study, as well as clinical data. The submitters who contributed samples are acknowledged in detailed descriptions of each panel: NDPT099 and NDPT095. Y.J.C. acknowledges funding from the Newlife Foundation (14-15/15), the Great Ormond Street Hospital Children's Charity (V1212) and a state subsidy managed by the National Research Agency (France) under 'Investments for the Future' (ANR-10-IAHU-01). R.T.O'K. acknowledges the Wellcome Trust (104981). This work was supported by Wellcome Trust funding (097820/Z/11/B) to Y.J.C. and R.T.O'K. P.R. has received research support from La Ligue (Equipe Lab Elisée) and the Centre National de la Recherche Scientifique (CNRS). This paper is dedicated to the memory of John L. Tolmie.
Ethics declarations
Competing interests
The authors declare no competing financial interests.
Integrated supplementary information
Supplementary information
Supplementary Figures 1–13 and Supplementary Tables 1–8. (PDF 6081 kb)
About this article
Cite this article
Jenkinson, E., Rodero, M., Kasher, P. et al. Mutations in SNORD118 cause the cerebral microangiopathy leukoencephalopathy with calcifications and cysts. Nat Genet 48, 1185–1192 (2016). https://doi.org/10.1038/ng.3661
Received:

Accepted:

Published:

Issue Date:

DOI: https://doi.org/10.1038/ng.3661