Abstract
We performed phylogenetic analysis of high-grade serous ovarian cancers (68 samples from seven patients), identifying constituent clones and quantifying their relative abundances at multiple intraperitoneal sites. Through whole-genome and single-nucleus sequencing, we identified evolutionary features including mutation loss, convergence of the structural genome and temporal activation of mutational processes that patterned clonal progression. We then determined the precise clonal mixtures comprising each tumor sample. The majority of sites were clonally pure or composed of clones from a single phylogenetic clade. However, each patient contained at least one site composed of polyphyletic clones. Five patients exhibited monoclonal and unidirectional seeding from the ovary to intraperitoneal sites, and two patients demonstrated polyclonal spread and reseeding. Our findings indicate that at least two distinct modes of intraperitoneal spread operate in clonal dissemination and highlight the distribution of migratory potential over clonal populations comprising high-grade serous ovarian cancers.
Your institute does not have access to this article
Relevant articles
Open Access articles citing this article.
Magda Markowska

,

Tomasz Cąkała

…

Ewa Szczurek

Genome Biology Open Access 09 June 2022

Patriciu Achimas-Cadariu

,

Paul Kubelac

…

Frank Rühli

Journal of Ovarian Research Open Access 03 June 2022

Yuqing Shen

,

Hui Lin

…

Weiguo Lu

Journal of Ovarian Research Open Access 27 April 2022
Access options
Subscribe to Journal
Get full journal access for 1 year
$59.00
only $4.92 per issue
All prices are NET prices.
VAT will be added later in the checkout.
Tax calculation will be finalised during checkout.
Buy article
Get time limited or full article access on ReadCube.
$32.00
All prices are NET prices.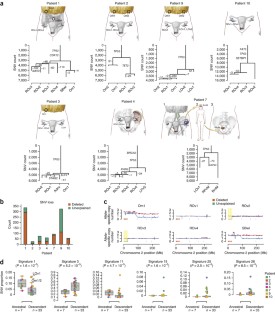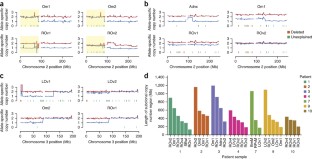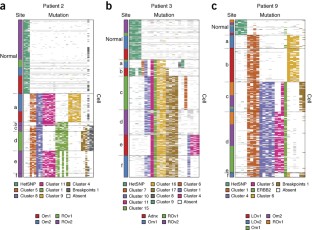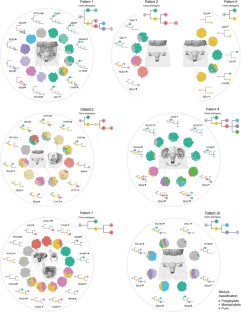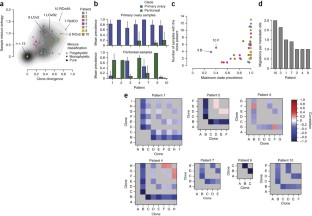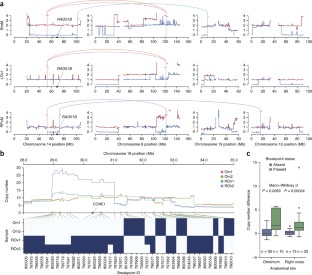 References
Ahmed, A.A. et al. Driver mutations in TP53 are ubiquitous in high grade serous carcinoma of the ovary. J. Pathol. 221, 49–56 (2010).

Patch, A.-M. et al. Whole-genome characterization of chemoresistant ovarian cancer. Nature 521, 489–494 (2015).

Bashashati, A. et al. Distinct evolutionary trajectories of primary high-grade serous ovarian cancers revealed through spatial mutational profiling. J. Pathol. 231, 21–34 (2013).

Ha, G. et al. TITAN: inference of copy number architectures in clonal cell populations from tumor whole-genome sequence data. Genome Res. 24, 1881–1893 (2014).

Schwarz, R.F. et al. Spatial and temporal heterogeneity in high-grade serous ovarian cancer: a phylogenetic analysis. PLoS Med. 12, e1001789 (2015).

Jacobs, I.J. et al. Clonal origin of epithelial ovarian carcinoma: analysis by loss of heterozygosity, p53 mutation, and X-chromosome inactivation. J. Natl. Cancer Inst. 84, 1793–1798 (1992).

Khalique, L. et al. The clonal evolution of metastases from primary serous epithelial ovarian cancers. Int. J. Cancer 124, 1579–1586 (2009).

Lengyel, E. Ovarian cancer development and metastasis. Am. J. Pathol. 177, 1053–1064 (2010).

Campbell, P.J. et al. The patterns and dynamics of genomic instability in metastatic pancreatic cancer. Nature 467, 1109–1113 (2010).

Gerlinger, M. et al. Intratumor heterogeneity and branched evolution revealed by multiregion sequencing. N. Engl. J. Med. 366, 883–892 (2012).

Gerlinger, M. et al. Genomic architecture and evolution of clear cell renal cell carcinomas defined by multiregion sequencing. Nat. Genet. 46, 225–233 (2014).

Gundem, G. et al. The evolutionary history of lethal metastatic prostate cancer. Nature 520, 353–357 (2015).

Eirew, P. et al. Dynamics of genomic clones in breast cancer patient xenografts at single-cell resolution. Nature 518, 422–426 (2015).

Gawad, C., Koh, W. & Quake, S.R. Dissecting the clonal origins of childhood acute lymphoblastic leukemia by single-cell genomics. Proc. Natl. Acad. Sci. USA 111, 17947–17952 (2014).

Wang, Y. et al. Clonal evolution in breast cancer revealed by single nucleus genome sequencing. Nature 512, 155–160 (2014).

Alekseyenko, A.V., Lee, C.J. & Suchard, M.A. Wagner and Dollo: a stochastic duet by composing two parsimonious solos. Syst. Biol. 57, 772–784 (2008).

Ryder, R.J. & Nicholls, G.K. Missing data in a stochastic Dollo model for binary trait data, and its application to the dating of Proto-Indo-European. J. R. Stat. Soc. Ser. C Appl. Stat. 60, 71–92 (2011).

Alexandrov, L.B. et al. Signatures of mutational processes in human cancer. Nature 500, 415–421 (2013).

Blei, D.M., Ng, A.Y. & Jordan, M.I. Latent dirichlet allocation. J. Machine Learning Res. 3, 993–1022 (2003).

Bamford, S. et al. The COSMIC (Catalogue of Somatic Mutations in Cancer) database and website. Br. J. Cancer 91, 355–358 (2004).

Roth, A. et al. Clonal genotype and population structure inference from single-cell tumor sequencing. Nat. Methods http://dx.doi.org/10.1038/nmeth.3867 (2016).

Cancer Genome Atlas Research Network. Integrated genomic analyses of ovarian carcinoma. Nature 474, 609–615 (2011).

Hoogstraat, M. et al. Genomic and transcriptomic plasticity in treatment-naive ovarian cancer. Genome Res. 24, 200–211 (2014).

Cooke, S.L. & Brenton, J.D. Evolution of platinum resistance in high-grade serous ovarian cancer. Lancet Oncol. 12, 1169–1174 (2011).

Schrader, K.A. et al. Germline BRCA1 and BRCA2 mutations in ovarian cancer: utility of a histology-based referral strategy. Obstet. Gynecol. 120, 235–240 (2012).

McAlpine, J.N. et al. BRCA1 and BRCA2 mutations correlate with TP53 abnormalities and presence of immune cell infiltrates in ovarian high-grade serous carcinoma. Mod. Pathol. 25, 740–750 (2012).

Roth, A. et al. PyClone: statistical inference of clonal population structure in cancer. Nat. Methods 11, 396–398 (2014).
Acknowledgements
We thank V. Earle for the artwork depicting anatomical sites sampled in the study. We acknowledge generous long-term funding support provided by the BC Cancer Foundation. In addition, the groups of S.P.S. and S.A. receive operating funds from the Canadian Breast Cancer Foundation, the Canadian Cancer Society Research Institute (grant 701584), the Terry Fox Research Institute, Genome Canada/Genome BC (173-CIC and 177-EVO), the Canadian Institutes for Health Research (CIHR) (MOP-115170, MOP-126119, and FDN-143246), a new investigator grant to J.N.M. (MSH-261515), and a TFRI new investigator award to S.P.S. S.P.S. and S.A. are supported by Canada Research Chairs. S.P.S. is a Michael Smith Foundation for Health Research scholar. A.M. is supported by a NSERC CGS scholarship. A.R. is supported by a CIHR CGS scholarship. T.M. is supported by a Canadian Breast Cancer Foundation British Columbia/Yukon Postdoctoral Fellowship.
Ethics declarations
Competing interests
The authors declare no competing financial interests.
Supplementary information
Supplementary Note and Supplementary Figures 1–47. (PDF 28122 kb)
Supplementary Tables 1–19. (XLSX 20741 kb)
About this article
Cite this article
McPherson, A., Roth, A., Laks, E. et al. Divergent modes of clonal spread and intraperitoneal mixing in high-grade serous ovarian cancer. Nat Genet 48, 758–767 (2016). https://doi.org/10.1038/ng.3573
Received:

Accepted:

Published:

Issue Date:

DOI: https://doi.org/10.1038/ng.3573