Abstract
The hepatic vasculature is essential for liver development, homeostasis and regeneration, yet the developmental program of hepatic vessel formation and the embryonic origin of the liver vasculature remain unknown. Here we show in mouse that endocardial cells form a primitive vascular plexus surrounding the liver bud and subsequently contribute to a substantial portion of the liver vasculature. Using intersectional genetics, we demonstrate that the endocardium of the sinus venosus is a source for the hepatic plexus. Inhibition of endocardial angiogenesis results in reduced endocardial contribution to the liver vasculature and defects in liver organogenesis. We conclude that a substantial portion of liver vessels derives from the endocardium and shares a common developmental origin with coronary arteries.
Relevant articles
Open Access articles citing this article.
Franziska Hildebrandt

,

Alma Andersson

…

Johan Ankarklev

Nature Communications Open Access 02 December 2021

Hengwei Jin

,

Kuo Liu

…

Bin Zhou

Nature Communications Open Access 17 May 2021

Nanchao Hong

,

Erge Zhang

…

Kun Sun

Cell Death & Disease Open Access 12 April 2021
Access options
Subscribe to Journal
Get full journal access for 1 year
$79.00
only $6.58 per issue
All prices are NET prices.
VAT will be added later in the checkout.
Tax calculation will be finalised during checkout.
Buy article
Get time limited or full article access on ReadCube.
$32.00
All prices are NET prices.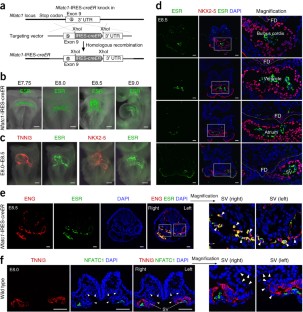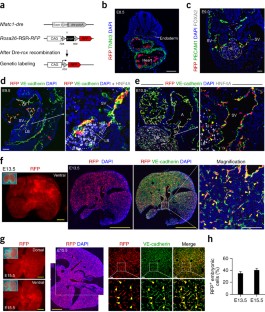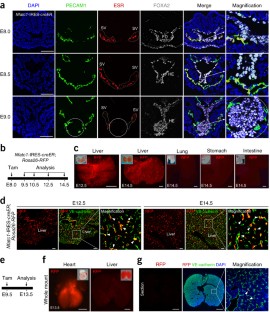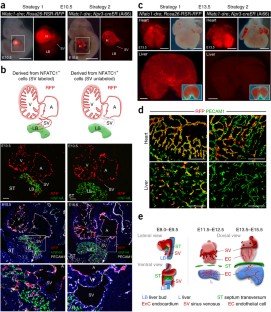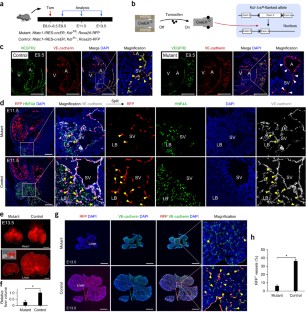 References
Ding, B.S. et al. Inductive angiocrine signals from sinusoidal endothelium are required for liver regeneration. Nature 468, 310–315 (2010).

Malhi, H. & Gores, G.J. Cellular and molecular mechanisms of liver injury. Gastroenterology 134, 1641–1654 (2008).

Ding, B.S. et al. Divergent angiocrine signals from vascular niche balance liver regeneration and fibrosis. Nature 505, 97–102 (2014).

Wang, L. et al. Liver sinusoidal endothelial cell progenitor cells promote liver regeneration in rats. J. Clin. Invest. 122, 1567–1573 (2012).

Matsumoto, K., Yoshitomi, H., Rossant, J. & Zaret, K.S. Liver organogenesis promoted by endothelial cells prior to vascular function. Science 294, 559–563 (2001).

Lammert, E., Cleaver, O. & Melton, D. Induction of pancreatic differentiation by signals from blood vessels. Science 294, 564–567 (2001).

Lammert, E., Cleaver, O. & Melton, D. Role of endothelial cells in early pancreas and liver development. Mech. Dev. 120, 59–64 (2003).

Khan, J.A. et al. Fetal liver hematopoietic stem cell niches associate with portal vessels. Science 351, 176–180 (2016).

Katz, T.C. et al. Distinct compartments of the proepicardial organ give rise to coronary vascular endothelial cells. Dev. Cell 22, 639–650 (2012).

Red-Horse, K., Ueno, H., Weissman, I.L. & Krasnow, M.A. Coronary arteries form by developmental reprogramming of venous cells. Nature 464, 549–553 (2010).

Wu, B. et al. Endocardial cells form the coronary arteries by angiogenesis through myocardial-endocardial VEGF signaling. Cell 151, 1083–1096 (2012).

Tian, X. et al. Vessel formation. De novo formation of a distinct coronary vascular population in neonatal heart. Science 345, 90–94 (2014).

Riley, P. Developmental biology: plumbing the heart. Nature 464, 498–499 (2010).

Tian, X., Pu, W.T. & Zhou, B. Cellular origin and developmental program of coronary angiogenesis. Circ. Res. 116, 515–530 (2015).

Buckingham, M., Meilhac, S. & Zaffran, S. Building the mammalian heart from two sources of myocardial cells. Nat. Rev. Genet. 6, 826–835 (2005).

Ranger, A.M. et al. The transcription factor NF-ATc is essential for cardiac valve formation. Nature 392, 186–190 (1998).

de la Pompa, J.L. et al. Role of the NF-ATc transcription factor in morphogenesis of cardiac valves and septum. Nature 392, 182–186 (1998).

Chang, C.P. et al. A field of myocardial-endocardial NFAT signaling underlies heart valve morphogenesis. Cell 118, 649–663 (2004).

Orkin, S.H. & Zon, L.I. Hematopoiesis: an evolving paradigm for stem cell biology. Cell 132, 631–644 (2008).

Ginhoux, F. et al. Fate mapping analysis reveals that adult microglia derive from primitive macrophages. Science 330, 841–845 (2010).

Zhang, H. et al. Endocardium contributes to cardiac fat. Circ. Res. 118, 254–265 (2016).

Sauer, B. & McDermott, J. DNA recombination with a heterospecific Cre homolog identified from comparison of the pac-c1 regions of P1-related phages. Nucleic Acids Res. 32, 6086–6095 (2004).

Anastassiadis, K. et al. Dre recombinase, like Cre, is a highly efficient site-specific recombinase in E. coli, mammalian cells and mice. Dis. Model. Mech. 2, 508–515 (2009).

Madisen, L. et al. Transgenic mice for intersectional targeting of neural sensors and effectors with high specificity and performance. Neuron 85, 942–958 (2015).

Tian, X. et al. Subepicardial endothelial cells invade the embryonic ventricle wall to form coronary arteries. Cell Res. 23, 1075–1090 (2013).

Breier, G., Albrecht, U., Sterrer, S. & Risau, W. Expression of vascular endothelial growth factor during embryonic angiogenesis and endothelial cell differentiation. Development 114, 521–532 (1992).

Nagy, J.A., Dvorak, A.M. & Dvorak, H.F. VEGF-A and the induction of pathological angiogenesis. Annu. Rev. Pathol. 2, 251–275 (2007).

Carmeliet, P. & Jain, R.K. Molecular mechanisms and clinical applications of angiogenesis. Nature 473, 298–307 (2011).

Shalaby, F. et al. Failure of blood-island formation and vasculogenesis in Flk-1–deficient mice. Nature 376, 62–66 (1995).

Carmeliet, P. Blood vessels and nerves: common signals, pathways and diseases. Nat. Rev. Genet. 4, 710–720 (2003).

Haigh, J.J. et al. Cortical and retinal defects caused by dosage-dependent reductions in VEGF-A paracrine signaling. Dev. Biol. 262, 225–241 (2003).

Goldman, O. et al. Endoderm generates endothelial cells during liver development. Stem Cell Rep. 3, 556–565 (2014).

Madisen, L. et al. A robust and high-throughput Cre reporting and characterization system for the whole mouse brain. Nat. Neurosci. 13, 133–140 (2010).

Lewandoski, M., Meyers, E.N. & Martin, G.R. Analysis of Fgf8 gene function in vertebrate development. Cold Spring Harb. Symp. Quant. Biol. 62, 159–168 (1997).

He, L. et al. BAF200 is required for heart morphogenesis and coronary artery development. PLoS One 9, e109493 (2014).

Zhou, B. et al. Adult mouse epicardium modulates myocardial injury by secreting paracrine factors. J. Clin. Invest. 121, 1894–1904 (2011).

Zhang, H. et al. Yap1 is required for endothelial to mesenchymal transition of the atrioventricular cushion. J. Biol. Chem. 289, 18681–18692 (2014).
Acknowledgements
We thank A. Nagy (Mount Sinai Hospital and Samuel Lunenfeld Research Institute) and J. Rossant (Hospital for Sick Children, University of Toronto) for sharing the Kdrfl mouse line and H. Zeng (Allen Institute) for sharing the Ai66 mouse line. We also thank Shanghai Biomodel Organism Co., Ltd., for mouse generation. This work was supported the Ministry of Science and Technology of China (2012CB945102 and 2013CB945302), the National Science Foundation of China (91339104, 31271552, 31222038, 31301188, 31571503 and 31501172), the Shanghai Basic Research Key Project (14JC1407400), the Major Program of Development Fund for the Shanghai Zhangjiang National Innovation Demonstration Zone (ZJ2014-ZD-002 and 2014-2016), the Shanghai Institutes for Biological Sciences (SIBS) President Fund, the Sanofi-SIBS Fellowship, the SIBS Postdoctoral Fund, AstraZeneca, the China Postdoctoral Science Foundation (2015M570389 and 2015M581669), the Youth Innovation Promotion Association of the Chinese Academy of Sciences (2015218), the Shanghai Yangfan Project (15YF1414000) and the Shanghai Rising Star Program (15QA1404300).
Ethics declarations
Competing interests
The authors declare no competing financial interests.
Integrated supplementary information
Supplementary information
About this article
Cite this article
Zhang, H., Pu, W., Tian, X. et al. Genetic lineage tracing identifies endocardial origin of liver vasculature. Nat Genet 48, 537–543 (2016). https://doi.org/10.1038/ng.3536
Received:

Accepted:

Published:

Issue Date:

DOI: https://doi.org/10.1038/ng.3536