Abstract
Chronic hepatitis B is a serious infectious liver disease that often progresses to liver cirrhosis and hepatocellular carcinoma; however, clinical outcomes after viral exposure vary enormously among individuals1. Through a two-stage genome-wide association study using 786 Japanese chronic hepatitis B cases and 2,201 controls, we identified a significant association of chronic hepatitis B with 11 SNPs in a region including HLA-DPA1 and HLA-DPB1. We validated these associations by genotyping two SNPs from the region in three additional Japanese and Thai cohorts consisting of 1,300 cases and 2,100 controls (combined P = 6.34 × 10−39 and 2.31 × 10−38, OR = 0.57 and 0.56, respectively). Subsequent analyses revealed risk haplotypes (HLA-DPA1*0202-DPB1*0501 and HLA-DPA1*0202-DPB1*0301, OR = 1.45 and 2.31, respectively) and protective haplotypes (HLA-DPA1*0103-DPB1*0402 and HLA-DPA1*0103-DPB1*0401, OR = 0.52 and 0.57, respectively). Our findings show that genetic variants in the HLA-DP locus are strongly associated with risk of persistent infection with hepatitis B virus.
Relevant articles
Open Access articles citing this article.
Elizabeth Hamilton

,

Ling Yang

…

Zhengming Chen

Scientific Reports Open Access 15 July 2022

Masataka Kikuchi

,

Kaori Kobayashi

…

Akihiro Nakaya

Human Genome Variation Open Access 08 June 2021

Johan R. Simonsen

,

Annemari Käräjämäki

…

Markku Lehto

Scientific Reports Open Access 04 May 2021
Access options
Subscribe to this journal
Receive 12 print issues and online access
$189.00 per year
only $15.75 per issue
Rent or buy this article
Get just this article for as long as you need it
$39.95
Prices may be subject to local taxes which are calculated during checkout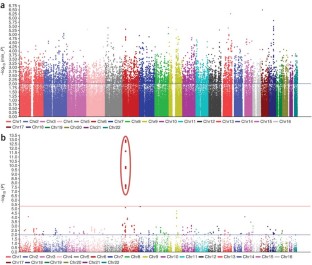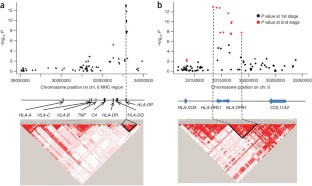 References
Pungpapong, S., Kim, W. & Poterucha, J. Natural history of hepatitis B virus infection: an update for clinicians. Mayo Clin. Proc. 82, 967–975 (2007).

Custer, B. et al. Global epidemiology of hepatitis B virus. J. Clin. Gastroenterol. 38, S158–S168 (2004).

Lai, C.L., Ratziu, V., Yuen, M.F. & Poynard, T. Viral hepatitis B. Lancet 362, 2089–2094 (2003).

Kobayashi, M. et al. Viral genotypes and response to interferon in patients with acute prolonged hepatitis B virus infection of adulthood in Japan. J. Med. Virol. 68, 522–528 (2002).

Laskus, T. et al. Prevalence of markers of hepatitis viruses in out-patient alcoholics. J. Hepatol. 15, 174–178 (1992).

Sheen, I., Liaw, Y., Lin, D. & Chu, C. Role of hepatitis C and delta viruses in the termination of chronic hepatitis B surface antigen carrier state: a multivariate analysis in a longitudinal follow-up study. J. Infect. Dis. 170, 358–361 (1994).

Lin, T. et al. Hepatitis B virus markers in Chinese twins. Anticancer Res. 9, 737–741 (1989).

Ben-Ari, Z. et al. Cytokine gene polymorphisms in patients infected with hepatitis B virus. Am. J. Gastroenterol. 98, 144–150 (2003).

Thursz, M.R. et al. Association between an MHC class II allele and clearance of hepatitis B virus in the Gambia. N. Engl. J. Med. 332, 1065–1069 (1995).

Bellamy, R. et al. Tuberculosis and chronic hepatitis B virus infection in Africans and variation in the vitamin D receptor gene. J. Infect. Dis. 179, 721–724 (1999).

Deng, G. et al. Association of estrogen receptor polymorphisms with susceptibility to chronic hepatitis B virus infection. Hepatology 40, 318–326 (2004).

Singh, R., Kaul, R., Kaul, A. & Khan, K. A comparative review of HLA associations with hepatitis B and C viral infections across global populations. World J. Gastroenterol. 13, 1770–1787 (2007).

Hohler, T. et al. HLA-DRB1* 1301 and* 1302 protect against chronic hepatitis B. J. Hepatol. 26, 503–507 (1997).

Ahn, S.H. et al. Association between hepatitis B virus infection and HLA-DR type in Korea. Hepatology 31, 1371–1373 (2000).

Frodsham, A. Host genetics and the outcome of hepatitis B viral infection. Transpl. Immunol. 14, 183–186 (2005).

Frodsham, A. et al. Class II cytokine receptor gene cluster is a major locus for hepatitis B persistence. Proc. Natl. Acad. Sci. USA 103, 9148–9153 (2006).

Jung, M. et al. Activation of a heterogeneous hepatitis B (HB) core and e antigen-specific CD4+ T-cell population during seroconversion to anti-HBe and anti-HBs in hepatitis B virus infection. J. Virol. 69, 3358–3368 (1995).

Fontenot, A., Torres, M., Marshall, W., Newman, L. & Kotzin, B. Beryllium presentation to CD4+ T cells underlies disease-susceptibility HLA-DP alleles in chronic beryllium disease. Proc. Natl. Acad. Sci. USA 97, 12717–12722 (2000).

Mineta, M. et al. Contribution of HLA class I and class II alleles to the regulation of antibody production to hepatitis B surface antigen in humans. Int. Immunol. 8, 525–531 (1996).

Nakamura, Y. The BioBank Japan project. Clin. Adv. Hematol. Oncol. 5, 696–697 (2007).

Saito, A. & Kamatani, N. Strategies for genome-wide association studies: optimization of study designs by the stepwise focusing method. J. Hum. Genet. 47, 360–365 (2002).

van der Zwan, A., Griffith, B., Rozemuller, E., Williams, T. & Tilanus, M.G.J. IHWG Technical Manual Genomic Analysis of the Human MHC: DNA-Based Typing for HLA Alleles and Linked Polymorphisms (ed. Tilanus, M.G.J.) (Seattle, Washington, International Histocompatibility Working Group, 2002).

Purcell, S. et al. PLINK: a tool set for whole-genome association and population-based linkage analyses. Am. J. Hum. Genet. 81, 559–575 (2007).

Barrett, J., Fry, B., Maller, J. & Daly, M. Haploview: analysis and visualization of LD and haplotype maps. Bioinformatics 21, 263–265 (2005).

Schaid, D.J., Rowland, C.M., Tines, D.E., Jacobson, R.M. & Poland, G.A. Score tests for association between traits and haplotypes when linkage phase is ambiguous. Am. J. Hum. Genet. 70, 425–434 (2002).
Acknowledgements
We thank K. Tokunaga for useful advice of on HLA-DP genotyping and interpretation, and technical staff of Laboratory for Genotyping Development at RIKEN for SNP genotyping at the first and second stages of the GWAS. We are also grateful to members of Hiroshima Liver Study Group and The Rotary Club of Osaka-Midosuji District 2660 Rotary International in Japan for supporting our study. This work was conducted as a part of the BioBank Japan Project that was supported by the Ministry of Education, Culture, Sports, Sciences and Technology of the Japanese government.
Supplementary information
Supplementary Figures 1 and 2 and Supplementary Tables 1–6 (PDF 394 kb)
About this article
Cite this article
Kamatani, Y., Wattanapokayakit, S., Ochi, H. et al. A genome-wide association study identifies variants in the HLA-DP locus associated with chronic hepatitis B in Asians. Nat Genet 41, 591–595 (2009). https://doi.org/10.1038/ng.348
Received:

Accepted:

Published:

Issue Date:

DOI: https://doi.org/10.1038/ng.348