Abstract
A typical human exome harbors dozens of loss-of-function (LOF) variants1, which can lower disease risk factor levels and affect drug efficacy2. We hypothesized that LOF variants are enriched in genes influencing risk factor levels and the onset of common chronic diseases, such as cardiovascular disease and diabetes. To test this hypothesis, we sequenced the exomes of 8,554 individuals and analyzed the effects of predicted LOF variants on 20 chronic disease risk factor phenotypes. Analysis of this sample as discovery and replication strata of equal size verified two relationships in well-studied genes (PCSK9 and APOC3) and identified eight new loci. Previously unknown relationships included elevated fasting glucose in carriers of heterozygous LOF variation in TXNDC5, which encodes a biomarker for type 1 diabetes progression, and apparent recessive effects of C1QTNF8 on serum magnesium levels. These data demonstrate the utility of functional-variant annotation within a large sample of deeply phenotyped individuals for gene discovery.
Relevant articles
Open Access articles citing this article.
Alexander G. Bick

,

Konstantin Popadin

…

S. Yerly

Scientific Reports Open Access 12 January 2022

Yanan Cao

,

Lin Li

…

Weiqing Wang

Cell Research Open Access 30 April 2020

Hongyi Li

,

Yang Yang

…

Xia Zhao

Signal Transduction and Targeted Therapy Open Access 03 January 2020
Access options
Subscribe to this journal
Receive 12 print issues and online access
$189.00 per year
only $15.75 per issue
Rent or buy this article
Get just this article for as long as you need it
$39.95
Prices may be subject to local taxes which are calculated during checkout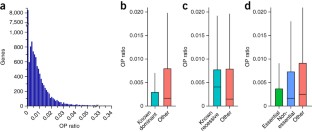 References
MacArthur, D.G. et al. A systematic survey of loss-of-function variants in human protein coding genes. Science 335, 823–828 (2012).

Phillips, I.R. & Shephard, E.A. Flavin-containing monooxygenases: mutations, disease and drug response. Trends Pharmacol. Sci. 29, 294–301 (2008).

Margaritte, P., Bonaiti-Pellie, C., King, M.C. & Clerget-Darpoux, F. Linkage of familial breast cancer to chromosome 17q21 may not be restricted to early-onset disease. Am. J. Hum. Genet. 50, 1231–1234 (1992).

Liu, X., Jian, X. & Boerwinkle, E. dbNSFP: a lightweight database of human nonsynonymous SNPs and their functional predictions. Hum. Mutat. 32, 894–899 (2011).

Liu, X., Jian, X. & Boerwinkle, E. dbNSFP v2.0: a database of human non-synonymous SNVs and their functional predictions and annotations. Hum. Mutat. 34, E2393–E2402 (2013).

Dang, V.T., Kassahn, K.S., Marcos, A.E. & Ragan, M.A. Identification of human haploinsufficient genes and their genomic proximity to segmental duplications. Eur. J. Hum. Genet. 16, 1350–1357 (2008).

Georgi, B., Voight, B.F. & Bućan, M. From mouse to human: evolutionary genomics analysis of human orthologs of essential genes. PLoS Genet. 9, e1003484 (2013).

Li, B. & Leal, S.M. Methods for detecting associations with rare variants for common diseases: application to analysis of sequence data. Am. J. Hum. Genet. 83, 311–321 (2008).

Cohen, J. et al. Low LDL cholesterol in individuals of African descent resulting from frequent nonsense mutations in PCSK9. Nat. Genet. 37, 161–165 (2005).

Crosby, J. et al. Loss-of-function mutations in APOC3, triglycerides, and coronary disease. N. Engl. J. Med. 371, 22–31 (2014).

Jin, Y. et al. Risk of type 1 diabetes progression in islet autoantibody-positive children can be further stratified using expression patterns of multiple genes implicated in peripheral blood lymphocyte activation and function. Diabetes 63, 2506–2515 (2014).

Gizer, I.R. et al. Linkage scan of nicotine dependence in the University of California, San Francisco (UCSF) Family Alcoholism Study. Psychol. Med. 41, 799–808 (2011).

Barbaric, I., Miller, G. & Dear, T.N. Appearances can be deceiving: phenotypes of knockout mice. Brief. Funct. Genomic. Proteomic. 6, 91–103 (2007).

Schäffler, A. & Buechler, C. CTRP family: linking immunity to metabolism. Trends Endocrinol. Metab. 23, 194–204 (2012).

Sheridan, C. Phase 3 data for PCSK9 inhibitor wows. Nat. Biotechnol. 31, 1057–1058 (2013).

Morrison, A.C. et al. Whole-genome sequence-based analysis of high-density lipoprotein cholesterol. Nat. Genet. 45, 899–901 (2013).

ARIC Investigators. The Atherosclerosis Risk in Communities (ARIC) study: design and objectives. Am. J. Epidemiol. 129, 687–702 (1989).

Reid, J.G. et al. Launching genomics into the cloud: deployment of Mercury, a next generation sequence analysis pipeline. BMC Bioinformatics 15, 30 (2014).

Li, H. & Durbin, R. Fast and accurate long-read alignment with Burrows-Wheeler transform. Bioinformatics 26, 589–595 (2010).

Challis, D. et al. An integrative variant analysis suite for whole exome next-generation sequencing data. BMC Bioinformatics 13, 8 (2012).

Grove, M.L. et al. Best practices and joint calling of the HumanExome BeadChip: the CHARGE Consortium. PLoS One 8, e68095 (2013).

Wang, K., Li, M. & Hakonarson, H. ANNOVAR: functional annotation of genetic variants from high-throughput sequencing data. Nucleic Acids Res. 38, e164 (2010).

Kelso, J. et al. eVOC: a controlled vocabulary for unifying gene expression data. Genome Res. 13, 1222–1230 (2003).

Kamburov, A., Stelzl, U., Lehrach, H. & Herwig, R. The ConsensusPathDB interaction database: 2013 update. Nucleic Acids Res. 41, D793–D800 (2013).

Petrovski, S., Wang, Q., Heinzen, E.L., Allen, A.S. & Goldstein, D.B. Genic intolerance to functional variation and the interpretation of personal genomes. PLoS Genet. 9, e1003709 (2013).
Acknowledgements
The Atherosclerosis Risk in Communities (ARIC) study is carried out as a collaborative study supported by National Heart, Lung, and Blood Institute (NHLBI) contracts (HHSN268201100005C, HHSN268201100006C, HHSN268201100007C, HHSN268201100008C, HHSN268201100009C, HHSN268201100010C, HHSN268201100011C and HHSN268201100012C). We thank the staff and participants of the ARIC study for their important contributions. Funding support for "Building on GWAS for NHLBI-diseases: the U.S. CHARGE Consortium" was provided by the National Institutes of Health through the American Recovery and Reinvestment Act of 2009 (ARRA) (5RC2HL102419). Sequencing was carried out at the Baylor College of Medicine Human Genome Sequencing Center (U54 HG003273).
Ethics declarations
Competing interests
The authors declare no competing financial interests.
Integrated supplementary information
Supplementary information
About this article
Cite this article
Li, A., Morrison, A., Kovar, C. et al. Analysis of loss-of-function variants and 20 risk factor phenotypes in 8,554 individuals identifies loci influencing chronic disease. Nat Genet 47, 640–642 (2015). https://doi.org/10.1038/ng.3270
Received:

Accepted:

Published:

Issue Date:

DOI: https://doi.org/10.1038/ng.3270