Abstract
Genomic analyses promise to improve tumor characterization to optimize personalized treatment for patients with hepatocellular carcinoma (HCC). Exome sequencing analysis of 243 liver tumors identified mutational signatures associated with specific risk factors, mainly combined alcohol and tobacco consumption and exposure to aflatoxin B1. We identified 161 putative driver genes associated with 11 recurrently altered pathways. Associations of mutations defined 3 groups of genes related to risk factors and centered on CTNNB1 (alcohol), TP53 (hepatitis B virus, HBV) and AXIN1. Analyses according to tumor stage progression identified TERT promoter mutation as an early event, whereas FGF3, FGF4, FGF19 or CCND1 amplification and TP53 and CDKN2A alterations appeared at more advanced stages in aggressive tumors. In 28% of the tumors, we identified genetic alterations potentially targetable by US Food and Drug Administration (FDA)–approved drugs. In conclusion, we identified risk factor–specific mutational signatures and defined the extensive landscape of altered genes and pathways in HCC, which will be useful to design clinical trials for targeted therapy.
Your institute does not have access to this article
Relevant articles
Open Access articles citing this article.
Marie-Anne Meier

,

Sandro Nuciforo

…

Markus H. Heim

Communications Medicine Open Access 01 July 2022

Gabriella Assante

,

Sriram Chandrasekaran

…

Neil A. Youngson

Genome Medicine Open Access 23 June 2022

Chunting Zeng

,

Linmeng Zhang

…

Zelong Luo

BMC Cancer Open Access 04 June 2022
Access options
Subscribe to Journal
Get full journal access for 1 year
$59.00
only $4.92 per issue
All prices are NET prices.
VAT will be added later in the checkout.
Tax calculation will be finalised during checkout.
Buy article
Get time limited or full article access on ReadCube.
$32.00
All prices are NET prices.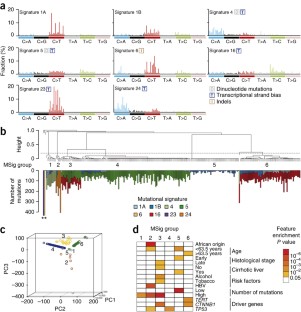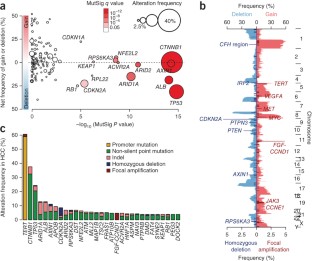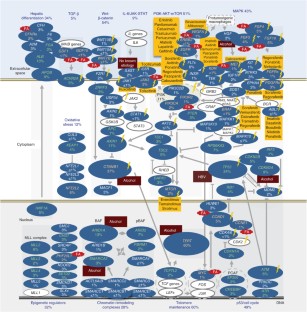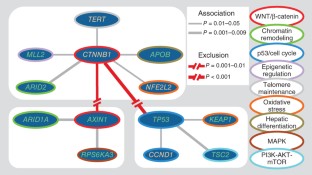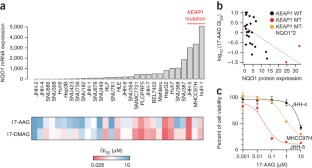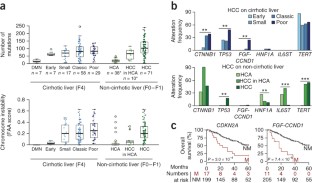 Accession codes
Accessions
Gene Expression Omnibus
References
Forner, A., Llovet, J.M. & Bruix, J. Hepatocellular carcinoma. Lancet 379, 1245–1255 (2012).

El-Serag, H.B. Hepatocellular carcinoma. N. Engl. J. Med. 365, 1118–1127 (2011).

International Consensus Group for Hepatocellular Neoplasia. Pathologic diagnosis of early hepatocellular carcinoma: a report of the international consensus group for hepatocellular neoplasia. Hepatology 49, 658–664 (2009).

Roncalli, M. et al. Liver precancerous lesions and hepatocellular carcinoma: the histology report. Dig. Liver Dis. 43 (suppl. 4), S361–S372 (2011).

Zucman-Rossi, J. et al. Genotype-phenotype correlation in hepatocellular adenoma: new classification and relationship with HCC. Hepatology 43, 515–524 (2006).

Nault, J.C., Bioulac-Sage, P. & Zucman-Rossi, J. Hepatocellular benign tumors-from molecular classification to personalized clinical care. Gastroenterology 144, 888–902 (2013).

Pilati, C. et al. Genomic profiling of hepatocellular adenomas reveals recurrent FRK-activating mutations and the mechanisms of malignant transformation. Cancer Cell 25, 428–441 (2014).

Bruix, J., Gores, G.J. & Mazzaferro, V. Hepatocellular carcinoma: clinical frontiers and perspectives. Gut 63, 844–855 (2014).

Llovet, J.M. & Hernandez-Gea, V. Hepatocellular carcinoma: reasons for phase III failure and novel perspectives on trial design. Clin. Cancer Res. 20, 2072–2079 (2014).

French METAVIR Cooperative Study Group. Intraobserver and interobserver variations in liver biopsy interpretation in patients with chronic hepatitis C. The French METAVIR Cooperative Study Group. Hepatology 20, 15–20 (1994).

Guichard, C. et al. Integrated analysis of somatic mutations and focal copy-number changes identifies key genes and pathways in hepatocellular carcinoma. Nat. Genet. 44, 694–698 (2012).

Fujimoto, A. et al. Whole-genome sequencing of liver cancers identifies etiological influences on mutation patterns and recurrent mutations in chromatin regulators. Nat. Genet. 44, 760–764 (2012).

Kan, Z. et al. Whole-genome sequencing identifies recurrent mutations in hepatocellular carcinoma. Genome Res. 23, 1422–1433 (2013).

Alexandrov, L.B. et al. Signatures of mutational processes in human cancer. Nature 500, 415–421 (2013).

Helleday, T., Eshtad, S. & Nik-Zainal, S. Mechanisms underlying mutational signatures in human cancers. Nat. Rev. Genet. 15, 585–598 (2014).

Alexandrov, L.B., Nik-Zainal, S., Wedge, D.C., Campbell, P.J. & Stratton, M.R. Deciphering signatures of mutational processes operative in human cancer. Cell Rep. 3, 246–259 (2013).

Alexandrov, L.B. & Stratton, M.R. Mutational signatures: the patterns of somatic mutations hidden in cancer genomes. Curr. Opin. Genet. Dev. 24, 52–60 (2014).

Hsu, I.C. et al. Mutational hotspot in the p53 gene in human hepatocellular carcinomas. Nature 350, 427–428 (1991).

Bressac, B., Kew, M., Wands, J. & Ozturk, M. Selective G to T mutations of p53 gene in hepatocellular carcinoma from southern Africa. Nature 350, 429–431 (1991).

Totoki, Y. et al. Trans-ancestry mutational landscape of hepatocellular carcinoma genomes. Nat. Genet. 46, 1267–1273 (2014).

Lawrence, M.S. et al. Mutational heterogeneity in cancer and the search for new cancer-associated genes. Nature 499, 214–218 (2013).

Sawey, E.T. et al. Identification of a therapeutic strategy targeting amplified FGF19 in liver cancer by oncogenomic screening. Cancer Cell 19, 347–358 (2011).

Chiang, D.Y. et al. Focal gains of VEGFA and molecular classification of hepatocellular carcinoma. Cancer Res. 68, 6779–6788 (2008).

Nault, J.C. et al. High frequency of telomerase reverse-transcriptase promoter somatic mutations in hepatocellular carcinoma and preneoplastic lesions. Nat. Commun. 4, 2218 (2013).

Totoki, Y. et al. Unique mutation portraits and frequent COL2A1 gene alteration in chondrosarcoma. Genome Res. 24, 1411–1420 (2014).

Barretina, J. et al. The Cancer Cell Line Encyclopedia enables predictive modelling of anticancer drug sensitivity. Nature 483, 603–607 (2012).

Garnett, M.J. et al. Systematic identification of genomic markers of drug sensitivity in cancer cells. Nature 483, 570–575 (2012).

Siegel, D. et al. Rapid polyubiquitination and proteasomal degradation of a mutant form of NAD(P)H:quinone oxidoreductase 1. Mol. Pharmacol. 59, 263–268 (2001).

Ahn, S.M. et al. Genomic portrait of resectable hepatocellular carcinomas: implications of RB1 and FGF19 aberrations for patient stratification. Hepatology 60, 1972–1982 (2014).

Wang, K. et al. Genomic landscape of copy number aberrations enables the identification of oncogenic drivers in hepatocellular carcinoma. Hepatology 58, 706–717 (2013).

Hyeon, J., Ahn, S., Lee, J.J., Song, D.H. & Park, C.K. Expression of fibroblast growth factor 19 is associated with recurrence and poor prognosis of hepatocellular carcinoma. Dig. Dis. Sci. 58, 1916–1922 (2013).

Miura, S. et al. Fibroblast growth factor 19 expression correlates with tumor progression and poorer prognosis of hepatocellular carcinoma. BMC Cancer 12, 56 (2012).

Song, S. et al. qpure: a tool to estimate tumor cellularity from genome-wide single-nucleotide polymorphism profiles. PLoS ONE 7, e45835 (2012).

Miller, S.A., Dykes, D.D. & Polesky, H.F. A simple salting out procedure for extracting DNA from human nucleated cells. Nucleic Acids Res. 16, 1215 (1988).

Gnirke, A. et al. Solution hybrid selection with ultra-long oligonucleotides for massively parallel targeted sequencing. Nat. Biotechnol. 27, 182–189 (2009).

Adzhubei, I.A. et al. A method and server for predicting damaging missense mutations. Nat. Methods 7, 248–249 (2010).

Waltz, R.A., Morales, J.L., Nocedal, J. & Orban, D. An interior algorithm for nonlinear optimization that combines line search and trust region steps. Math. Program. 107, 391–408 (2006).

Olshen, A.B., Venkatraman, E.S., Lucito, R. & Wigler, M. Circular binary segmentation for the analysis of array-based DNA copy number data. Biostatistics 5, 557–572 (2004).

Troncale, S. et al. NormaCurve: a SuperCurve-based method that simultaneously quantifies and normalizes reverse phase protein array data. PLoS ONE 7, e38686 (2012).

Hope, A.C.A. A simplified Monte Carlo significance test procedure. J. R. Stat. Soc. Ser. B 30, 582–598 (1968).
Acknowledgements
We warmly thank A. Boulais, C. Guichard, I. Ben Maad and C. Pilati for helpful participation in this work. We thank L. de Koning, C. Baldeyron, A. Barbet and C. Lecerf from the Institut Curie for the reverse-phase protein array experiments. We also thank J. Saric, C. Laurent, L. Chiche, B. Le Bail and C. Castain (Centre Hospitalier Universitaire Bordeaux) and D. Cherqui and J. Tran Van Nhieu (Centre Hospitalier Universitaire Henri Mondor, Créteil) for contributing to the tissue collection. This work was supported by Institut National du Cancer (INCa) with the ICGC project, the PAIR-CHC project NoFLIC (funded by INCa and Association pour la Recherche contre le Cancer, ARC), HEPTROMIC (Framework Programme 7), Cancéropole Ile de France, Centres de Ressources Biologiques (CRB) Liver Tumors, Tumorotheque Centre Hospitalier Universitaire Bordeaux and Centre Hospitalier Universitaire Henri Mondor, BioIntelligence (OSEO) and INSERM. J.-C.N. was supported by a fellowship from INCa. K.S. is supported by the Deutsche Forschungsgemeinschaft (DFG grant SCHU 2893/2-1). Research performed at Los Alamos National Laboratory was carried out under the auspices of the National Nuclear Security Administration of the US Department of Energy. V.M. is supported by a grant from AIRC (Italian Association for Cancer Research). J.M.L. is supported by grants from the European Comission Framework Programme 7 (HEPTROMIC, proposal 259744), The Samuel Waxman Cancer Research Foundation, the Spanish National Health Institute (SAF-2010-16055 and SAF-2013-41027) and the Asociación Española Contra el Cáncer (AECC).
Ethics declarations
Competing interests
The authors declare no competing financial interests.
Integrated supplementary information
Supplementary information
Supplementary Figures 1–13 and Supplementary Tables 1, 2 and 4–15. (PDF 2832 kb)
List of mutations identified by exome sequencing (hypermutated CHC892T excluded). (XLSX 2338 kb)
About this article
Cite this article
Schulze, K., Imbeaud, S., Letouzé, E. et al. Exome sequencing of hepatocellular carcinomas identifies new mutational signatures and potential therapeutic targets. Nat Genet 47, 505–511 (2015). https://doi.org/10.1038/ng.3252
Received:

Accepted:

Published:

Issue Date:

DOI: https://doi.org/10.1038/ng.3252